Fire Heavily Damages Multi-Family Dwelling in Westfield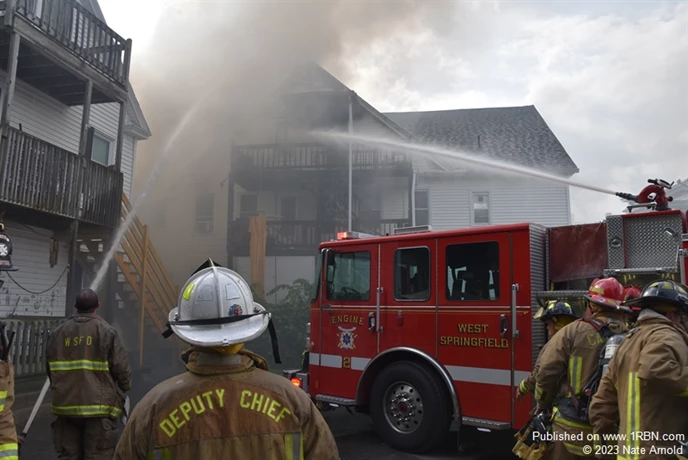 Photo by Nate Arnold West Springfield Engine 2 plays their gun into the Charlie side of Phelps Ave.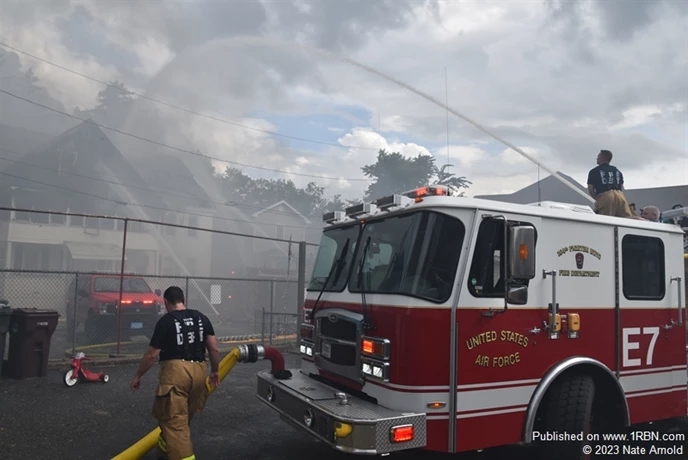 Photo by Nate Arnold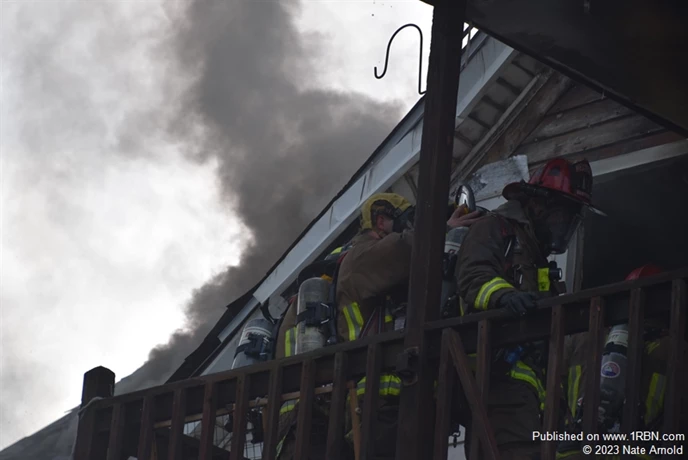 Photo by Nate Arnold
This article is a direct street report from our correspondent and has not been edited by the 1st Responder newsroom.
WESTFIELD, MA - A fast-moving fire tore through the second and third floors of an occupied three-story, wood-frame, multi-family apartment house just outside downtown Westfield on June 27th, sending four families into the street with just the clothes on their backs.
Westfield Fire-EMS responded to 4 Phelps Ave. at 3:00 P.M. for the reported structure fire. First arriving crews found heavy fire venting from the second-floor and extending to the third-floor and attic on their arrival and initiated an aggressive interior attack. Moments after the first companies made entry however, a window-mounted air conditioning unit on the second-floor dropped to the street and severed the first line stretched on the dwelling, requiring members to stretch an additional line to compensate for the loss of the first.
In addition to this setback, Tower 1, the department's 95-foot mid-mount ladder tower, was unable to gain access to the building due to the fact that Phelps Avenue is a congested, tiny side street that barely permitted the first engine to make the scene. Because of this, vertical ventilation of the fire building was not performed and the fire quickly took possession of the attic space. With the fire now in possession of the third-floor and attic, a second-alarm was struck, and Phelps Ave. command made the difficult decision to switch to a defensive attack and protect the exposure buildings on the Bravo, Charlie and Delta sides of the fireground.
Mutual aid from West Springfield and Barnes Air Guard Base FD's arrived on scene and the West Springfield and Barnes engine companies managed to maneuver their apparatus into tactically advantageous positions on neighboring streets where their deck guns could play away into the upper floors of the apartment house and knock down the main body of fire. Once the fire was under control, crews reentered the building to chase hot spots and overhaul the second-floor and what was left of the third-floor and attic.
All residents evacuated the building prior to the WFD's arrival and were assisted by the Red Cross in finding temporary shelter. The cause of the fire remains under investigation by the WFD and the State Fire Marshal's Office.