Mount Pleasant VFD Receives Water from NVFC & Anheuser-Busch to Support Wildfire Response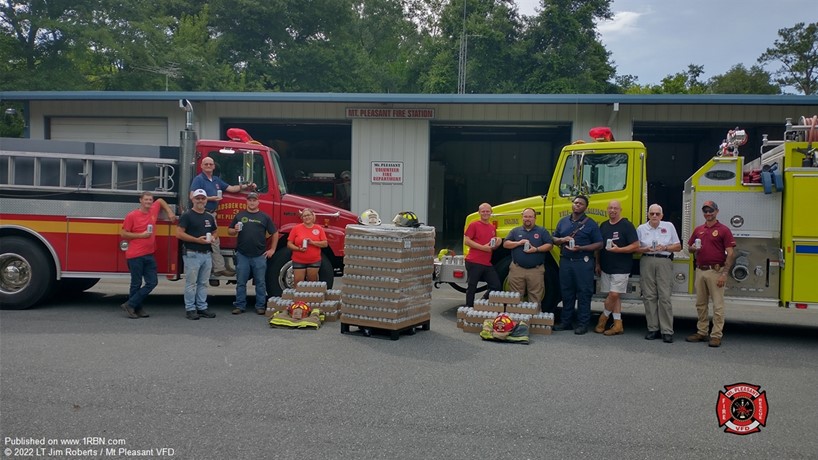 Photo by LT Jim Roberts / Mt Pleasant VFDMembers from Mount Pleasant VFD, Gretna FD, Greensboro FR, Robertsville VFD, Sycamore VFD and Wetumpka VFD receiving donated water.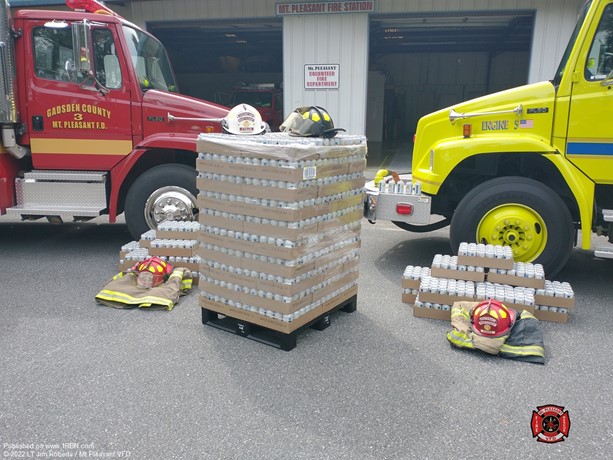 Photo by LT Jim Roberts / Mt Pleasant VFDWater donated by Anheuser-Busch and Tri-Eagle Sales through the National Volunteer Fire Council.
This article is a direct street report from our correspondent and has not been edited by the 1st Responder newsroom.
Mount Pleasant Volunteer Fire Department received a donation of canned emergency drinking water from leading brewer, Anheuser-Busch, to help provide critical hydration to its responders during this year's wildfire season. On Wednesday, June 29, 2022, Tri-Eagle Sales, a local Anheuser-Busch wholesaler partner, dropped off water to the Mount Pleasant Volunteer Fire Department to help support its wildfire response needs. Maintaining firefighters' hydration during long incidents or disasters such as wildfires is a major safety concern for many departments. 

The Mount Pleasant Volunteer Fire Department applied for the giveaway opportunity through the National Volunteer Fire Council. The donation will support the need within their department, and they will share with five other volunteer fire departments in Gadsden County that provide mutual aid and run calls together. The other departments that benefitted from the donation were the City of Gretna Fire Department, Sycamore Volunteer Fire Department, Town of Greensboro Fire Department, Robertsville Volunteer Fire Department and Wetumpka Volunteer Fire Department.

"Firefighters work very hard and under extreme conditions during high-intensity responses such as wildfires. As a result, they lose large amounts of fluid and proper hydration is critical to ensure the safety of our firefighters and to keep them performing at their best," said Mount Pleasant Lieutenant Jim Roberts.

Mount Pleasant Fire Chief Ed Cullifer stated, "It is with our deepest thanks to the National Volunteer Fire Council and Anheuser-Busch for selecting our department. Thanks to their donation we have the resources to keep our firefighters and those we respond with hydrated and ready to respond."

The water was donated by Anheuser-Busch through a partnership with the National Volunteer Fire Council (NVFC). Anheuser-Busch has a longstanding tradition of providing emergency drinking water and supplies for disaster relief efforts. The company periodically pauses beer production each year to apply its production and logistics expertise to can clean, safe drinking water that is ready to distribute when disaster strikes. Since 1988, the brewer has donated more than 90 million cans of emergency drinking water to communities impacted by natural disasters and other crises. 

Building on this commitment, the brewer teamed up with the NVFC – the leading nonprofit membership association representing the interests of the volunteer fire, emergency medical, and rescue services – in 2019 to provide emergency drinking water to help firefighters stay hydrated and healthy when responding to wildfires and large incidents. To date, the program has donated nearly 4.9 million cans of water to volunteer firefighters across the country.  

Learn more about the program at www.nvfc.org/water.