Multiple Departments Battle Fast-Moving Barn Fire in Stuyvesant
By JEFFREY BELSCHWINDER, Senior Correspondent | June 27, 2021 | NEW YORK
Story No. 062921107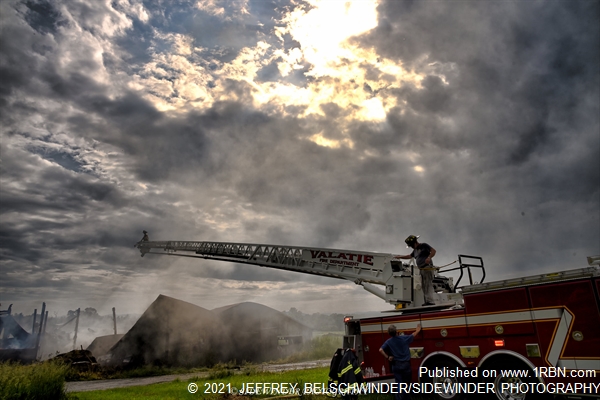 Photo by JEFFREY BELSCHWINDER/SIDEWINDER PHOTOGRAPHY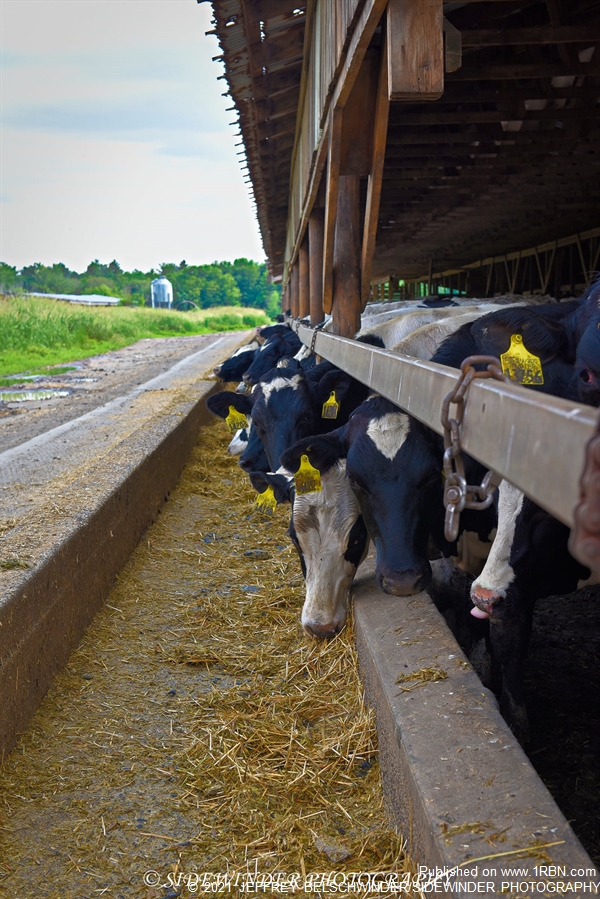 Photo by JEFFREY BELSCHWINDER/SIDEWINDER PHOTOGRAPHY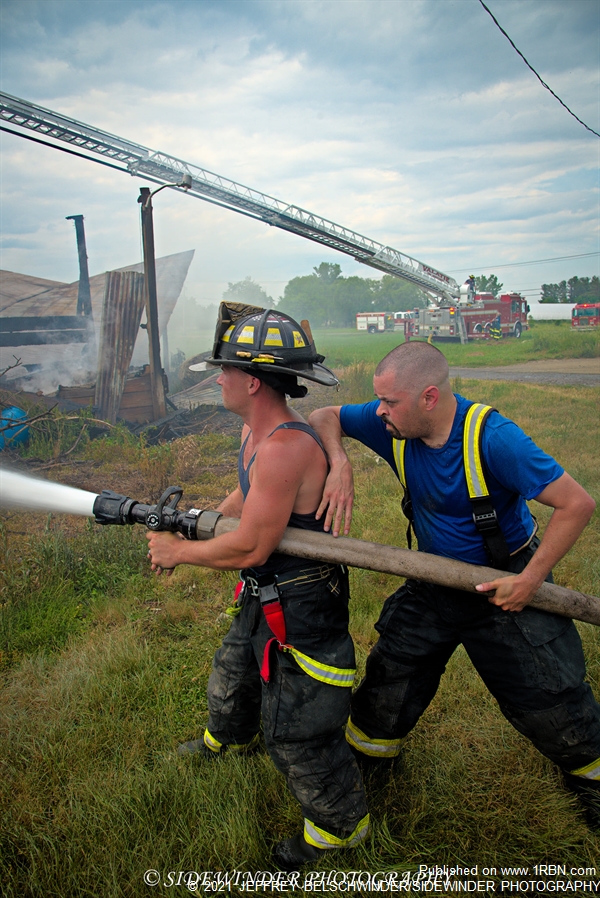 Photo by JEFFREY BELSCHWINDER/SIDEWINDER PHOTOGRAPHY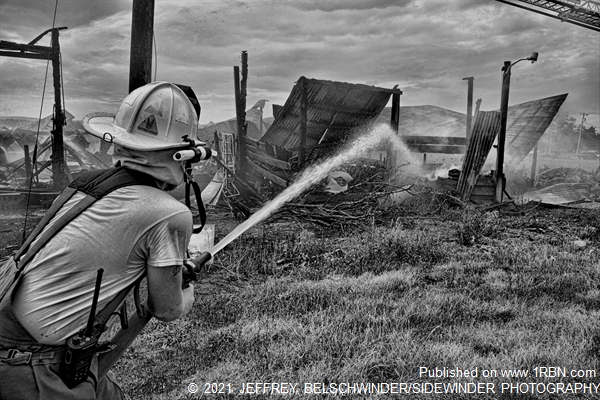 Photo by JEFFREY BELSCHWINDER/SIDEWINDER PHOTOGRAPHY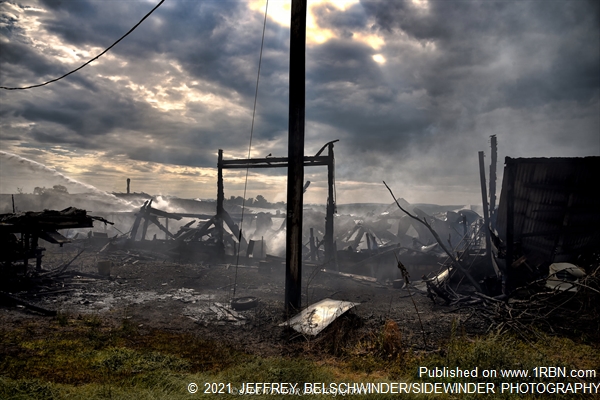 Photo by JEFFREY BELSCHWINDER/SIDEWINDER PHOTOGRAPHY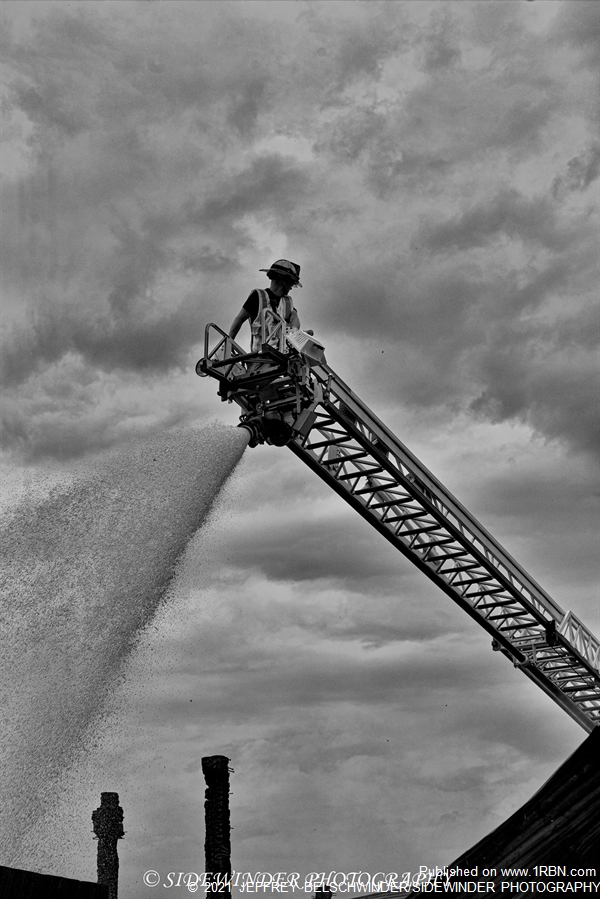 Photo by JEFFREY BELSCHWINDER/SIDEWINDER PHOTOGRAPHY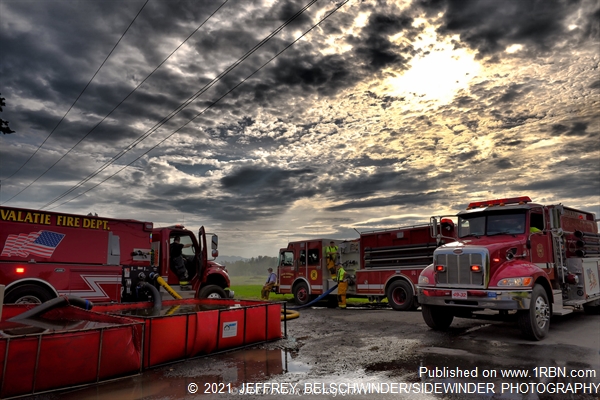 Photo by JEFFREY BELSCHWINDER/SIDEWINDER PHOTOGRAPHY
STUYVESANT, NY - On June 27th, the Stuyvesant Falls Fire Department along with mutual aid from Stuyvesant, West Ghent, Kinderhook, Stottville, South Schodack, Stockport, Tri-Village, Niverville, Hudson, North Chatham, East Chatham, Valatie, and Schodack Landing were dispatched to 550 Route 26A for a reported working barn fire.

The first arriving chief on scene immediately declared a working structure fire and requested mutual aid to the scene. As the first arriving engine was pulling in to the scene, the farmer and his family were able to successfully get all of the cows out of the barn. On arrival, firefighters had a very large barn that was well involved with flames shooting 40-feet in to the clear afternoon sky with a large column of smoke that could be seen for miles.

Firefighters positioned their engine in the rear of the farm and began to use their master streams to attempt to knock down the heavy fire condition. Additional resources quickly began to arrive on scene and firefighters laid a quarter-mile of supply line to the pond in the back of the farm and established a water supply with the engines in between the barn that was well involved.

Temperatures in the low 90's hampered fire fighting abilities. Firefighters established a tanker operation at the end of the driveway to bring in an adequate amount of water to extinguish the fire. Crews deployed several hand lines and attempted to knock down the heavy fire condition, but the flames had quickly spread down throughout the barn as it was full of machinery, hay and other farm items.

Multiple ladder companies arrived on scene and set up at both locations in front of the barn and in the rear of the barn and began to conduct master stream operations. The Chatham FD set up in front of the barn and was being fed by the non-stop tanker rotation in the front of the scene, while the Stottville FD set up in the rear of the building and protected the cows from the approaching fire.

As firefighters were using their master streams and hand lines the barn collapsed, sending a significant amount of hot embers into the air. Over 60 firefighters continued to battle the barn fire for over three hours. The quick thinking of the first arriving units on scene establishing a barrier between the barns prevented any other buildings from being damaged.

Firefighters conducted extensive overhaul of the barn before clearing the scene. No injuries were reported and none of the cows were injured. The cause of the barn fire is currently under investigation.
This article is a direct street report from our correspondent and has not been edited by the 1st Responder newsroom.