Another Young Firefighter Succums to Cancer
June 16, 2021 | NEW JERSEY
RON JEFFERS, New Jersey Editor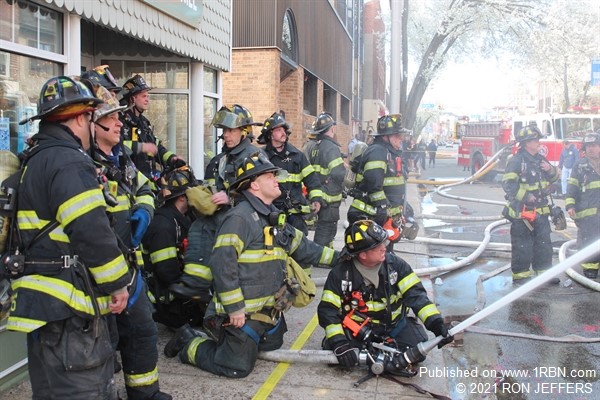 Photo by RON JEFFERSHackensack Lt. Tim Rice, holding the nozzle, working at a 3-alarm fire on Main Street in 2015.
This article is a direct street report from our correspondent and has not been edited by the 1st Responder newsroom.
HACKENSACK, NJ - Even though first responders knew the seriousness of his cancer, the public safety community was still devastated when they learned that he was gone.

Tim Rice, 42, was a fire lieutenant assigned to Hackensack Engine Co. 2. He was also a volunteer fire captain with Paramus Company 4, and he was slated to become an assistant chief next year.

Lt. Rice lost his battle with cancer at Hackensack University Medical Center on June 12th.

"Tim was a fireman's fireman, always there to help out in the firehouse, with activities, and any time anyone needed a hand or someone to talk to," according to the H.F.D. Facebook page.

Lt. Rice, husband and father of two, began his public safety career 24-years ago as a 9-1-1 dispatcher for the Paramus Police Department, and as a borough volunteer firefighter. He approached his friends on the Hackensack Fire Department and asked them for advice and aide to become a career firefighter-his number one goal.

Lt. Rice was appointed to the H.F.D. on January 24th, 2004. He was promoted to lieutenant on December 13th, 2018.

When he was sworn in as a lieutenant, he thanked Lt. Lenny "Uncle" Coyman for guiding him into the, "Greatest job in the world."

"We ask why the great ones are taken soon and we can't find the answer," said Hackensack Fire Captain Justin Derevyanik.