Garage Fire Extends to Home in Rush
By BOB FAUGH, Correspondent | June 12, 2020 | NEW YORK
Story No. 061520104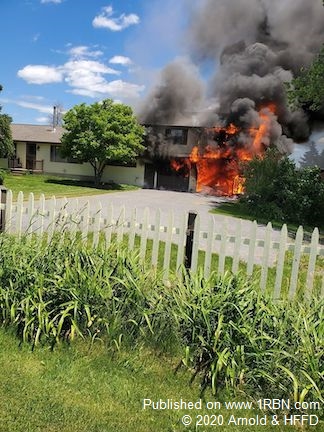 Photo by Arnold & HFFDFront of Home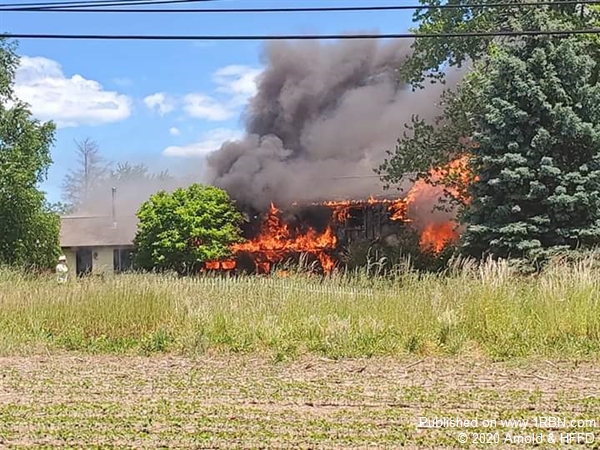 Photo by Arnold & HFFDRear of home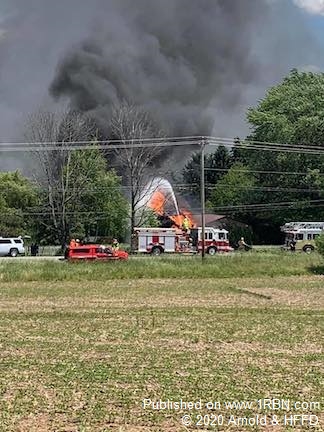 Photo by Arnold & HFFDP582 hitting it with the deck gun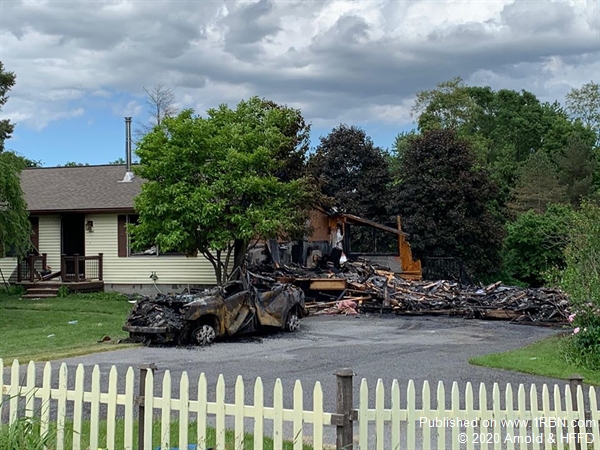 Photo by Arnold & HFFDwhen out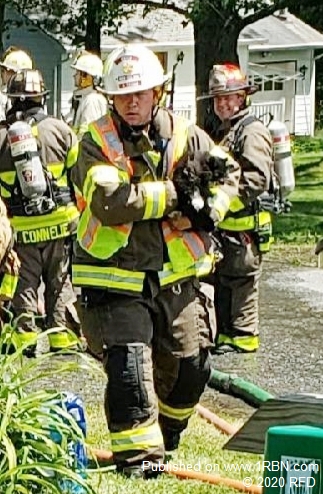 Photo by Jenna CirincioneAfter the bulk of the fire was knocked down Chief Jon Faugh brings out the rescued kitty from the house fire on 6-12-20 that he found in the kitchen.
RUSH FIRE DISTRICT 6-12-20 12:55 PM 6666 Rush-Lima Road - with a 15 to 20 MPH wind fanning the flames a working garage fire extending into the home. Rush FD dispatched with automatic mutual assist from Honeoye Falls, Henrietta, East Avon, Mendon, Scottsville, Lima & Pittsford. HFFD Chief Hood on location at 12:58 reporting a working fire. Rush pumper 584 on location at 1:03 PM to secure a water supply and attacked the fire. Chief Jon Faugh arrived an assumed command. HFFD Chief assumed Operations. Rush pumper 582 on location at 1:05 and hit the fire with 200 gallons a minute from the deck gun. Ladder 560 set up and was supplied with water from 584. Henrietta 652 laid a 5" line from the north to supply 582's deck gun and two hand lines. An aggressive interior attack was then conducted. The fire was cut off in the middle of the home but not before a lot of damage was done. Fire was under control at 1:30 PM The resident was taken to the hospital by CHS ALS Ambulance for smoke inhalation. He reported a problem with a lawn mower that he had just put in the garage. Rush FD Ambulance stood by for rehab. Two cats were rescued. The Town of Rush highway dept. responded with an excavator to pull the collapsed garage apart. A car in the garage was also a total loss. Monroe Co. fire bureau & 5th Batt. fire coordinator coordinator were on scene along with investigators and Rush fire marshal. Red Cross assisted the family. Everyone did an outstanding job at this call. No firefighters were injured. The person w/ smoke inhalation
was transported by Honeoye Falls-Mendon Ambulance - CHS ALS & Rush FD Ambulance stood by. One cat was rescued by Chief Faugh and the other got out on its own.
This article is a direct street report from our correspondent and has not been edited by the 1st Responder newsroom.