SEN. COONEY HONORS BRIGHTON EMT WITH NYS SENATE COMMENDATION
By MICHAEL POLLOCK, Correspondent | May 27, 2021 | NEW YORK
Story No. 061021114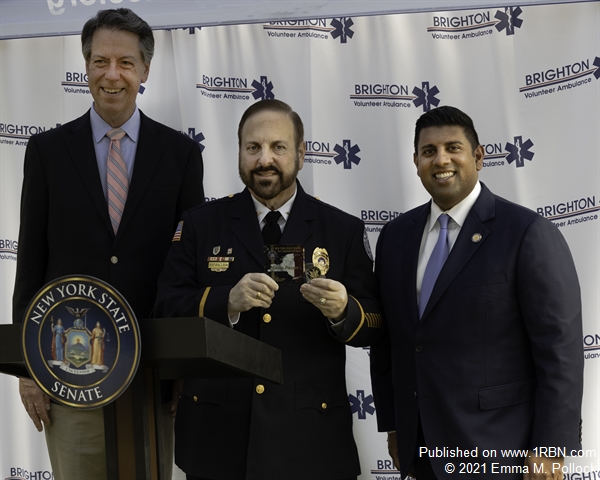 Photo by Emma M. PollockL to R: Brighton Town Supervisor William Moehle with award honoree Brighton Volunteer Ambulance's Michael E. Pollock and presenter NYS Senator Jeremy A. Cooney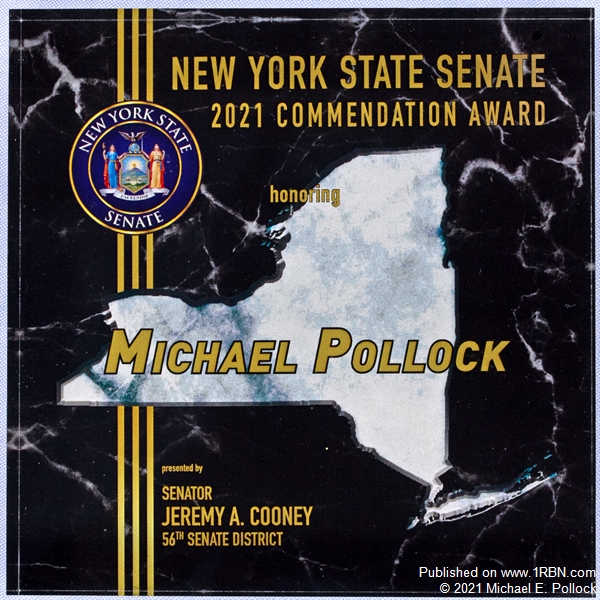 Photo by Michael E. PollockThe NYS Commendation Award in encase in Plexiglass.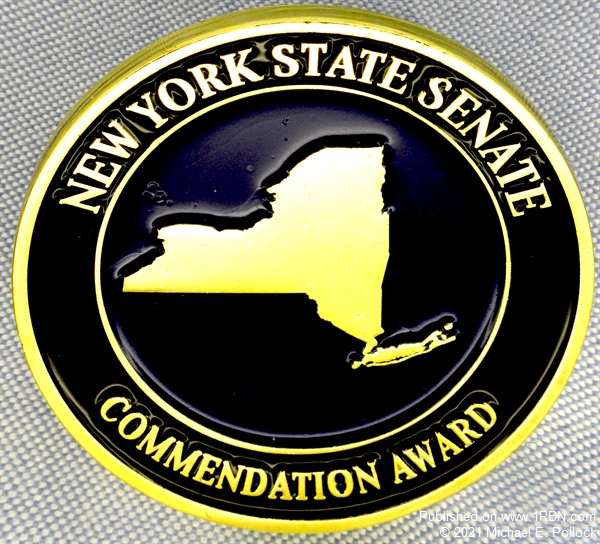 Photo by Michael E. PollockPollock received an NYS Senate Commendation Award challenge coin (side 1)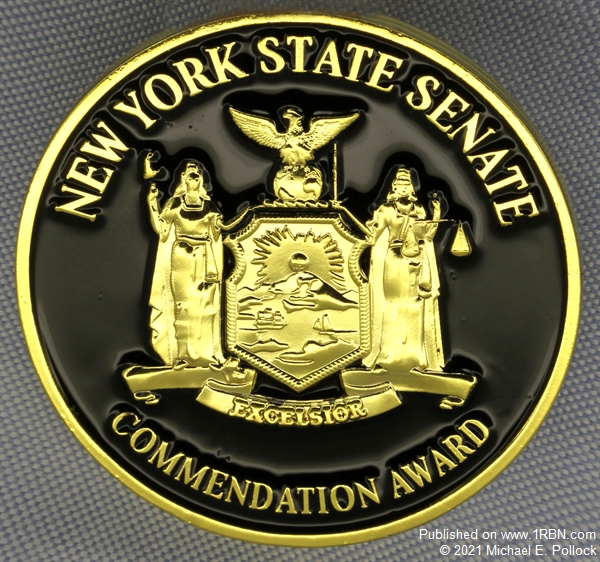 Photo by Michael E. PollockPollock received an NYS Senate Commendation Award challenge coin (side 2)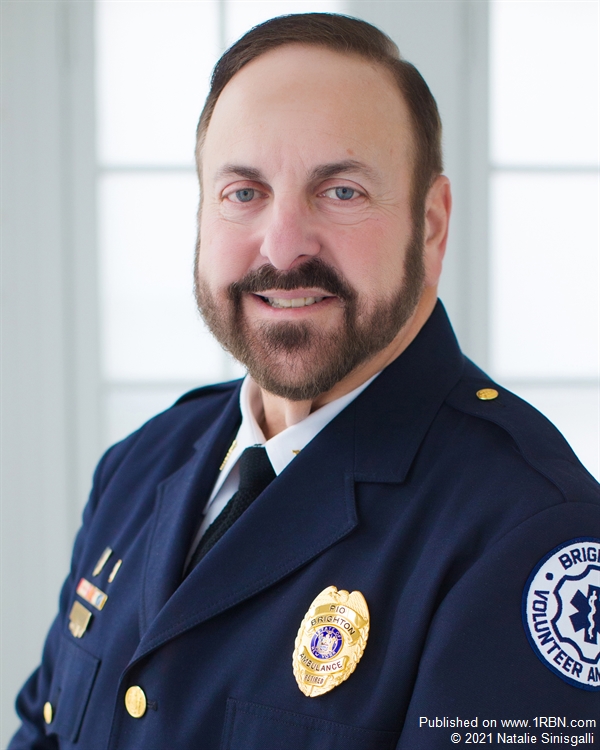 Photo by Natalie SinisgalliNYS Senate Commendation award honoree Michael E. Pollock, EMT (ret) of Brighton Volunteer Ambulance
FOR IMMEDIATE RELEASE
Contact: Matthew Moll, Chief of Staff
NYS Senator Jeremy A. Cooney

(Brighton, Monroe County, NY) Recently, Senator Jeremy Cooney (SD56-Rochester) honored retired EMT Michael E. Pollock with a Commendation from the New York State Senate. Pollock has been part of the Brighton EMS community since 1987. However, he retired as a volunteer EMT due to an injury. Pollock continues to advocate on behalf of EMS workers. His work includes serving both on the Board of Directors of Brighton Volunteer Ambulance and the STEP Council of the Genesee Region (Society for Total Emergency Programs). He also serves as Advisor to the Director and President of Ezras Nashim, the only Orthodox Jewish all-women EMS group in the United States, located in Borough Park – Brooklyn. Pollock helped secure significant funding for expanding the Brighton Volunteer Ambulance Base and advocated ensuring that EMTs, statewide, are considered "essential workers" during the pandemic and beyond. He also has participated in NAEMTs EMS Day on the Hill. Pollock serves in an ex-officio role on the NYS EMS Memorial Committee, reaching out to NYS Executive Chamber and elected officials to attend the ceremony. He assisted Ezras Nashim in the fight for their NYS DOH "Certificate of Need" to operate a Basic Life Support ambulance. Allowing these Orthodox Jewish women to provide emergency medical ambulance transport to other Orthodox women enabling them to maintain their modesty. Pollock has also saved the lives of two different neighbors, one a senior citizen that was electrocuted and the other was an infant in respiratory arrest while off duty. He retired after 28 years as an NYS DOCS sergeant and also a firefighter.

The Senate Commendation Award recognizes exceptional people who have made a lasting contribution to their community through volunteerism, leadership, and charitable work.

Senator Jeremy Cooney
"I am honored to recognize Michael Pollock for his dedication as a local health hero and for being an advocate for those who are committed to this life-saving work. EMS workers are "essential" healthcare workers who helped us survive the pandemic, and the Senate's Commendation Award is a testament to that work as well as Michael's lasting impact in the Brighton community."

Michael E. Pollock, Brighton Volunteer Ambulance
"I am humbled. I don't do the things I do for recognition. Instead, I help others; whether it is the work I do at Brighton Volunteer Ambulance, or my state, or now national EMS advocacy work, I do it, so we accomplish great things to help others. This award also recognizes EMS. All too often, especially at governmental budget time, we are forgotten. I hope this is the dawn of a new beginning. I appreciate being recognized by Senator Cooney for the work I have done."


This article is a direct street report from our correspondent and has not been edited by the 1st Responder newsroom.