Mill Fire in Orange Draws Mutual Aid from Three Counties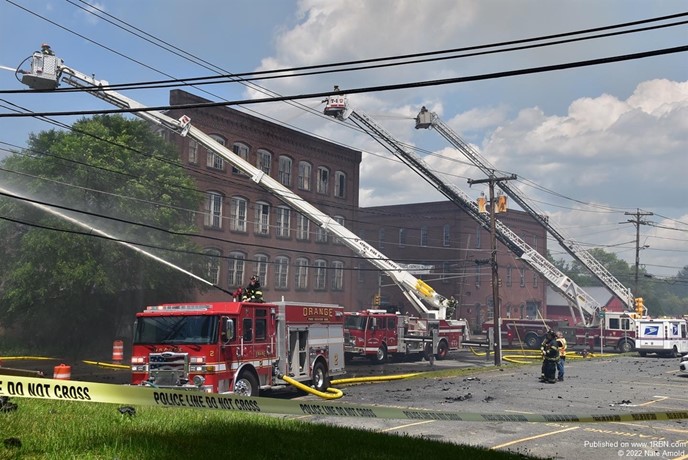 Photo by Nate Arnold Ladder pipes set up at W. River and South Main Streets play into exposure buildings and the original fire building.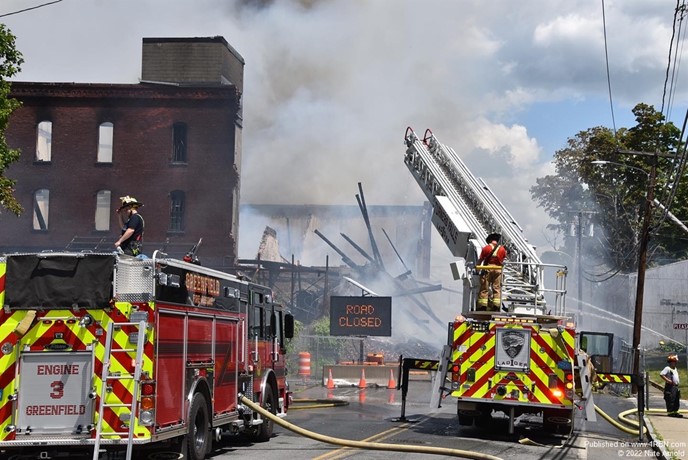 Photo by Nate Arnold Greenfield and Turners Falls FD's were just two of an estimated 19-20 mutual aid departments to respond.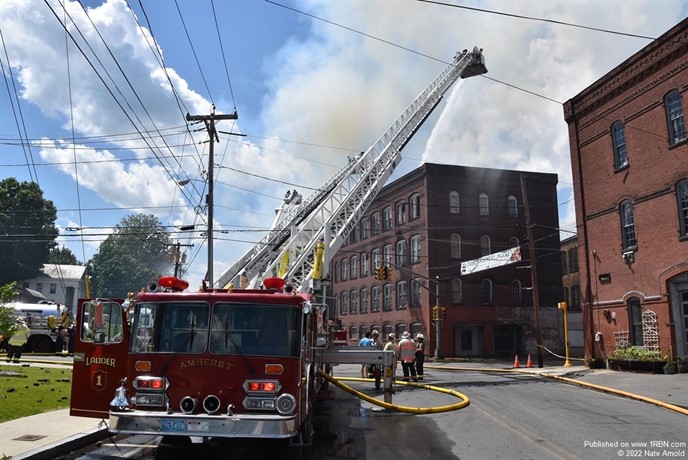 Photo by Nate Arnold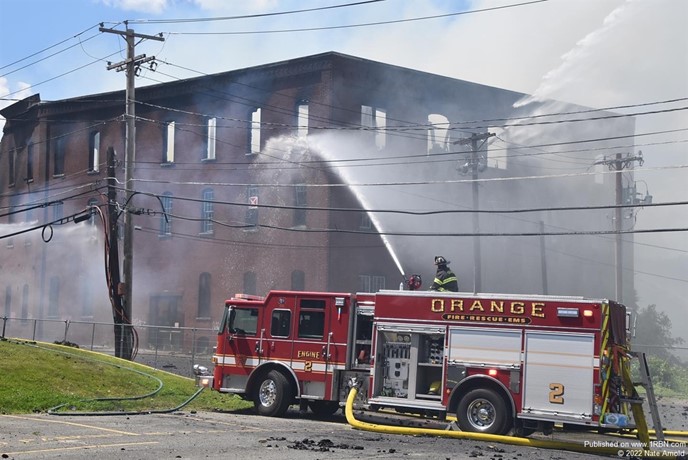 Photo by Nate Arnold
This article is a direct street report from our correspondent and has not been edited by the 1st Responder newsroom.
ORANGE, MA - An otherwise peaceful and beautiful late spring weekend morning was violently and abruptly disrupted in the eastern Franklin County Town of Orange just before noon on Saturday, June 4th, by a fast-moving fire that took total possession of a vacant and abandoned four-story heavy timber mill building on the banks of the Miller's River in downtown Orange.

The Orange Fire-Rescue-EMS Department, like most Franklin County FD's, relies on a small staff of firefighters to protect their community. Exactly two OFD members were in the firehouse when the fire was first reported and this correspondent can only imagine the thoughts that went through their minds when they opened the bay doors to see literal hell on earth 200-yards away (the firehouse is one block over from the ill-fated mill building). The fire ran through the running card almost as fast as it ran through the building.

Orange firefighters were quickly joined on scene by fire crews from departments in Franklin, Hampshire and Worcester Counties. No fewer than seven ladder pipes were placed into service on scene as the building was fully involved and, to make matters worse, had already been deemed a collapse hazard by town officials over a month before the combustion process started. Burning debris and brands from the fire went airborne within minutes and resulted in three exposure buildings catching fire, one of which was several hundred yards down East River Street from the original fire building.

Only through a concerted effort by OFD firefighters and their mutual aid partners was the fire brought under control. Of the three exposure buildings, only one suffered heavy damage. The main concern on scene was the original building, which had collapsed early on in the operation, burying hot spots under hundreds of tons of construction debris. Several hours into the fire fight, a local demolition firm was brought in to tear down unstable portions of the mill that were still partially standing and help fire crews by opening up the collapsed portions with excavators so hose streams could access the entombed hot spots.

Three non-life-threatening injuries were reported, but all were treated by EMS personnel on scene and are expected to make a fully recovery. The cause of the fire is under investigation.