Young Fuller Road Firefighters Take A Major Step In Educating & Recruiting Teenagers To The Fire Service
June 03, 2022 | NEW YORK
JEFFREY BELSCHWINDER, Senior Correspondent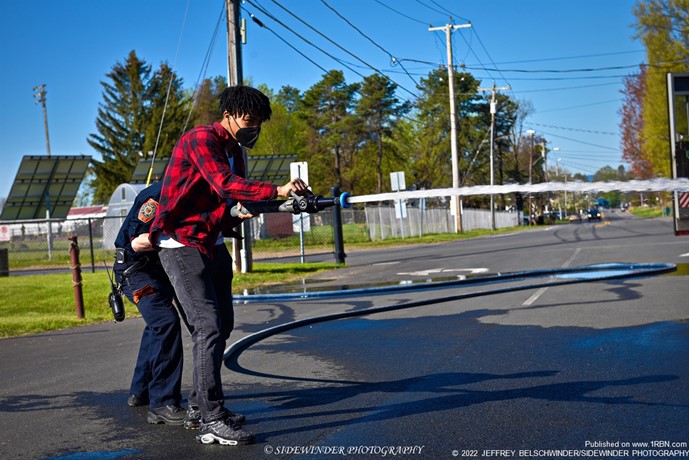 Photo by JEFFREY BELSCHWINDER/SIDEWINDER PHOTOGRAPHY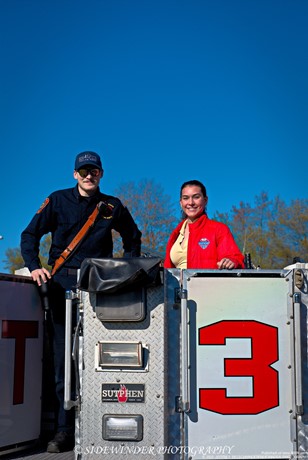 Photo by JEFFREY BELSCHWINDER/SIDEWINDER PHOTOGRAPHY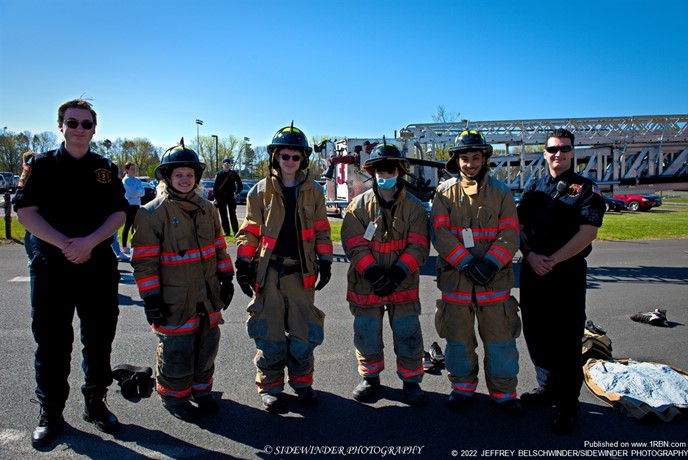 Photo by JEFFREY BELSCHWINDER/SIDEWINDER PHOTOGRAPHY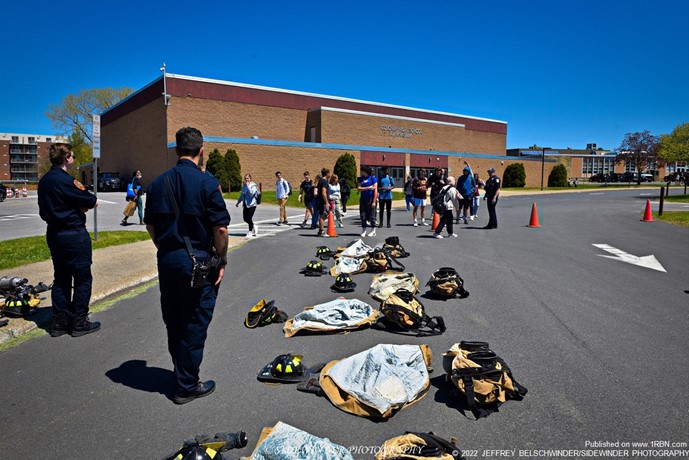 Photo by JEFFREY BELSCHWINDER/SIDEWINDER PHOTOGRAPHY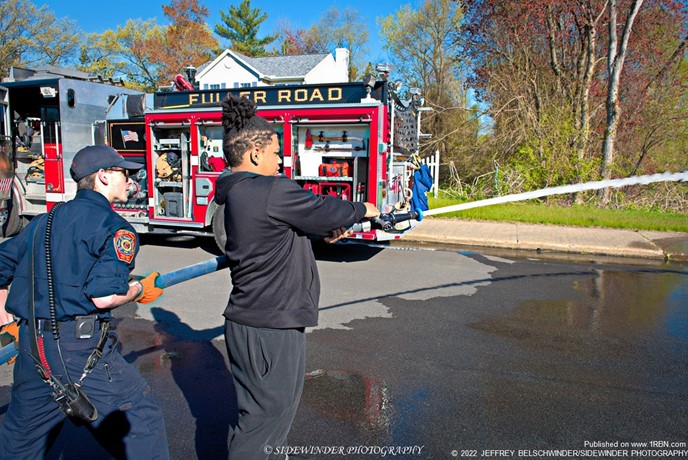 Photo by JEFFREY BELSCHWINDER/SIDEWINDER PHOTOGRAPHY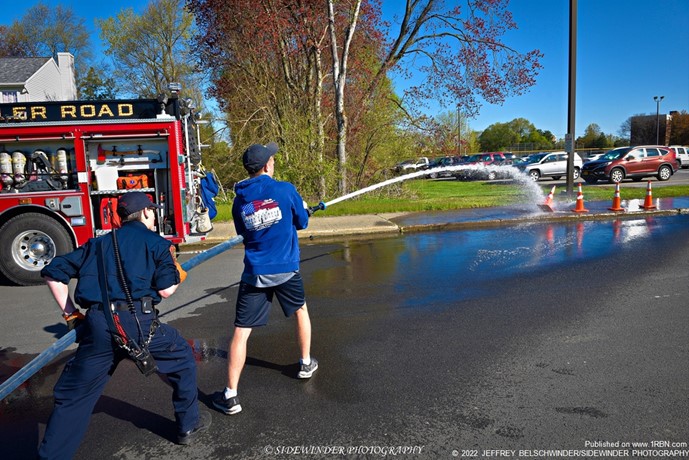 Photo by JEFFREY BELSCHWINDER/SIDEWINDER PHOTOGRAPHY
Photo by JEFFREY BELSCHWINDER/SIDEWINDER PHOTOGRAPHY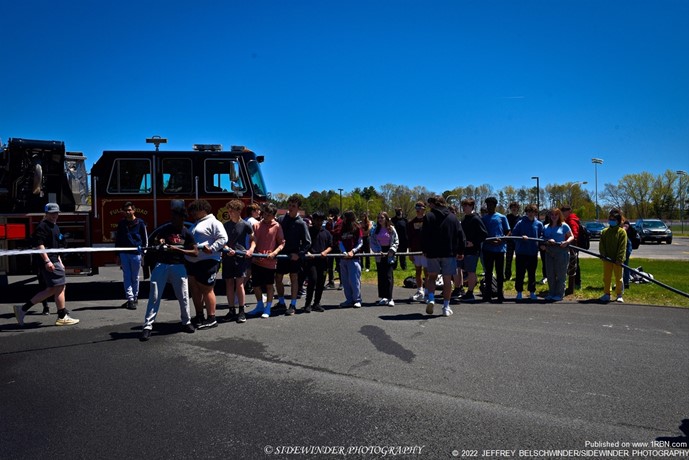 Photo by JEFFREY BELSCHWINDER/SIDEWINDER PHOTOGRAPHY
This article is a direct street report from our correspondent and has not been edited by the 1st Responder newsroom.
Colonie, NY - Did you know nearly 7 in 10 firefighters in the United States are volunteer firefighters. You can live in the smallest town in America or the largest town in America like Colonie ,New York. Volunteer firefighters handle a significant amount of emergencies in their communities daily. The call volume in the capital region has not been going down it has been increasing, but what has been going down the amount of individuals stepping up to become volunteer firefighters for their communities.

Over the last 10 years there has been a major fall off of individuals stepping up to become volunteer firefighters and the contributing factors to the shortage is quite easy and simple to identify. The average volunteer firefighter today is between the age of 30-49 years of age. It's very hard to find individuals that will come to you when most people today are working a full-time jobs or two jobs and having to provide for a family. What has made it harder for members of the community between the ages of 21 to 29 years of age to join the volunteer fire departments is the extensive amount of training needed by New York State to become a certified interior firefighter. This training can be up to eight months and most individuals don't have the time in today's economy to do that or if they are raising a young family. Most of the time members of the community do not even know if their department is a volunteer fire department or a career department. Members of the community know that when they pick up the phone and call 911 in a time of an emergency that they will get the fire department or their local ambulance to the scene.

In normal practices fire departments normally will a few times a year open their doors to the community in October and April and hope potential members will come down to the fire house and want to join. Departments actively take members all year round in their fire houses when people come to the station to find out information about becoming a volunteer firefighter. The Firefighters Association of The State of New York or FASNY for years has ran the campaign of "Is there a fire in you" and has provided numerous tools to fire departments to hold open houses at their stations to try to attract the general public to come in and learn more about becoming a volunteer firefighter. FASNY provides volunteer fire departments with information to give to the public on free training, equipment, tax breaks, and essential insurance coverage under the volunteer firefighter benefit law of the state of New York.

But recently a group of young firefighters from the Fuller Road Fire Department in the Town of Colonie, New York with the help of Colonie Police Department's School Resource Officer P. Germaine and the South Colonie High School's own Principal Brian Scalzo set up an opportunity for students that were interested in learning about the fire service. This was not just your traditional opportunity to hand out a pamphlet and talk about the fire apparatus. This was an opportunity for young students from 14 years of age to 18 years of age to learn about becoming volunteer firefighters in their community and the benefits that they could get by volunteering to help their community.

Groups of students throughout the day were brought outside and introduced to a group of young active firefighters that went to the South Colonie High School themselves in the past that were members of the Fuller Road Fire Department and given the opportunity to ask questions, handle equipment, operate hand lines, get dressed up in full turnout gear, and even get into friendly competitions. Firefighters allowed students to use a hand line at a reduced pressure to knock down cones in the parking lot and to spray water. The students were backed up by an experienced firefighter and showed them that handling the hand lines is not an easy task and it is a team effort. Firefighters showed the students their equipment and what they use daily. This included explaining about the turnout gear that they wear, the tools they use, and the types of emergency calls they go to.

As students became comfortable and opened up with the firefighters, they were encouraged to partner up with other students in the class that they may not know. Also, the students are placed against each other in a friendly competition of dressing in full turnout gear in the allowed time of 90 seconds. Those students that finished first got a surprise gift card that was provided by some of the local businesses. At the end of each group the students were informed that there was an opportunity for them to learn more about the fire department and all they had to do was sign up their name, email, and telephone number and the department would reach out to them without any obligation of joining that they were just seeing if you were interested in coming down in learning more.

Students also learned about the millions of dollars available every year in college scholarships in the fire service. Students also learned that they don't have to just be an interior firefighter there are jobs for everybody in the fire service, whether being a active member of the community support team, a member of the Fire Police, or just a person that is interested in being on a committee that helps the fire department and their members. They learned about discount programs that are available in the town for firefighters, they learned about retirement programs available through the fire service, and they also learned about the great educational opportunities and college credits that are available through the fire service that can be applied to a significant amount of colleges across New York State that accepts New York State certificates.

As each group came through firefighters from the Fuller Road fire department themselves begin to recognize that this is the way to get young members of the community interested in the fire service. They learned that you can't wait for people to come knocking on your door. You have to go to them and bring your A game to show them what you do. At the end of the career day event which lasted seven hours , firefighters from the Fuller Road Fire Department received 82 students that were interested in learning further about becoming firefighters in the Town of Colonie. If those individuals were not in the Fuller Road Fire Department's District, the chief of the department would pass on the information to the correct fire department and make sure that they got a hold of these individuals that were interested in becoming firefighters in the town of Colonie.

Fire departments can no longer just sit around and wait for members to come into their door. A couple things departments can do while actively searching for members is:
1. Work with your local school district and set up a table with information, gear and equipment and be active with the students that approach you. Do not just stand behind the table and explain everything from their. Come out to them and hand them the equipment and explain it to them. Make sure that you are explaining to them all of the items that are available including scholarships, help with school, and other programs your department has. If the individual is comfortable encourage them to put on the equipment on and walk around. If the individuals approach in a group, utilize each person in that group to get your message across. Make sure that you let them know they all are welcome to join. Usually today teenagers are comfortable joining with their friends.

2. If you have sporting events in your district work with the arena or the school district to be able to set up in the beginning half of the game with a table or apparatus nearby. When doing this style of recruitment event have a designated number of firefighters that will work with the general public that will come up with their children to see the apparatus and want stickers, cool plastic fire helmets, or other items like that. Have a few designated firefighters that are strictly there to be able to grab individuals that are interested in becoming firefighters. Have the information available of what those individuals that want to join the department need to do. If those individuals are not in your district don't push them away!! Get their information let those individuals know that you're going to pass it on to the fire department that they can join to serve that community.

3. In your apparatus carry small 4 x 6 cards that you can handout at any time that you are on a call or out in public to anyone that may be interested in joining. Those cards should have your drill dates and meeting nights also a contact phone number that is regularly checked by the department's membership committee. They should list programs, benefits, and positions that are available.

4. Last but not lease, when approaching the public with your application be upfront about what they need to fill out. A lot of times when you hand them a five page or six page application it becomes completely overwhelming. The fire department can or needs to figure out how to shorten that application down to a 1 to 2 page application that can be quickly filled out on site and handed in. If your department allows it contact those individuals right away get them to come down to the station during a drill night and introduced them around the station to everyone. Show them to fire house, the equipment, and if they want to stay show them what a drill is like and what is going to be expected of them. Keeping the interest of the person that has taken the time to fill out the application and come down to the station is crucial today.

Remember to keep moving forward and always smile while you are doing these hard task of getting new members in the door today as it is the only way volunteer fire departments are going to survive in the coming future. The youth in todays schools have the time to learn to become firefighters and these young Indvidual's have a lot of opportunity to learn great life skills and get scholarships to help them create a bright future for themselves.