Major Fire Destroys Henniker Wood Facility
By JAY HEATH, Correspondent | May 31, 2020 | NEW HAMPSHIRE
Story No. 060220107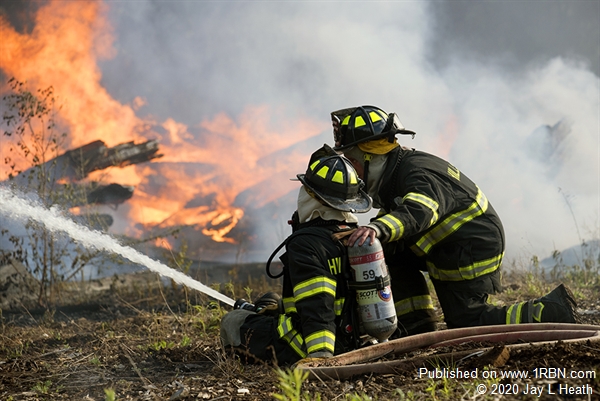 Photo by Jay L Heath Hillsboro Firefighters battled a 3-alarm fire at the Cousineau Forest Products in Henniker on May 31st.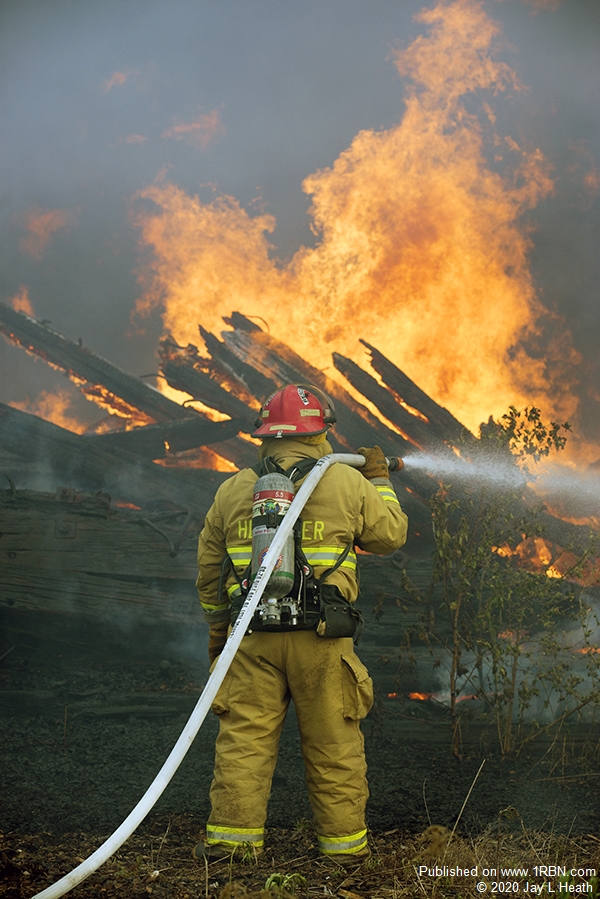 Photo by Jay L Heath Numerous piles of lumber produced heavy fire all afternoon.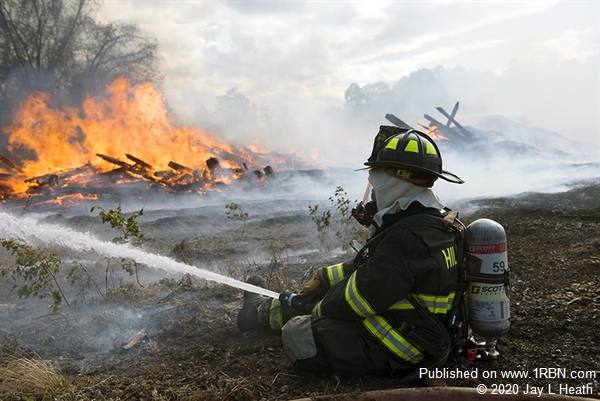 Photo by Jay L Heath A Hillsboro firefighter on a big line trying to knock down the heavy fire in the lumber piles.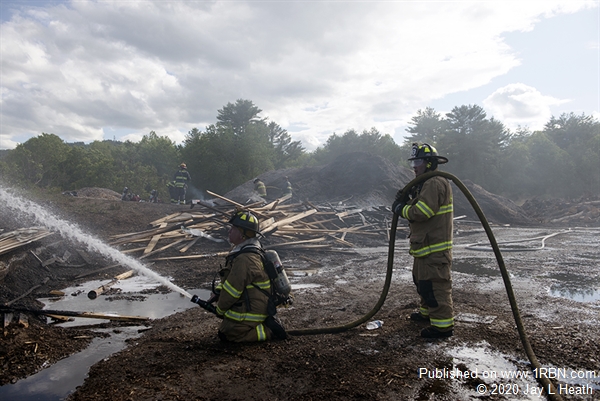 Photo by Jay L HeathHeavy winds spread the fire through out the 26-acre site , burning piles of lumber, mulch and spreading into the woods.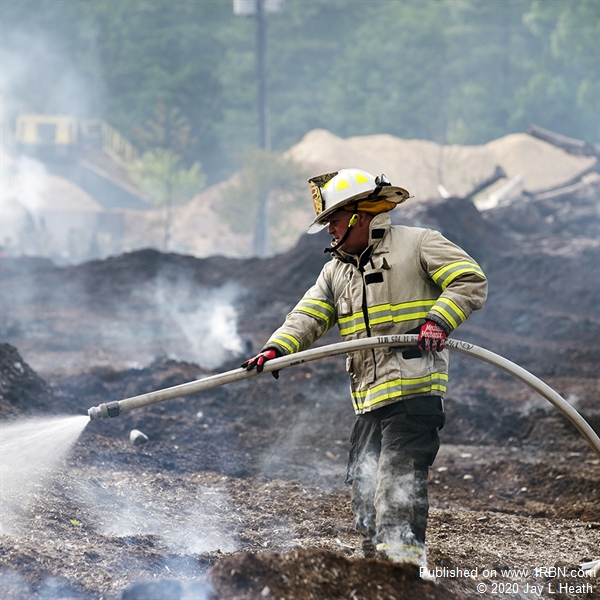 Photo by Jay L Heath Numerous large piles of mulch where burning as well.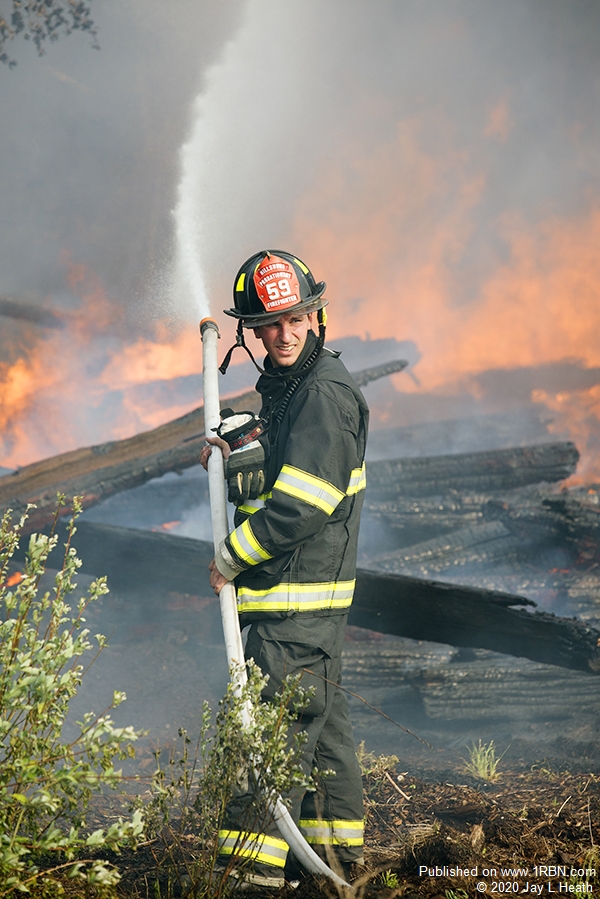 Photo by Jay L Heath This Hillsboro firefighter doing the best he can with little water pressure on this massive fire.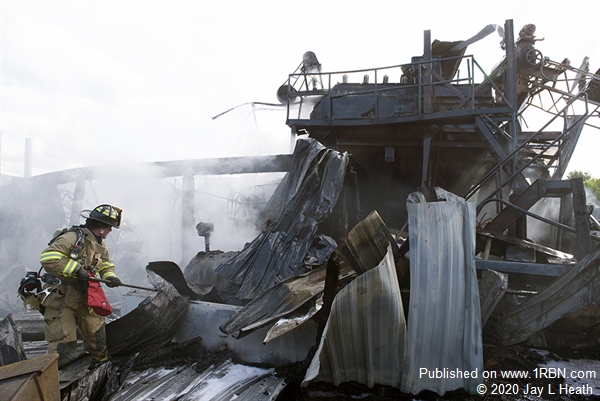 Photo by Jay L Heath The Mill Building collapsed into a smoldering heap right away as Hopkinton Firefighter Mitchel Dean over hauls whats left of this massive facility,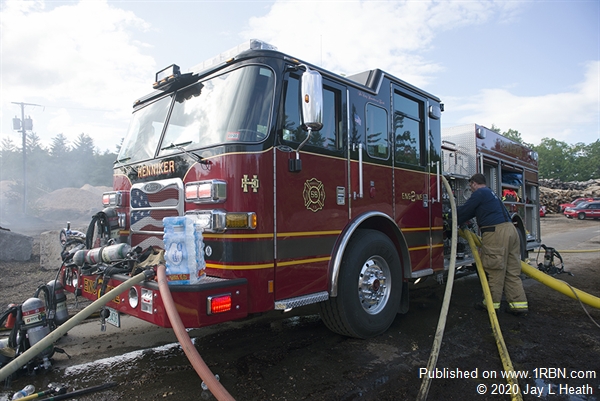 Photo by Jay L Heath Henniker's First Due Engine 2 had quite the work out at this 3rd Alarm fire in Henniker on Sunday afternoon.
Henniker, NH - A major fire destroyed a wood processing facility plant at the Cousineau Forest Products at 1310 Old Concord Road on Sunday afternoon, May 31st. Multiple fire departments were brought in to help battle the blaze.

Concord FAO received a call from a neighbor reporting heavy smoke coming from the mill building, and automatic mutual aid was dispatched on the initial dispatch of fire. A second-alarm was ordered at 3:22 P.M., followed by a report on arrival by the Henniker Fire Chief with the size up of a 100X200 mill building fully involved with multiple exposures, which were driven by strong winds into numerous piles of mulch, lumber and acres of brush spreading on the 26-acre site. A second-alarm brush response was transmitted right away at 3:30 P.M.

A downed power line, which was still live, hampered firefighting operations, as crews had to set up water sources and tankers to shuttle water in for this massive fire. A third-alarm tanker response was dispatched at 4:07 P.M., and then a third-alarm brush response at 6:07 P.M.

The facility, which processes wood into playground surfacing, biomass fuel, chips and bark mulch, suffered its first serious fire under the Cousineau ownership. Cousineau, who is based in Wilton, Maine, took over operations in Henniker about three years prior. Damage is estimated at a half-million dollars.

The mill building collapsed into a smoldering heap of twisted metal and machinery, and numerous piles of lumber produced heavy fire most of the afternoon along with large bark mulch piles smoldering. The fire spread into the woods, calling for the third-alarm brush response.

The fire was contained at 7:58 P.M., but crews remained on scene well into Monday afternoon wetting down hot sports and overhauling. The NH State Fire Marshal's office is investigating the fire.
This article is a direct street report from our correspondent and has not been edited by the 1st Responder newsroom.