Crews Face Obstacles at Logging Yard Fire in Scotia
By JEFFREY BELSCHWINDER, Senior Correspondent | May 16, 2021 | NEW YORK
Story No. 060121111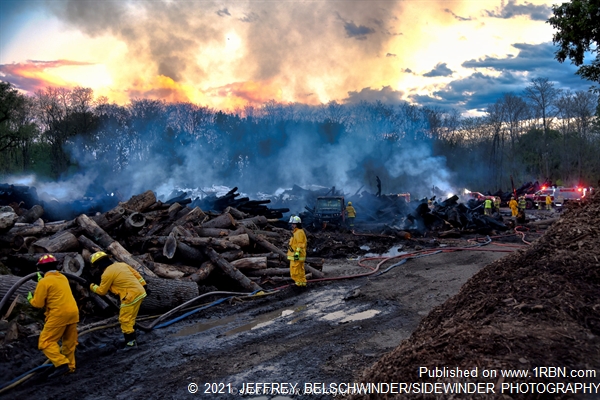 Photo by JEFFREY BELSCHWINDER/SIDEWINDER PHOTOGRAPHY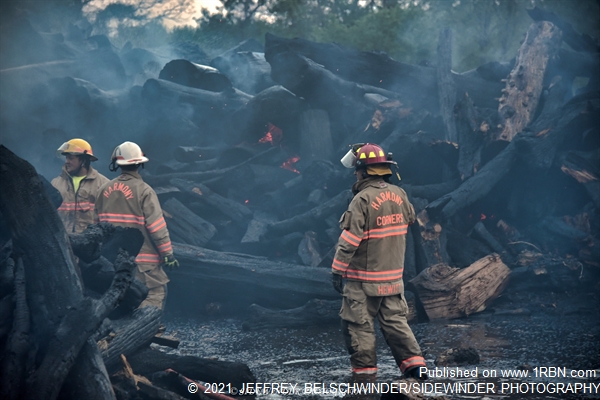 Photo by JEFFREY BELSCHWINDER/SIDEWINDER PHOTOGRAPHY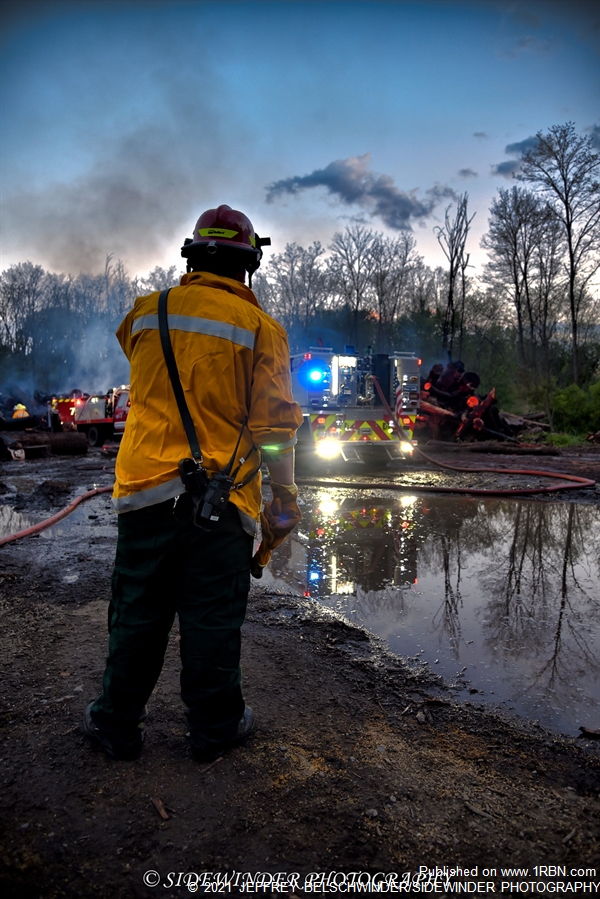 Photo by JEFFREY BELSCHWINDER/SIDEWINDER PHOTOGRAPHY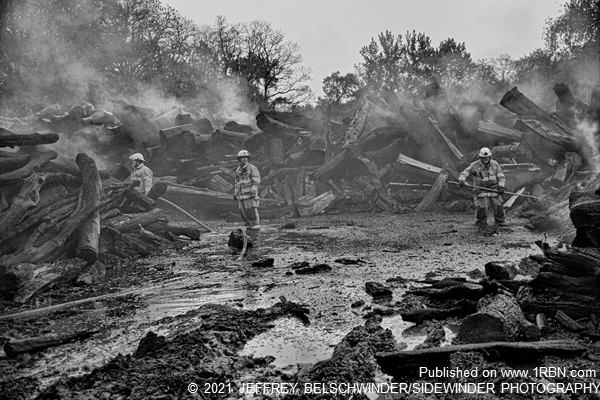 Photo by JEFFREY BELSCHWINDER/SIDEWINDER PHOTOGRAPHY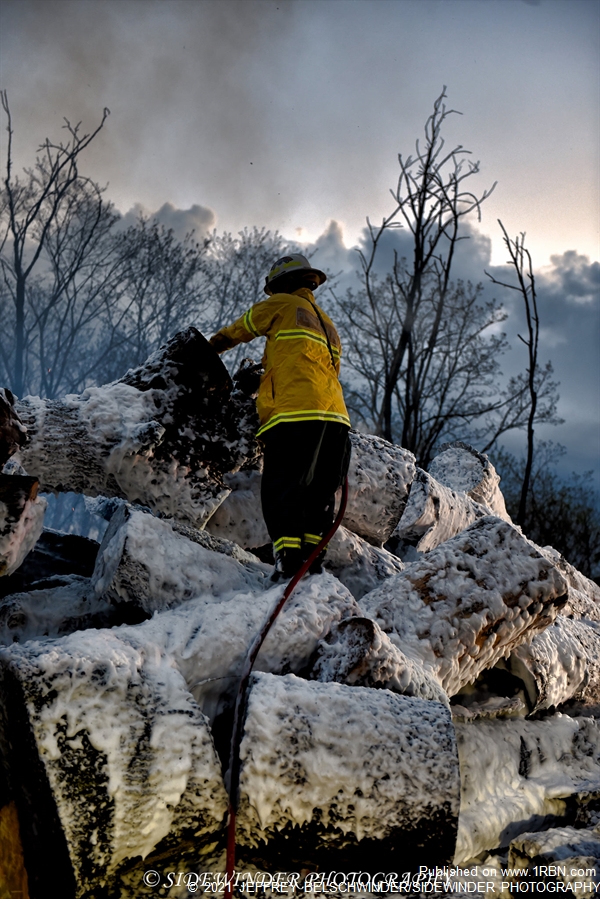 Photo by JEFFREY BELSCHWINDER/SIDEWINDER PHOTOGRAPHY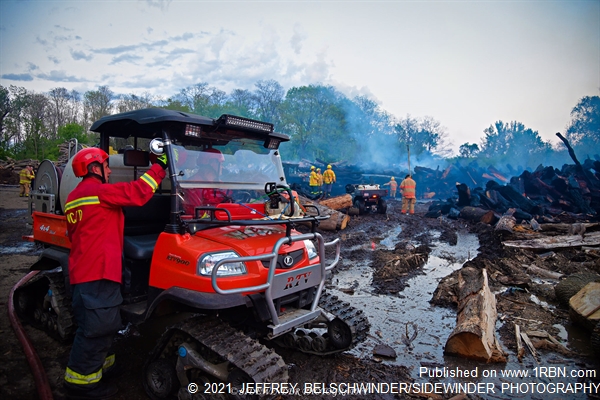 Photo by JEFFREY BELSCHWINDER/SIDEWINDER PHOTOGRAPHY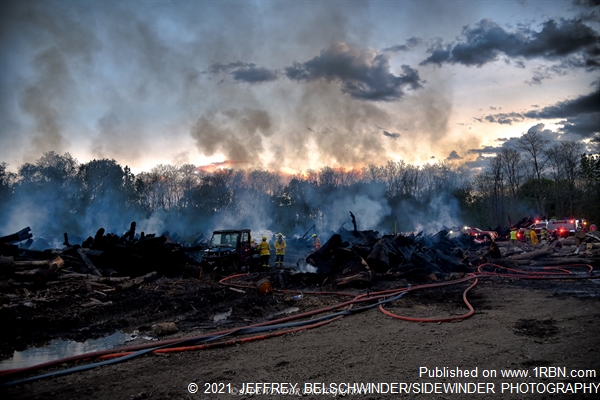 Photo by JEFFREY BELSCHWINDER/SIDEWINDER PHOTOGRAPHY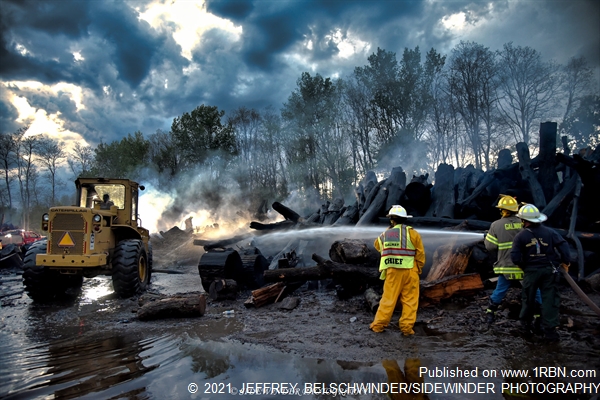 Photo by JEFFREY BELSCHWINDER/SIDEWINDER PHOTOGRAPHY
SCOTIA, NY - On May 16th at 5:24 P.M., the Scotia Fire Department along with mutual aid from the Thomas Corners Fire Department were dispatched to the area of 127 Sunny Side Road for a reported controlled burn that got out of hand. As units were responding, they had a large column of smoke off in the distance.

As units arrived in the area and made their way into the logging yard they discovered a significant logging yard fire. Command immediately requested mutual aid to the scene to establish a water supply nearby, as there were no fire hydrants near the property.

Command began to conduct his scene size up and realized he had very large piles of logs spending a seven-acre site on fire. Command requested additional mutual aid units from the following companies to the scene or cover assignments to assist in extinguishing the fire: Thomas Corners, Alplaus, Beukendaal, East Glenville, Mariaville, Plotterkill, Stanford Heights, Carman, South Schenectady, Rotterdam District No.2, Stratton Air National Guard FD, Galway, West Charlton, Kapl, Harmony corners, Visher Ferry Fire District, West Glenville, Burtonsville, and the Saratoga and Schenectady County emergency coordinators.

Firefighters began to arrive on scene, established a water supply at the end of the road and shut down Sunnyside Road as they had an extensive tanker operation underway. With the large piles of wood in free burn firefighters began to use water to attempt to extinguish the fire, but the large logs, some spending over four-feet in diameter and 30-feet long, were presenting challenges to the firefighters on scene.

As fast as the tankers brought in the water was as fast as firefighters began to run out of water on scene. Crews attempted to keep up with the large demand of water needed to bring the fire under control.

Schenectady County coordinators arrived on scene and set up their drone operation to oversee the large operation going on in the logging yard. Command set up a large staging area for manpower and equipment near the roadway. Firefighters utilized multiple large brush trucks, ATVs, front-end loaders, and engines inside of the logging yard to extinguish the fire.

Additional resources from the NYS Forest Rangers and Department of Environmental Conservation was brought into the scene to assist firefighters. Firefighters on scene climbed the large piles of logs and used forestry lines with class A foam to spray into the middle of the logging piles in order to get into the center of the area where they were burning. Multiple front-end loaders moved the large piles of logs into an area where firefighters began to spray them down with water as they were being placed into smaller piles.

As nightfall set in, firefighters began to bring the logging yard fire under control after an extensive five hour fight. No firefighters were injured on scene.
This article is a direct street report from our correspondent and has not been edited by the 1st Responder newsroom.