Resident Burned and West Vanvecten St. Home Destroyed by Fire in Albany
By JEFFREY BELSCHWINDER, Senior Correspondent | May 16, 2020 | NEW YORK
Story No. 052920103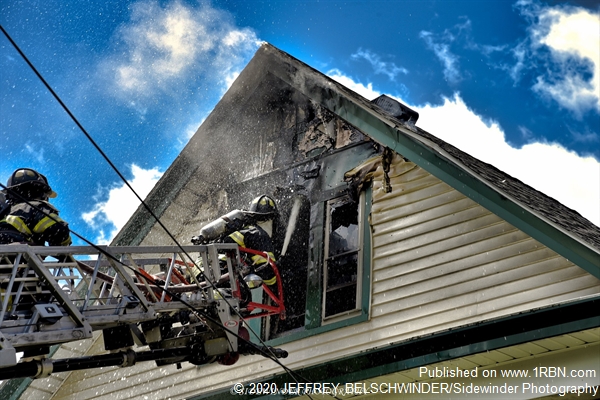 Photo by JEFFREY BELSCHWINDER/Sidewinder Photography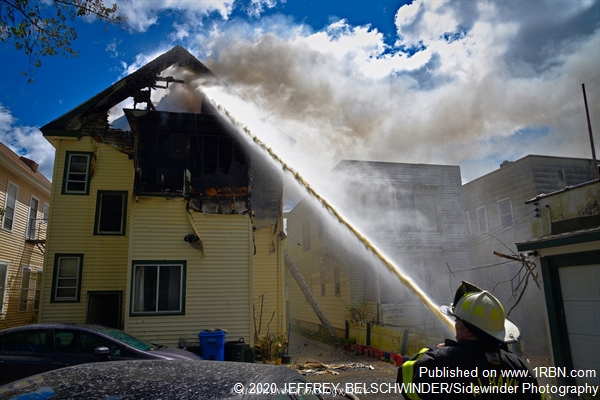 Photo by JEFFREY BELSCHWINDER/Sidewinder Photography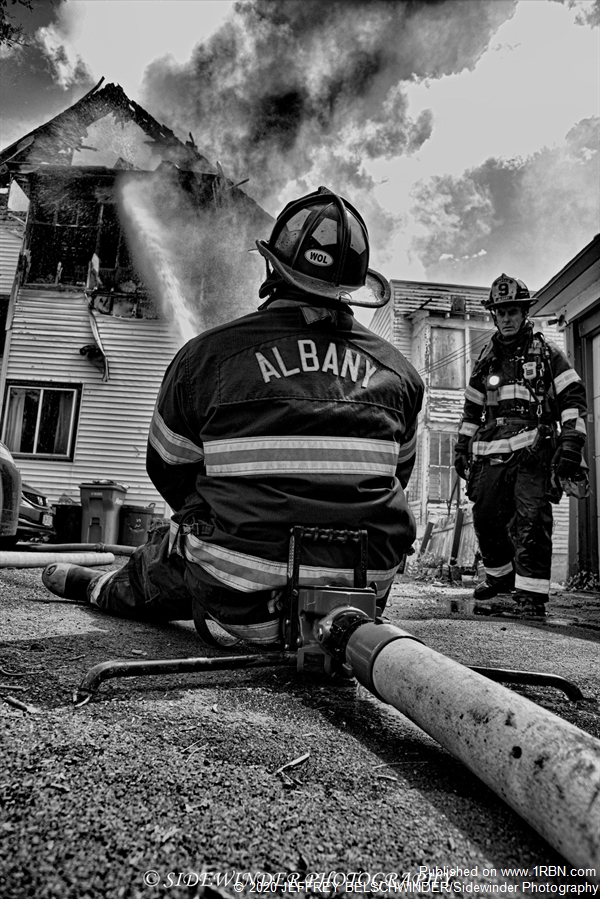 Photo by JEFFREY BELSCHWINDER/Sidewinder Photography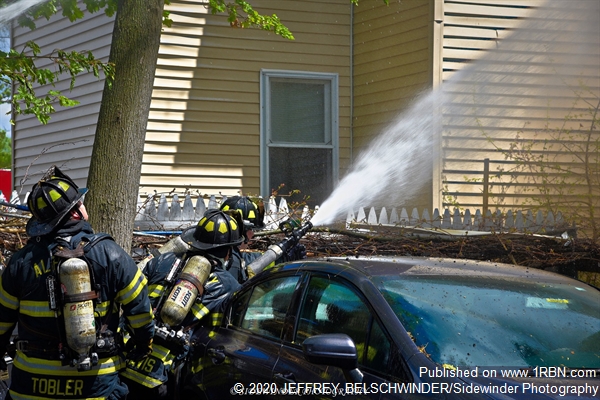 Photo by JEFFREY BELSCHWINDER/Sidewinder Photography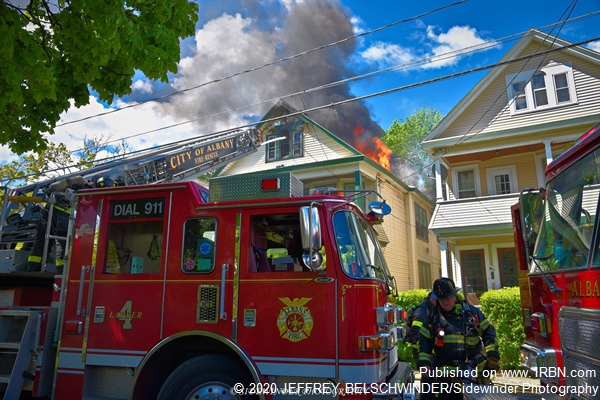 Photo by JEFFREY BELSCHWINDER/Sidewinder Photography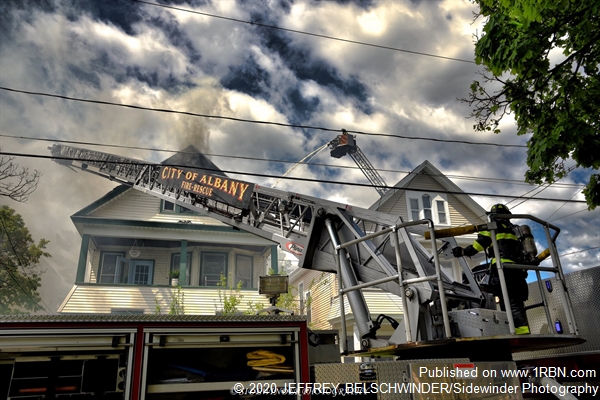 Photo by JEFFREY BELSCHWINDER/Sidewinder Photography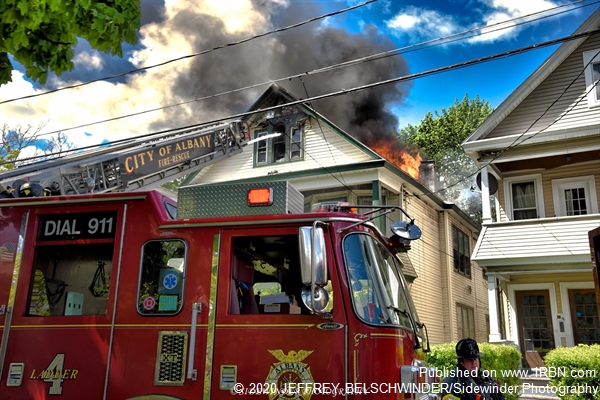 Photo by JEFFREY BELSCHWINDER/Sidewinder Photography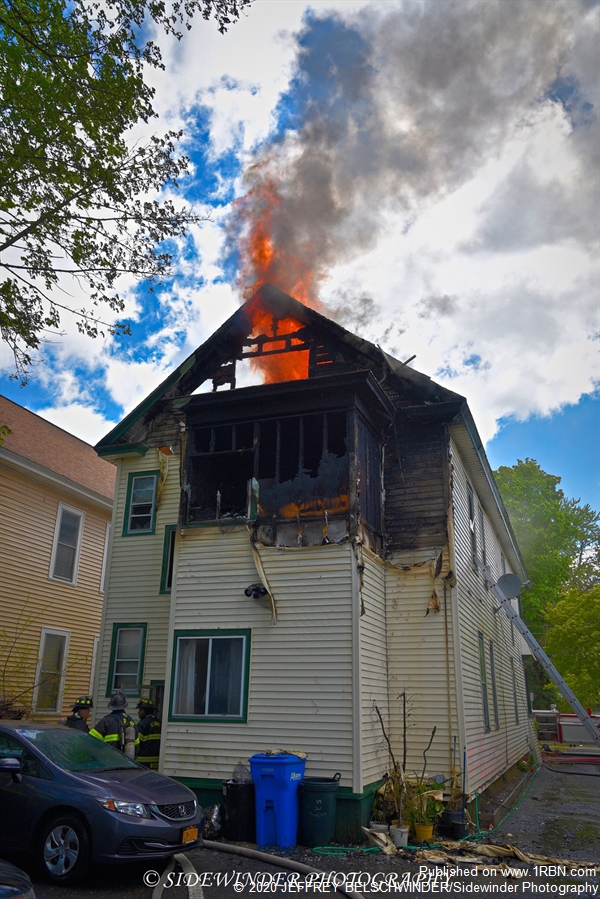 Photo by JEFFREY BELSCHWINDER/Sidewinder Photography
Albany, NY - On May 16th at 10:56 A.M., city of Albany's fire and police dispatchers received multiple calls for a structure fire at 52 West VanVecten Street, with the attic of the building reportedly on fire.

As Engine 9 and Truck 4 were responding to the scene, crews noticed a heavy column of smoke showing from a few blocks away. Engine 9 arrived on scene and immediately declared the Signal 30 for a working structure fire, as they had heavy fire blowing out of the back of the structure and heavy smoke pushing from the second and third floors.

Firefighters made entry into the front door of the structure and pulled a hand line to the second floor. Additional firefighters pulled a two-and-a-half inch hand line to the rear of the structure with a blitz fire.

Firefighters pulled two-and-three-quarter inch hand lines up the rear stairs where they encountered heavy fire pushing down from the second floor and down the stairwell. As firefighters moved up the stairs they used a hand line to knock down the heavy fire. Crews on the outside of the structure began to use a blitz fire to hit the heavy fire in the attic area.

As heavy smoke started to take over the second floor of the structure and the roof started to become unstable, Command asked the crews to start to back out, as the conditions were rapidly changing. As firefighters were attempting to drive back the heavy fire inside of the structure, flames from the attic pushed down onto firefighters on the second floor. Command then ordered everyone out of the building. As firefighters in the rear of the structure were backing out of the building a large portion of the roof came in on the second floor. Firefighters came down the back stairwell and exited the building safely.

Firefighters repositioned outside of the structure and began a full defensive operation. Trucks 2 and 4 set up their master streams along with multiple firefighters in the rear of the structure utilizing a blitz fire and a hand line. As the truck companies began to knock down the heavy fire in the roof area, firefighters on the outside of the structure began to knock down visible fire on the backside of the structure, in the rear porch and in the eaves area.

Crews continued exterior operations for about 20 minutes before switching back to interior operations. After all remaining hotspots were knocked down, firefighters conducted heavy overhaul on scene for over an hour.

One person from the residence was taken to Albany Medical Center with burns. No firefighters were injured on scene and the fire is currently under investigation.
This article is a direct street report from our correspondent and has not been edited by the 1st Responder newsroom.