One Run, Two Fires in West New York
May 24, 2022 | NEW JERSEY
RON JEFFERS, New Jersey Editor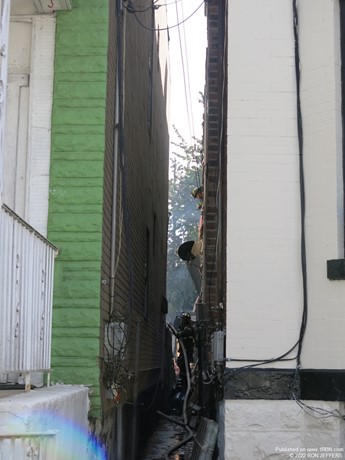 Photo by RON JEFFERSNorth Hudson firefighters knocked down a large rear shed fire and opened up walls of exposing dwellings along the 300-block of 59th Street, West New York, May 23rd.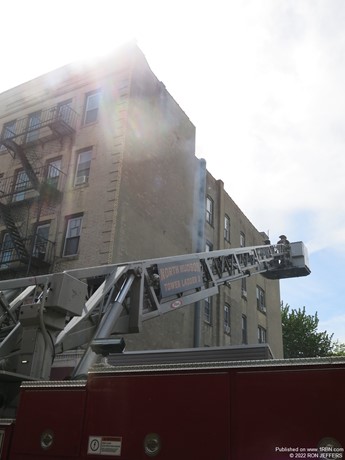 Photo by RON JEFFERSAs firefighters were overhauling the fire in the rear of 59th Street dwellings, they noticed smoke coming from a third-floor window of an occupied five-story building, around the corner, on Hudson Avenue.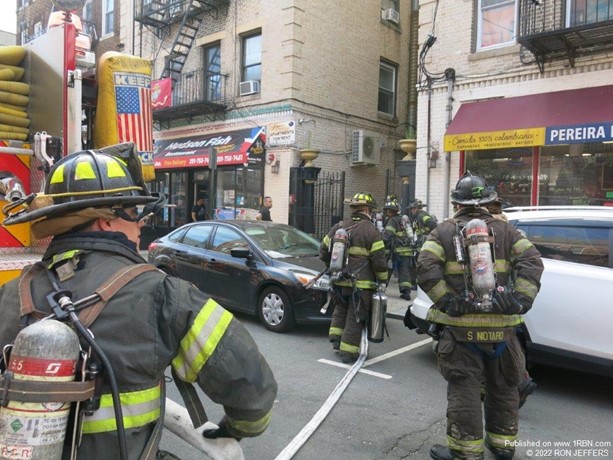 Photo by RON JEFFERSFirefighters enter 5809 Hudson Avenue to extinguish a fire that was discovered by members operating at the original alarm of fire on 59th Street.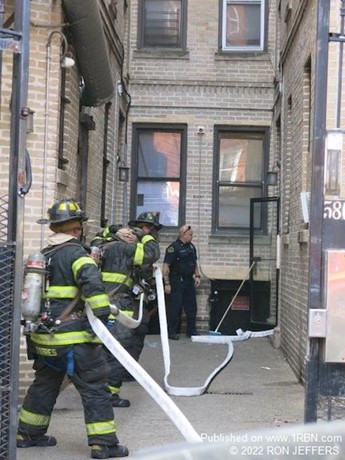 Photo by RON JEFFERS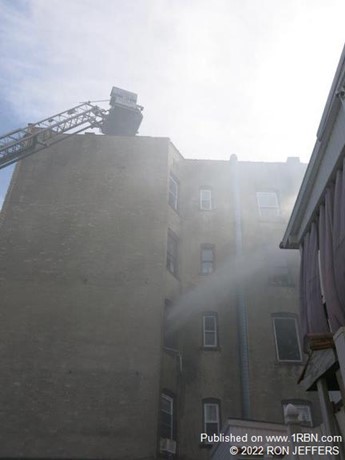 Photo by RON JEFFERS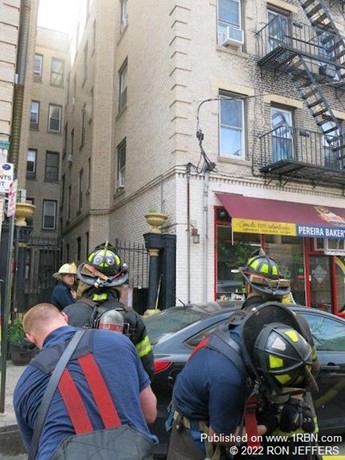 Photo by RON JEFFERS
This article is a direct street report from our correspondent and has not been edited by the 1st Responder newsroom.
WEST NEW YORK, NJ - Shortly before 3:00 P.M., May 24th, North Hudson fire companies were dispatched to a fire on the 300-block of 58th Street. Fire Control reported to responding units that they were receiving numerous phone calls. Captain Chris Jorquera, of first-due Ladder Co. 4, reported smoke in the area. This was followed by a report of smoke showing in the sky and a working fire transmitted by 2nd Battalion Chief Adrian Prunes.

There was difficulty locating the fire, reported in the rear of some buildings, and then reported as fire showing in the rear of the 300-block of 59th Street. A large shed was heavily involved with fire extending to nearby dwellings. A second-alarm was transmitted.

Hose lines were stretched through a narrow alley and a 59th Street dwelling to gain access to the seat of the fire. The fire in the shed was knocked down as well as fire involving sidings of occupied dwellings. Companies continued to open up walls and check for extension.

As things calmed down, firefighters on a rear 59th Street roof observed smoke coming from a third floor window of a five-story ordinary, mixed use building, fronted on Hudson Avenue, around the corner from the initial operations. Incident Commander, Deputy Chief David Donnarumma, was notified by radio of a second fire. Firefighters scrambled around the corner, saw the smoke, and entered the Hudson Avenue apartment with water cans, followed by a hand line, for fire extinguishment and to make searchers.

The fire, that appeared to originate by a window, was knocked down, and fog venting proceeded. Firefighters came out to the street to take a blow and grab bottled water. Several members were examined by West New York and Jersey City Medical Center EMTs, with one firefighter transported to Palisades Medical Center for further evaluation.

The origin of both fires were being investigated by local officials.