Man Rescued from Apartment Building Fire in N. Patchogue
Photo by John Walthers- Suffolk Fire PhotosFirefighters from multiple departments operated at an apartment building fire on Robinson Ave. in North Patchogue, 5/17/22.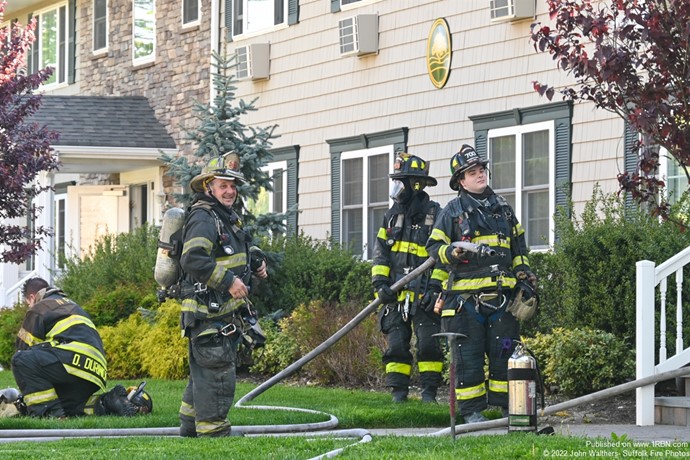 Photo by John Walthers- Suffolk Fire PhotosFirefighters from Hagerman and North Patchogue man a line outside the apartment building in the Fairfield Apartments in North Patchogue at a building fire. 1 person was rescued during the operation.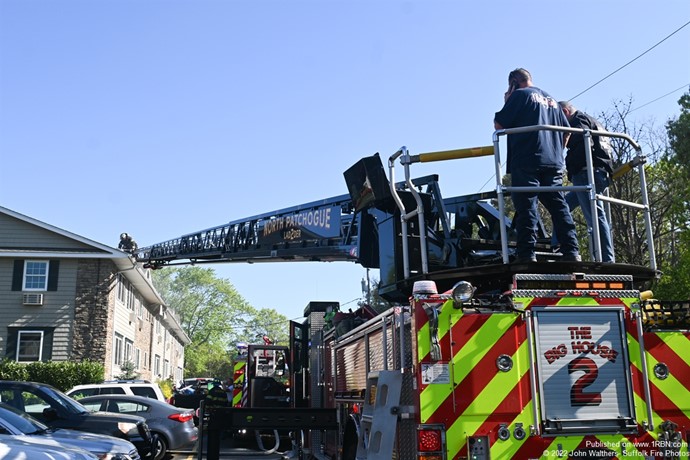 Photo by John Walthers- Suffolk Fire PhotosNorth Patchogue Tower Ladder in Operation at a recent apartment building fire in Fairfield Apartments.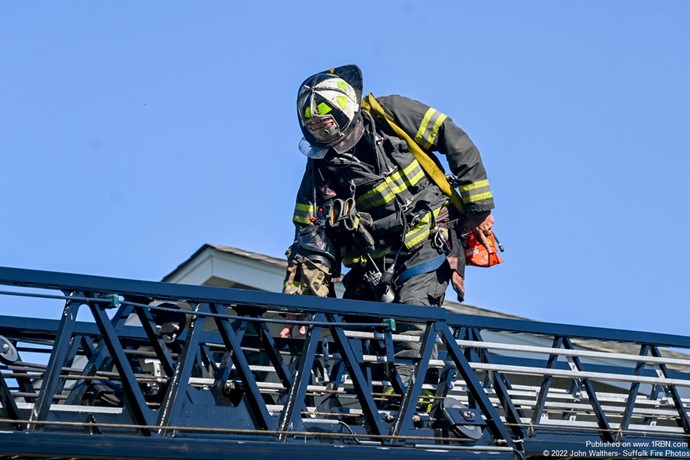 Photo by John Walthers- Suffolk Fire PhotosA North Patchogue FD Lieutenant can be seen coming down the ladder.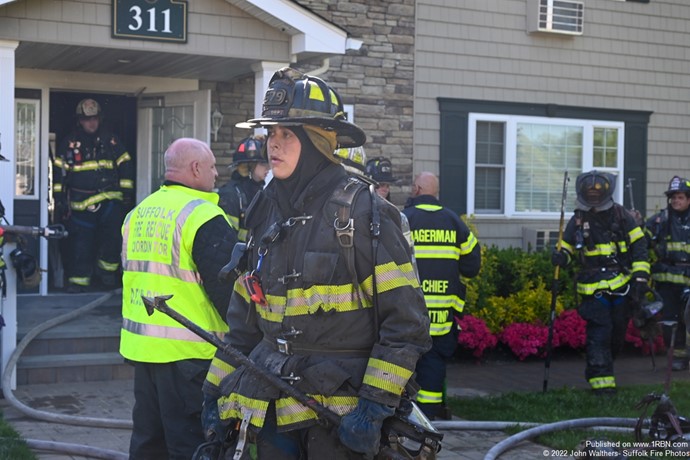 Photo by John Walthers- Suffolk Fire PhotosFirefighters from Hagerman, North Patchogue and several other departments handled an Apartment building fire recently.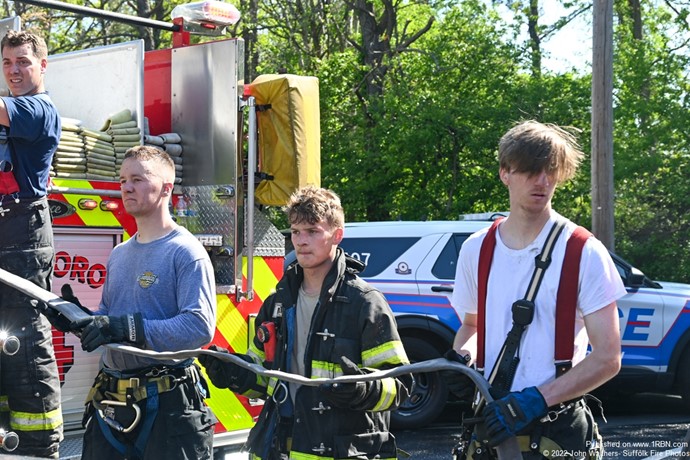 Photo by John Walthers- Suffolk Fire Photos
This article is a direct street report from our correspondent and has not been edited by the 1st Responder newsroom.
NORTH PATCHOGUE, NY – On Tuesday, May 17th at approximately 8:12 A.M., the North Patchogue FD was activated for a report of a structure fire at 311 Robinson Ave., in the Fairfield Apartments. The Hagerman FD was also activated as automatic mutual aid to the scene.

North Patchogue 2nd Assistant Chief (5-17-32) and Hagerman Chief of Department Tom Dunham (5-10-30) advised dispatch that they were en route as reports of multiple calls from buildings 309 & 311 were being received. Police dispatchers also received a report of possible occupants still inside building 311. On arrival, Chief Dunham of Hagerman advised North Patchogue dispatch and the Assistant Chief that he had active fire and North Patchogue 32 transmitted the working fire assignment, triggering additional mutual aid to be dispatched from Medford, Blue Point and Holbrook Fire Departments.

North Patchogue 5-17-4 was the first due engine, and on arrival the crew had fire showing out of the window of an apartment building and a lot of heat and smoke. Lines were quickly stretched. While crews were operating in the fire apartment, Hagerman Chief Dunham and Firefighter Ohora located a person in an adjacent apartment and brought them to a back window where Suffolk Police and additional Hagerman members assisted him. The man stated that he had been trying to get a cat out of the building. Once he was removed, medical personnel were asked to look at him, but the man refused medical attention. Additional searches were conducted, and it was determined that all other occupants were out.

Multiple hand lines were stretched and an aggressive attack was made to knock the fire down. Due to the quick actions of the department members on scene, damage was able to be minimized and did not spread to the adjacent building. The scene was turned over to the Brookhaven Fire Marshal's Office for investigation. Units were back in service after about one hour and 20 minutes.