Three-Alarm Blaze Destroys Restaurant in Coudersport
By BRYAN PHELPS, Correspondent | April 02, 2021 | PENNSYLVANIA
Story No. 051821107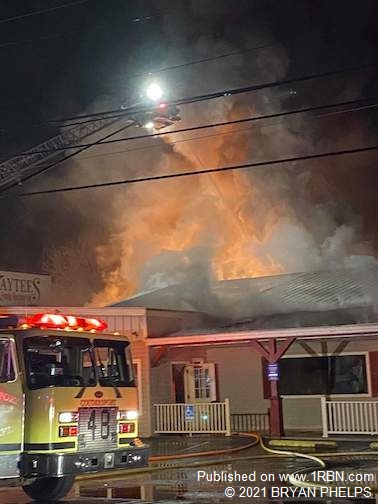 Photo by CALEE PHELPS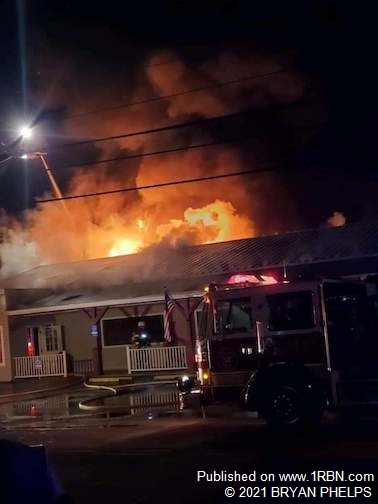 Photo by CALEE PHELPS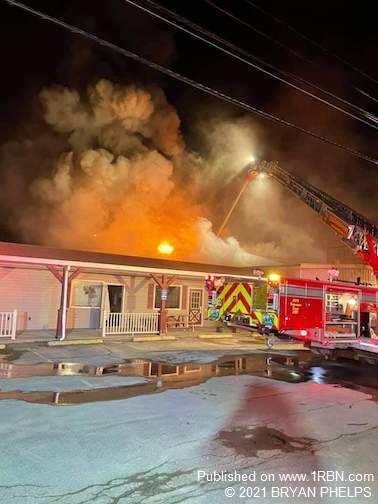 Photo by CALEE PHELPS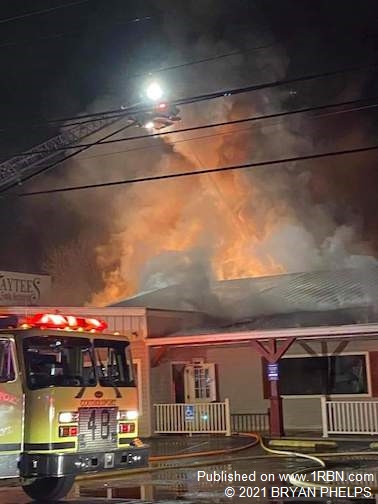 Photo by CALEE PHELPS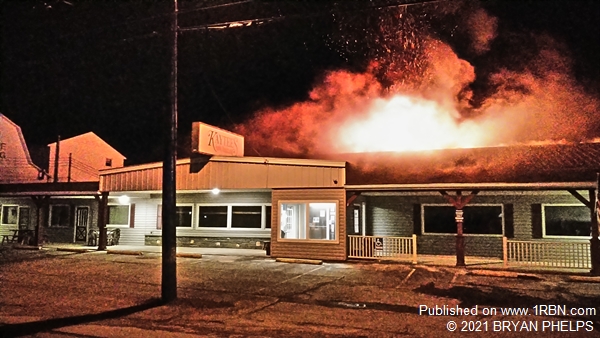 Photo by CALEE PHELPS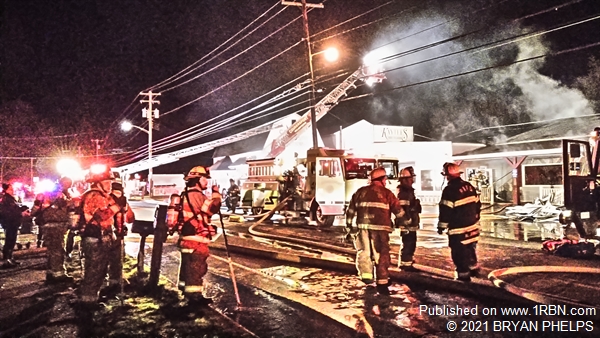 Photo by CALEE PHELPS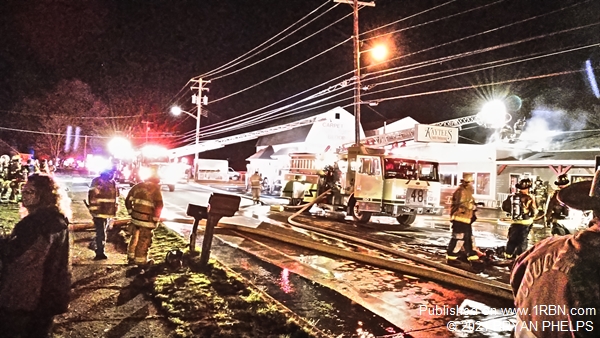 Photo by CALEE PHELPS
COUDERSPORT BORO, PA - It is with great sadness that we lost a local restaurant, an owner lost her business and workers lost their jobs on the evening of April 2nd as the result of a fire at Kaytee's Family Restaurant & Marketplace at 251 Route 6 W in Coudersport Boro.

The fire had a deep-seated head start when firefighters arrived. Crews worked feverishly to save the business as well as other nearby businesses.

Initial dispatch reported a commercial structure fire with several calls reporting fire through the roof. Chief 48 Phelps, AC 48-10 Dunn, and AC 48-20 Dunn II immediately responded. Chief 48 Phelps (Command) could see the flames from his residence and immediately struck a second-alarm assignment, summonsing Station 3 - Star Hose Co. Port Allegany, 46 - Roulette Chemical Engine #1 ,44 - Austin, 10- Galeton, and 39 - Shiglehouse.

All first and second-alarm crews continued aggressive interior attacks from sides 'A' and 'C' along with coordinated master streams to quell the flames. Additional RIT companies were requested to fill in after utilizing the RIT's on scene.

After approximately 35 minutes, command (C48) requested a third-alarm to continue fire suppression and containment, along with additional RIT to move up and cover for advancing teams and crews.

The fire was brought under control several hours later with extensive overhaul and clean up to follow.

Departments involved on scene were as follows, while additional departments were activated to cover these stations/districts that I am unaware of:

Station 2 Smethport, 3 Port Allegiant, 4 Eldred boro, 39 Shiglehouse, 44 Austin, 10 Galeton, 47 Ulysses, 46 Roulette, 20 Harrison Twp., 5 Westfield, 14 Emporium, 15 Bradford Twp., CVAA and Town of Allegany in all 13 with 175 FF's. (18 Engines, 5 Rescues, 3 Aerial devices, 3 Squads, 4 Ambulances, 2 Tankers 2 Patrols). Austin Galeton and Roulette laid secondary supply lines to the Allegany River, three in total all in excess of 1600'.

Also assisted at the scene by UGI, WEST PENN POWER, Boro Water Authority, Boro PD and State Police - CDSPT and the state police fire marshal unit, and dispatchers at the Tioga and Mckean Co. 911 Centers.

At this time the restaurant is considered a total loss. There was also heavy damage to the Produce and Feed Store areas, with an undetermined cost or cause at this time.

The fire is being investigated jointly by officers of the fire department and the PA State Police Fire Marshal Unit, and is believed to be accidental from an ash/smoking container.

I would like to thank each and every department and their personnel for working hard to bring the fire under control without any injuries. Route 6 was shut down during the whole time of this incident.

One individual, whose residence was attached to the fire building, was displaced and is being assisted at this time. Several animals were also taken and relocated to new homes.
This article is a direct street report from our correspondent and has not been edited by the 1st Responder newsroom.