A Piece Of The Old Days Is Gone In North Hudson
By RON JEFFERS, New Jersey Editor | May 15, 2020 | NEW JERSEY
Story No. 051520116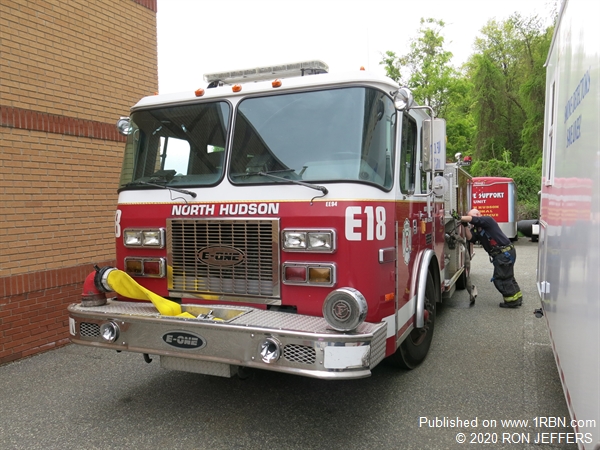 Photo by RON JEFFERSA little North Hudson FD history occurred on May 6th, when firefighters removed equipment from decommissioned spare Engine 18 at Fire Headquarters. This was the last piece of firefighting apparatus used by the regional department that came from one of the five original municipalities that formed this consolidated FD, in 1999.
West New York, NJ - Some local firefighters were not aware, and others were, that a little piece of history was made at North Hudson Fire Headquarters on May 6th. Spare Engine 18's 1994 E-One 1250-GPM pumper was decommissioned and members removed equipment from the veteran pumper. This is the last piece of firefighting apparatus that was in use from the five municipal fire departments that now make up the North Hudson Regional Fire & Rescue, which was organized in 1999.

"The Regional," as some call it, was made up from the fire departments of Union City, North Bergen, West New York, Weehawken and Guttenberg.

Engine 18 saw original duty as Guttenberg Engine 1, and operated from the firehouse at 6810 Madison Street. You could say this rig had two identities. This house had six career members, with two on each of three 24-hour tours. They were known as Engine Co. 1. The volunteer members ran as Eclipse Hose Co. 4. Over the old North Hudson radio frequency, which was shared by six departments, it was known as Unit, and later Engine, 501.

This apparatus was not built for Guttenberg, but it was purchased by the town since it was available by a local vendor. That's why this unit has a 1000-gallon water tank, large for pumpers in this urban area, and a top-mount pump panel, also not common in the area.

When the regional was formed, this apparatus remained in the same firehouse and was re-organized as North Hudson Engine Co. 12. Engine 12 was disbanded on January 4, 2005, to organize Squad Co. 7 at the new Fire Headquarters building in West New York, along the ever growing Hudson River waterfront. This apparatus also served as Squad 7's rig for a time.

The Madison Street firehouse is currently occupied by Safety 1 and the Mask Service Unit. It was occupied by Rescue Co. 1 between the Engine 12 and Safety 1 days.

Of course, there is always a technicality, as captain Sean Sullivan, of Engine Co. 13, pointed out. Sullivan is a former Guttenberg career firefighter. The body of the department's current Mask Service Unit was built by Cliffside Body Co., using a 1994 Ford chassis, for the former North Bergen Fire Department. That body, with a six-bottle fill station, was later remounted on to a newer Ford chassis by North Hudson.

The decommissioning of Engine 18 created a stir on some Facebook pages as both former Guttenberg and North Hudson firefighters reminisced about this engine and others that served.

This article is a direct street report from our correspondent and has not been edited by the 1st Responder newsroom.