Wrights Corners Volunteers Save CODE Victim
By STEPHEN WALLACE, Senior Correspondent | May 13, 2021 | NEW YORK
Story No. 051321111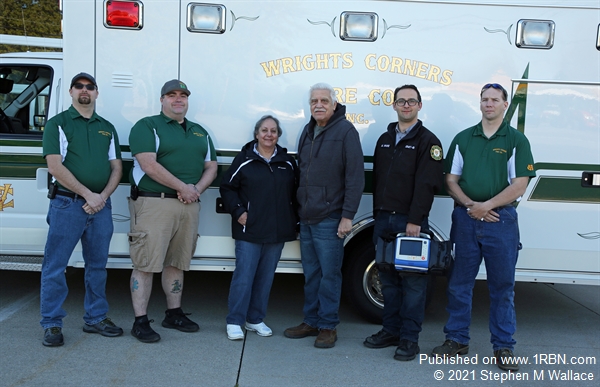 Photo by Stephen M Wallace(L to R): The life-saving crew from Wrights Corners, Richard Jufer, Chief and EMT Jonathan McKnight, Tina with husband Jim, who is a CODE survivor, EMT Mark Hare, and Christopher Brueckner.
WRIGHTS CORNERS, NY - The week of May 17–21st is National EMS week; Jim Tomasine experienced first hand the importance of first responders and EMS all year long after his life was saved.

On March 10th, Tina and Jim Tomasine stopped at Topps in Wrights Corners. Tina was going to pick up a few things and Jim was going to walk around the parking lot. Tina just turned when she heard a thump against the car. Jim had fallen against the car and was disorientated.

Thinking it was his diabetes, Tina was going to get him to get some food. She just started out of the lot when Jim went into convulsions. Tina dialed 9-1-1 and headed right over to the Wrights Corners main fire hall just a few seconds away. Niagara County Dispatch put the call out over the monitor to the Wrights Corners Fire Company.

Firefighter/EMT Mark Hare was thankfully inside the hall working on stocking the ambulance. Mark ran outside into the parking lot and found Jim in full cardiac arrest. The call was updated to the severe nature. Chief Jonathan McKnight was pulling into the hall along with Firefighter Christopher Brueckner and Richard Jufer. CPR was started, the ambulance was pulled around and Mark got the Monitor Defibrillator out and hooked Jim up.

New York State Trooper Anthony Andricaccio and Trooper Anthony Carbone arrived on the scene. CPR was stopped for Mark to check the rhythm on the monitor. Mark realized it was a shockable rhythm and delivered a shock to Jim with no positive result. Trooper Andriaccio assisted in CPR while Wrights Corners got the stretcher ready for transport.

Another check done with the monitor revealed another shockable rhythm. The second shock was delivered. Success, a sinus rhythm with a pulse. Advance Life Support units were too far away to wait. This highly trained Basic Life Support crew from Wrights Corners Fire Company transported Jim to Eastern Niagara Hospital.

On May 13th, Jim Tomasine and his wife Tina, came by the Wrights Corners Hall to thank the crew that saved Jim's Life. Jim ended up having successful bypass surgery and is on the road to a recovery. As Jim put it, very simply, "They all saved my life!" It reminded me of what my Paramedic Instructor told all of us right before we graduated 38 years ago; "without quality Basic Life Support, there will be no need for Advance Life Support."

Jim Tomasine is living proof of the importance of any quality care provided by first responders all year long, and recognized during national EMS week.

This article is a direct street report from our correspondent and has not been edited by the 1st Responder newsroom.