Two People Killed in Salisbury Three-Alarm House Fire
By JAY HEATH, Correspondent | May 10, 2020 | NEW HAMPSHIRE
Story No. 051120100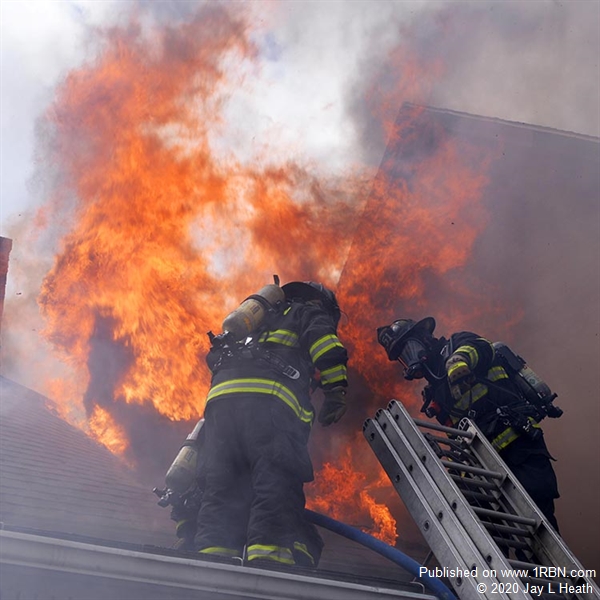 Photo by Jay L HeathBoscawen firefighters start to retreat as heavy fire suddenly explodes from the roof.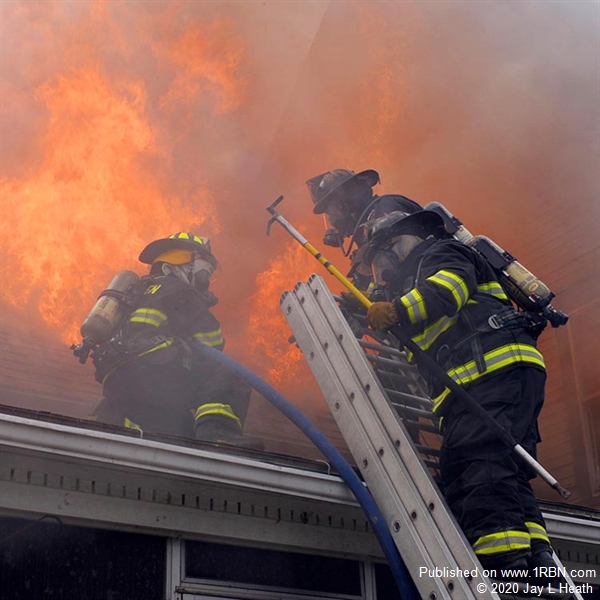 Photo by Jay L HeathHeavy fire blowing over firefighters making a retreat down the ground ladder.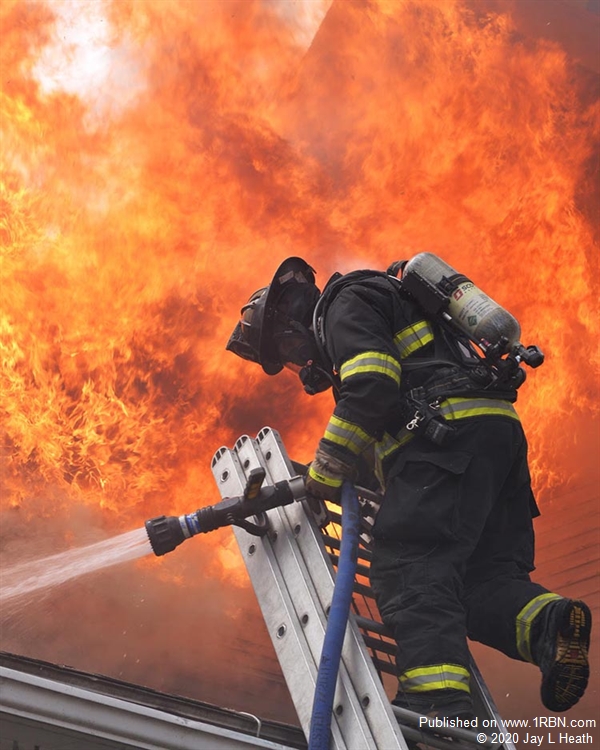 Photo by Jay L HeathA Boscawen firefighter maintains the hose line to escape down the ladder as heavy fire blows over him !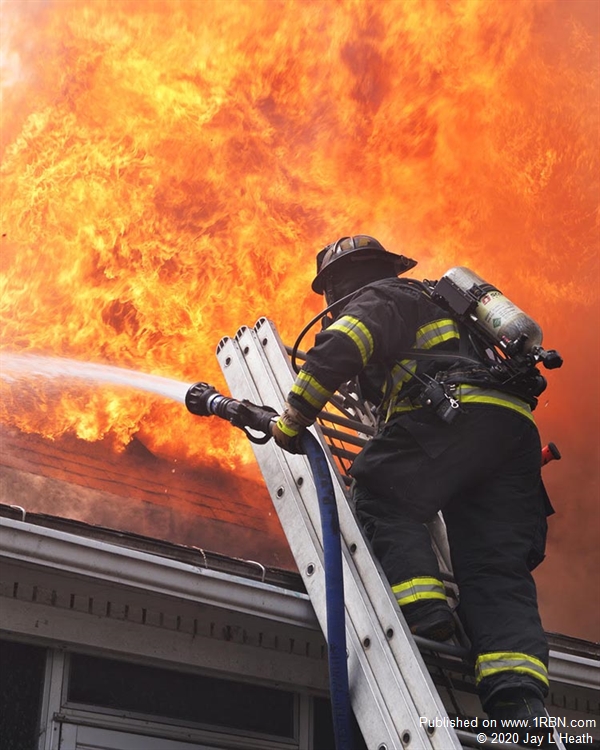 Photo by Jay L Heath Heavy fire explodes over this Boscawen firefighter retreating down the ladder.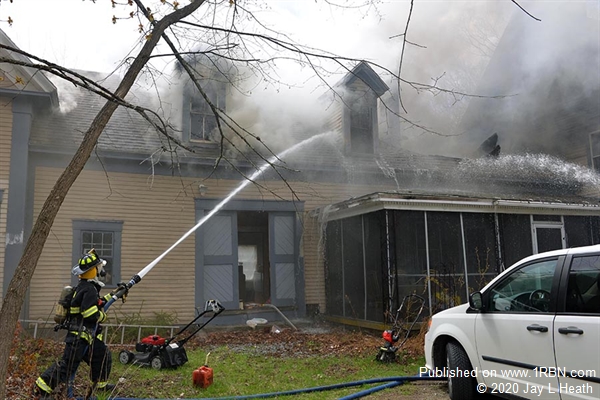 Photo by Jay L HeathFirefighters back out and go defensive on this large farmhouse.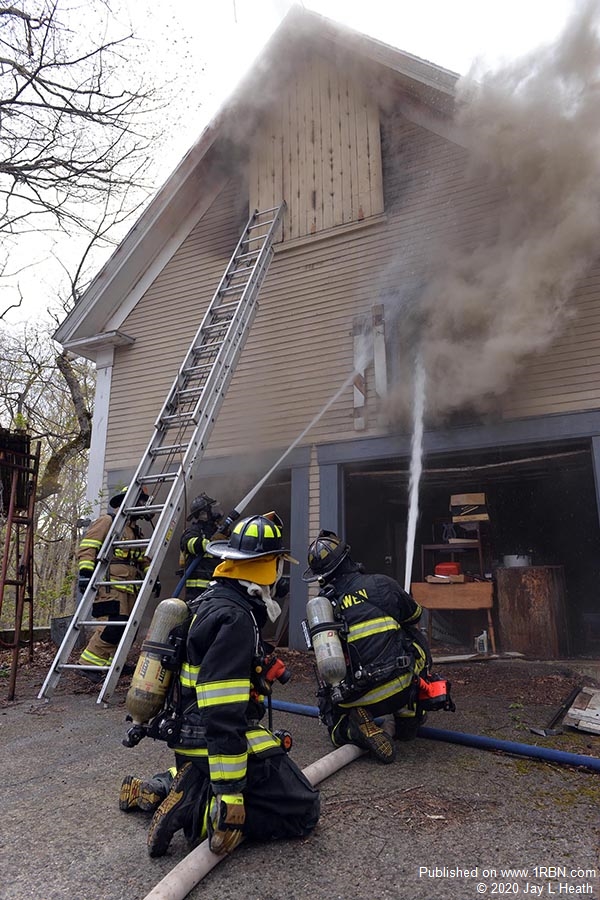 Photo by Jay L Heath Heavy smoke pushes from the barn attached to the farmhouse.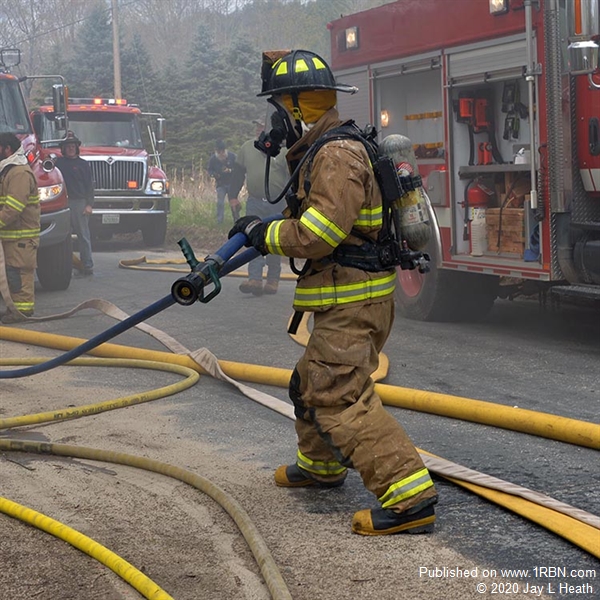 Photo by Jay L HeathA Firefighter stretches additional hose lines.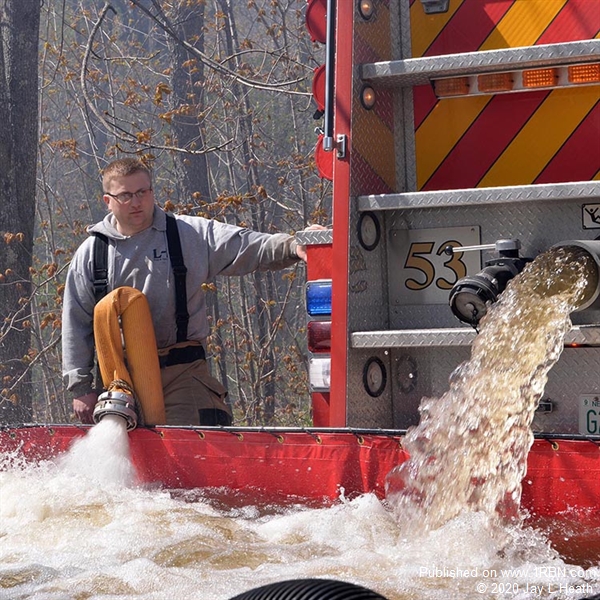 Photo by Jay L Heath Canterbury Firefighter Matt Nelson dumps water into the portatank for water supply. Numerous Mutual Aid Tankers where used for water supply.
Salisbury, NH - Two people were found deceased after being unable to escape a three-alarm fire on Sunday, May 10th.

Concord Fire Alarm dispatched the Salisbury Fire Department for the reported house fire at 1:25 P.M., with automatic mutual aid from Boscawen, Webster, Andover and Penacook Rescue. First arriving Chief William MacDuffie reported heavy smoke showing, and a second-alarm was transmitted soon after.

Boscawen Firefighters were trying to make entry to the second floor on the roof when fire suddenly exploded from the building, making for a hasty retreat down a ground ladder. Numerous tankers were dispatched as mutual aid to the scene from various communities and a third-alarm was transmitted.

Firefighters made an aggressive interior attack on the main structure, which was a two-and-a-half story wood-frame farmhouse where the victims where located. Firefighters managed to pull ceilings and stop the spread into the main house, but it sustained heavy damage. The attached ell and large barn was three stories in the rear with a large drop off, making for accessibility in the rear difficult.

The entire farmhouse and barn was approximately 100-feet in length, making for a challenging fire to battle. A firefighter fell through the roof section, calling for a MAYDAY during overhaul operations, which special called Concord's Tower 1 and an additional ambulance to the scene. He was able to escape and transported to a local hospital.

The NH State Fire Marshal's Office was dispatched to the scene and is handling the investigation. Firefighters remained on the scene for several hours for overhaul operations.

NH State Fire Marshal Paul Parisi wants to remind everyone to maintain working smoke alarms in their homes, keep exits clear of debris, have your heating systems inspected and maintained on an annual basis, and keep at least three to five foot clearance around any heating appliance from other combustible materials.
This article is a direct street report from our correspondent and has not been edited by the 1st Responder newsroom.