Second-Alarm Duplex Fire Lights Up the Morning Sky in Colonie
By JEFFREY BELSCHWINDER, Senior Correspondent | April 12, 2020 | NEW YORK
Story No. 050420117
Photo by JEFFREY BELSCHWINDER/Sidewinder Photography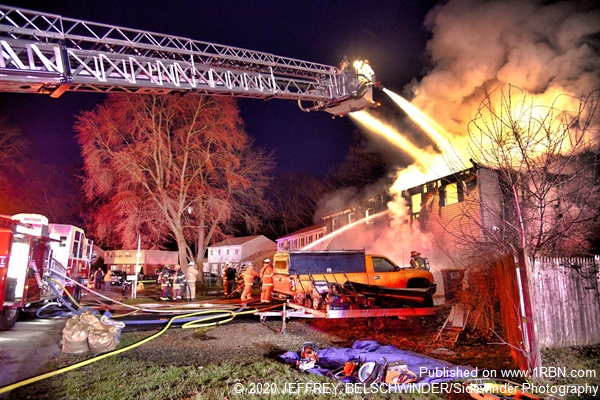 Photo by JEFFREY BELSCHWINDER/Sidewinder Photography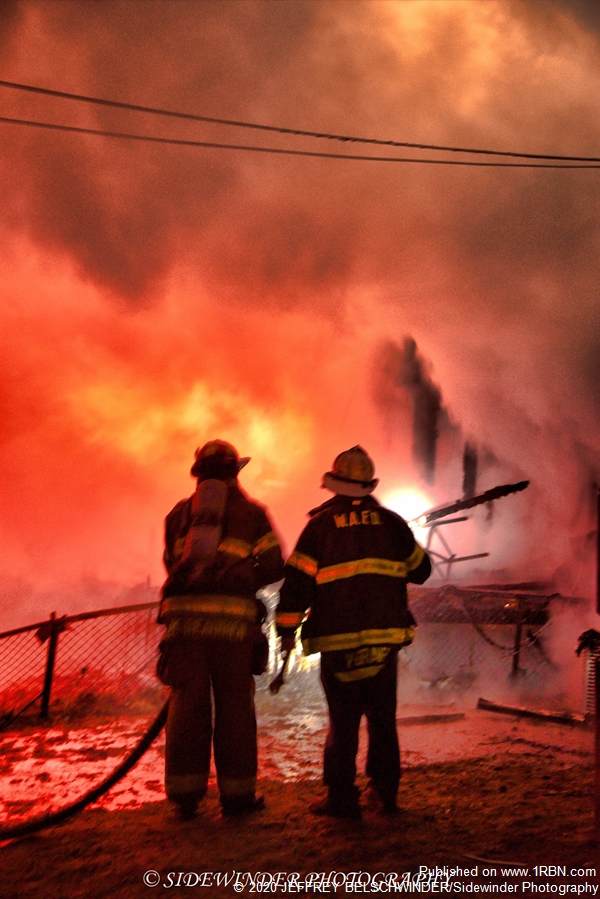 Photo by JEFFREY BELSCHWINDER/Sidewinder Photography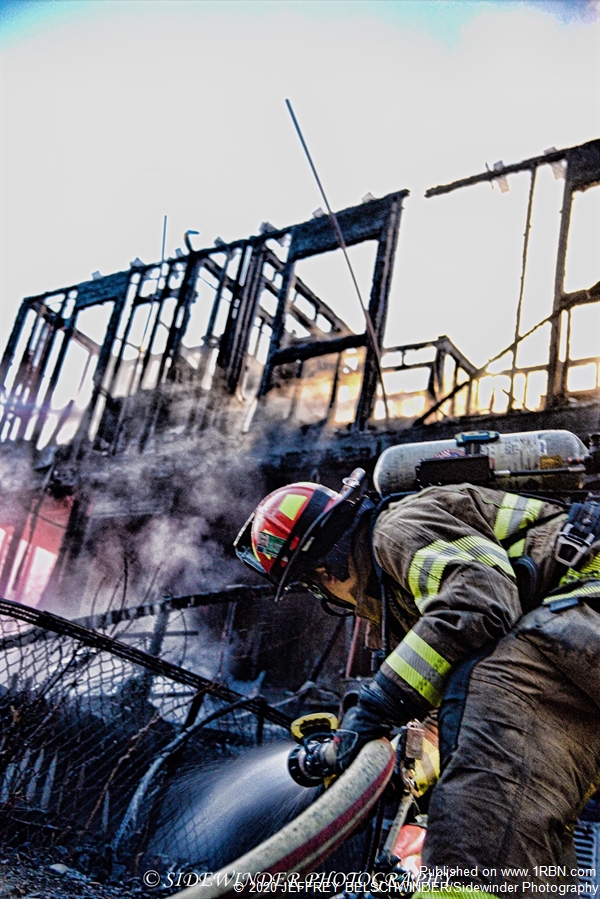 Photo by JEFFREY BELSCHWINDER/Sidewinder Photography
Photo by JEFFREY BELSCHWINDER/Sidewinder Photography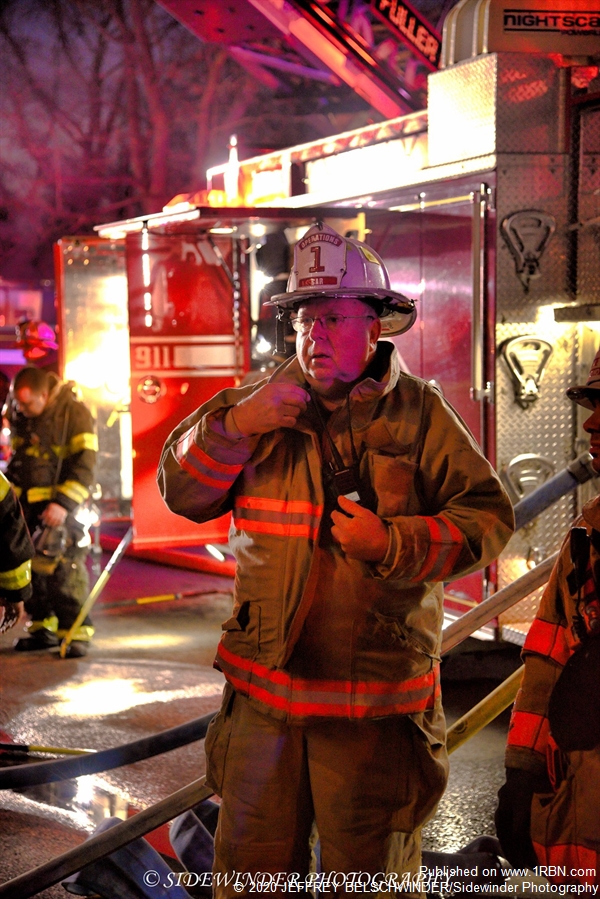 Photo by JEFFREY BELSCHWINDER/Sidewinder Photography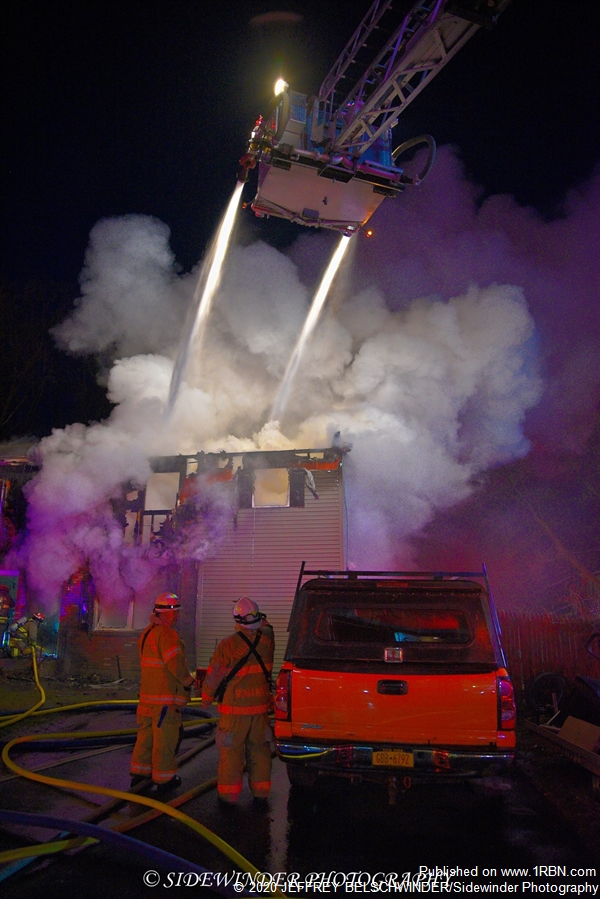 Photo by JEFFREY BELSCHWINDER/Sidewinder Photography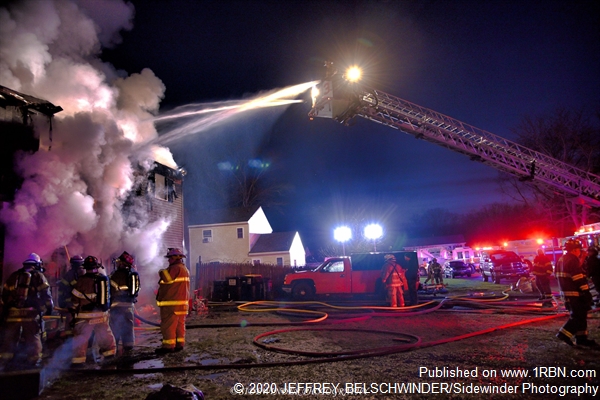 Photo by JEFFREY BELSCHWINDER/Sidewinder Photography
Colonie, NY - On April 12th at 5:04 A.M., the Town of Colonie 911 dispatch center received multiple phone calls for a reported structure fire at 19 Dowling Road, with reports of extremely large explosions coming from the house. As police were coming into the area they notified the dispatcher that they had heavy fire, smoke and embers shooting into the morning sky.

As police officers and paramedics from Colonie EMS arrived on scene and were attempting to make sure everyone got out of the house, a massive explosion suddenly went off, rocking the nearby houses. The paramedics on scene notified the first chief on the air to start the second-alarm.

The West Albany Fire Department's chief immediately requested the second-alarm, bringing Latham, Fuller Road, Shaker Road, Colonie Village Fire Co., Fire Services, and the Town of Colonie Air Bank to the scene. As the first Chief arrived on scene he notified the dispatcher that he had a large amount of embers showering nearby houses and transmitted the Signal 30.

Engine 459 arrived on scene within minutes and deployed multiple hand lines to the front of the house. Truck 3, Engines 454 and 406, Rescues 2 and 12, and Truck 4 quickly arrived on scene. Firefighters deployed multiple hand lines to the rear of the building, but power lines came down and landed on a metal fence, causing the fence to become electrically charged.

Crews made an aggressive push after knocking down some of the fire in 19A but were pushed back out of the building. Firefighters made entry into the neighboring attached apartment and discovered fire on the second floor which was starting to breach through the firewall on the first floor. Firefighters immediately started to knock down any visible fire on the second floor and began to pull the ceilings.

As Truck 3 was setting up, firefighters started to ladder the building and command was notified that the floor in the first fire building was completely compromised. Truck 3 immediately went into master stream operations and started to knock down the heavy fire. A combined effort of over a half dozen hand lines, blitz fires, and master streams was able to knock down the heavy fire.

At about 5:45 A.M., firefighters had all visible fire knocked down and began conducting heavy overhaul as investigators began to find the cause of the fire. The duplex number 19 was a complete loss. Firefighters were able to minimize the damage to the second apartment where residents inside were able to recover some of their belongings.

Over 60 firefighters assisted battling the fire during the early hours of the morning. No injuries were reported and the fire is currently under investigation.
This article is a direct street report from our correspondent and has not been edited by the 1st Responder newsroom.