Firefighters in Elsmere Battle Stubborn Fire in Void Space
By THOMAS MARRA , Correspondent | April 20, 2021 | NEW YORK
Story No. 042721113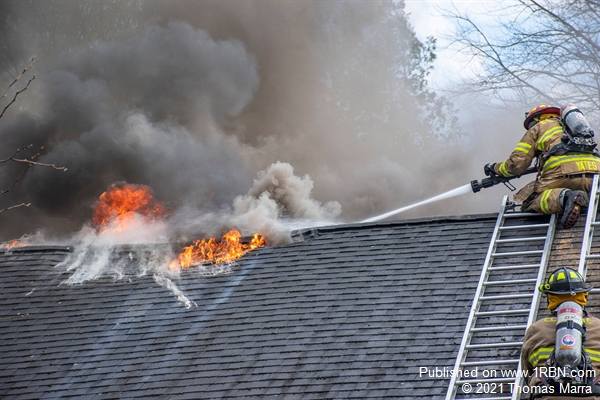 Photo by Thomas MarraFirefighters battle fire through the roof of a stubborn fire in a void space of an Elsmere home.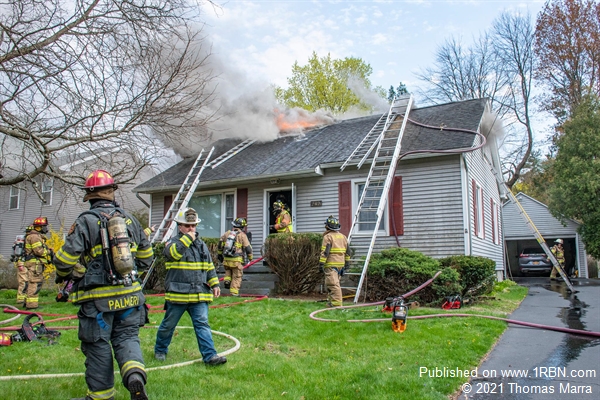 Photo by Thomas MarraNumerous fire departments battled a difficult fire in a void space at a home in Elsmere.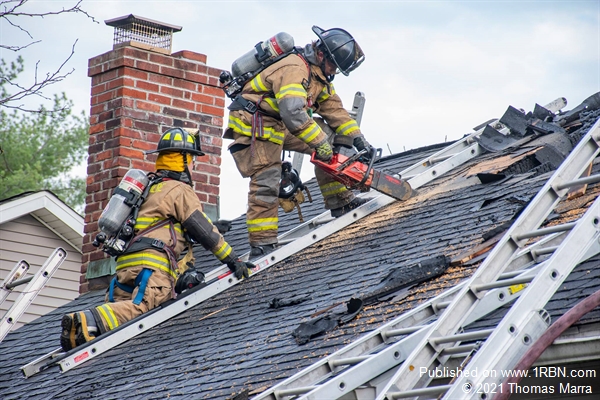 Photo by Thomas MarraFirefighters cut a larger hole in the roof to help ventilate.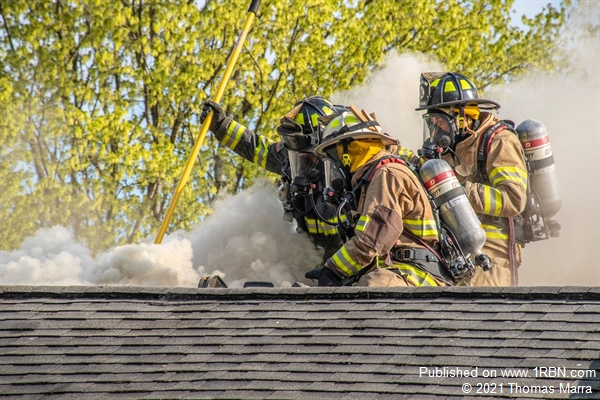 Photo by Thomas MarraFire crews battle fire in the roof as an interior crew bails out a second floor window onto a ladder after becoming trapped in a roof by fire.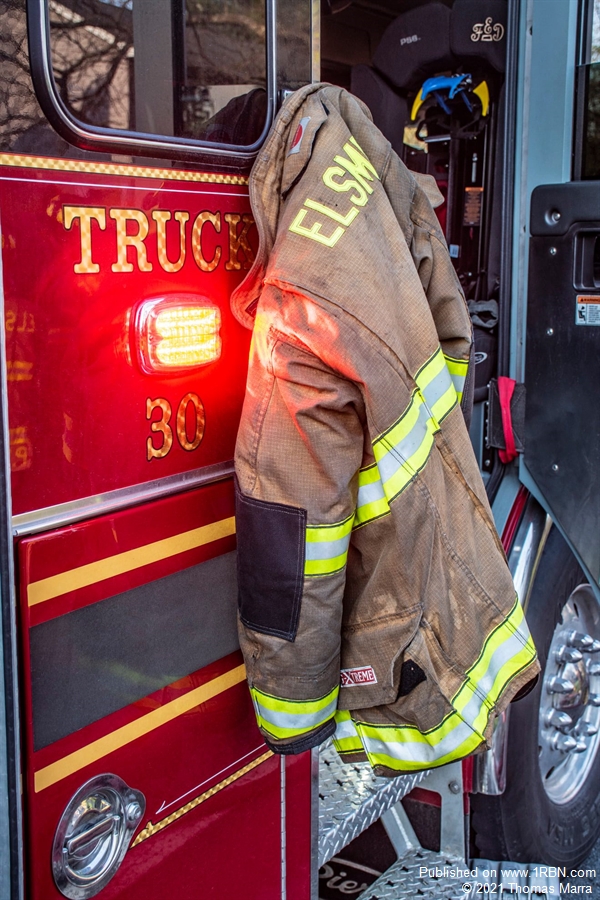 Photo by Thomas Marra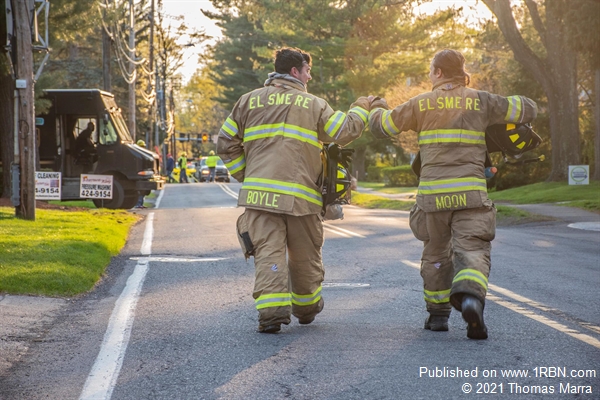 Photo by Thomas MarraFirefighters Brendan Boyle and Trever Moon of Elsmere Fire fist-bump as they walk back from a house fire in Elsmere.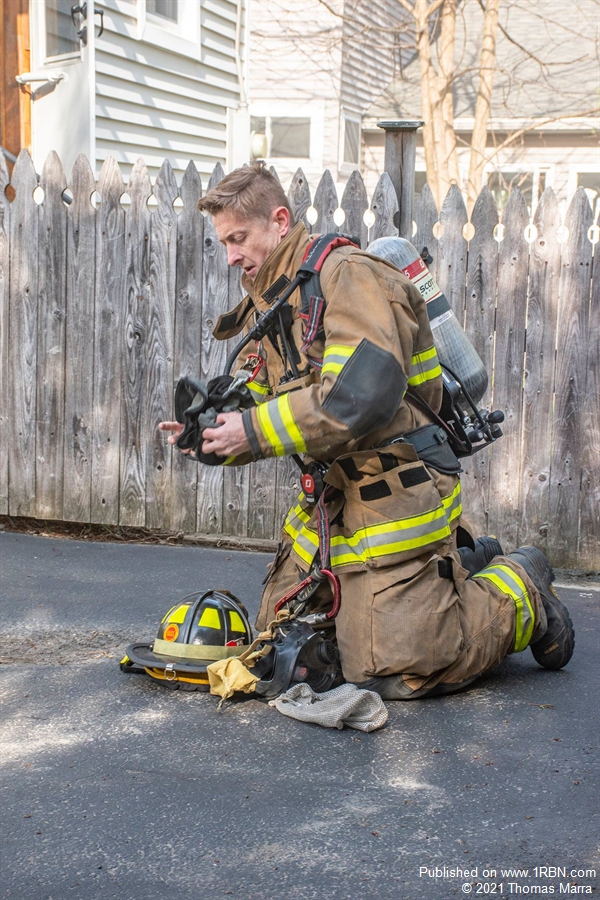 Photo by Thomas Marra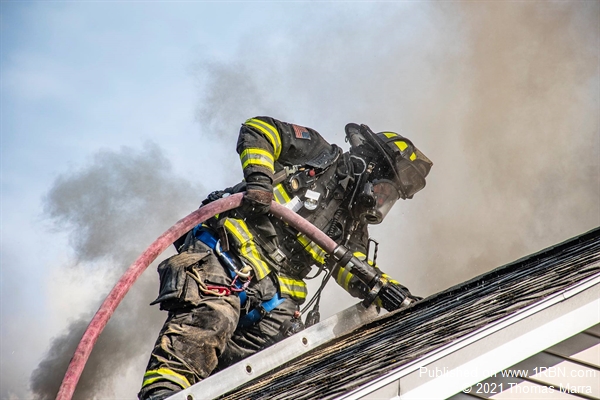 Photo by Thomas MarraFirefighters fought a stubborn fire in the roof of a home.
ELSMERE, NY - Firefighters fought a difficult fire in the roof of a home on the afternoon of Tuesday, April 20th, in Elsmere.

Fire crews were dispatched to 248 Kenwood Ave. around 4:45 P.M. after a caller stated they could see smoke coming from the second floor window of a home. When Elsmere Fire Chief Futia arrived on scene within minutes of dispatch, he said there was only a little light smoke drifting from the roof.

"I went inside and made an initial size-up and there was no smoke and no fire," Futia said. "I got to the second floor and there was still no smoke or fire."

He said he checked for access to get to the void space where the fire appeared to be and he could not find any access doors or panels. When crews arrived and began opening up the ridge vent on the roof, Futia says the smoke began getting heavier. Three crews were sent to the roof to make one ventilation hole in the roof.

"They made one vent hole and the smoke started coming out pretty good now," Futia said. "It was already burning, we gave it a little bit of air, and now we had smoke and fire coming out of the roof."

An interior crew made their way to the second floor of the home to begin pulling ceilings, but ran into some difficulty. Chief Futia said the ceiling was entirely shiplap, giving the crew a difficult time ripping the it down. Once they were able to make progress pulling the ceiling, fire came down on top of the firefighters.

"They had hoselines and hit themselves and the fire," Futia said. "They knocked it down some but by that time the whole upstairs void space was burning."

It took approximately 40 minutes to get the fire extinguished.

Chief Futia said one firefighter was treated and released at the scene by EMS for heat exhaustion, as well as many other firefighters who became overheated.

At one point it was reported that an interior crew lost their point of egress and were pushed into a room by fire and bailed out a second floor window using a ladder. Those firefighters were not injured in the bailout.

Elsmere, Delmar and Slingerlands Fire, Delmar-Bethlehem EMS, Albany County Paramedics and Bethlehem Police were on the initial dispatch.

Selkirk Fire was requested for the air truck to fill air bottles used by firefighters, while North Bethlehem Fire was requested for rehab to rehydrate and check-up on firefighters battling the fire, as well as an additional ambulance from Delmar-Bethlehem EMS.

Fire damage was contained mainly to the roof, with water damage throughout the home. The homeowner and his dog were home at the time, but were able to make it out safely.

The Bethlehem Police Fire Investigation Team was investigating the cause and believe it to be accidental and possibly electrical in nature.
This article is a direct street report from our correspondent and has not been edited by the 1st Responder newsroom.