Robert Gemignani Was A Dedicated Firefighter
By RON JEFFERS, New Jersey Editor | April 28, 2020 | NEW JERSEY
Story No. 042720107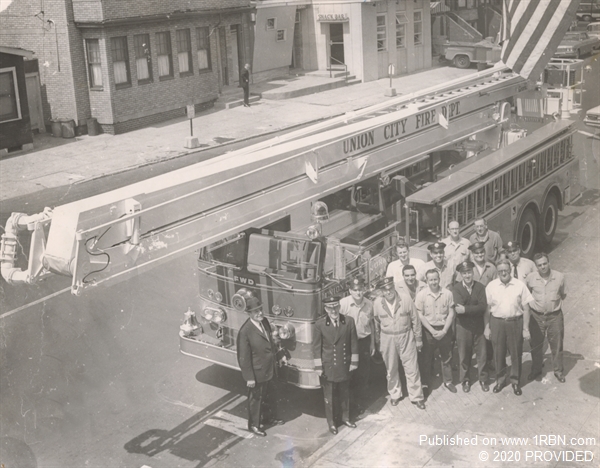 Photo by PROVIDEDUnion City Fireman Robert "Bobbie" Gemignani, third from left, as I remember him as a high school kid, and my local hero, when the city received Snorkel 1 in 1965.
My first Union City Fire Department friend, when I was in high school in the 1960's, and wanted to be a fireman first, a cop second, was Robert "Bobbie" Gemignani. A hometown hero for me. Later, we would work together, he on the FD and me on the PD, at fires and other incidents. He ran out of the 16th Street firehouse over the years on Snorkel 1, Engine 1 and Deputy Chief's Aide. I patrolled that area.

Fireman Gemignani, 85 (which was the title back then), passed away at the New Jersey Firemen's Home, in Boonton, April 19th.

He was always friendly and loved his job. He and another city fireman, Bob Nevill (or the "Two Bobbies" as I called them), were both long-time friends of mine. They both battled plenty of fires in the buckets of the city's two Snorkels.

Ironically, Bob Nevill passed away a few weeks earlier.

Gemignani was thoughtful of others. He was part of the original UCFD Christmas parades down Bergenline and Summit Avenues, that started in the 1970's. The parade continues to this day as the North Hudson parade, and now much longer, passing through four municipalities. He was busy collecting and wrapping toys for kids. Gemignani was also part of the newly organized volunteer ambulance corps, established in 1971, with his buddy, Battalion Chief Louie Ciavatti.

Gemignani had a nickname for almost everyone. For example, he called Nevill "Arson Artie," when he got involved in fire investigations.

Fireman Gemignani was FMBA Local 12 president for many years. He was a good husband and father for their two daughters, driving a truck on his days off.

I've know his wife, Estelle, from my patrol days, before she became a police civilian telephone operator and clerk, and before she married Bobbie. We worked together for many years in a patrol squad and later in BCI, with myself as a detective and Estelle as a clerk. We had a "busting" relationship, which is part of the job. All well meaning. She could take it and dish it out, like her husband.

Many laughs were had by all of us over the years.

Another member of the old school of firefighting has left us. May my old friend Rest in Peace.

This article is a direct street report from our correspondent and has not been edited by the 1st Responder newsroom.