Second Alarm Dwelling Fire in Camden
By FRANK SAIA, Correspondent | April 23, 2020 | NEW JERSEY
Story No. 042420100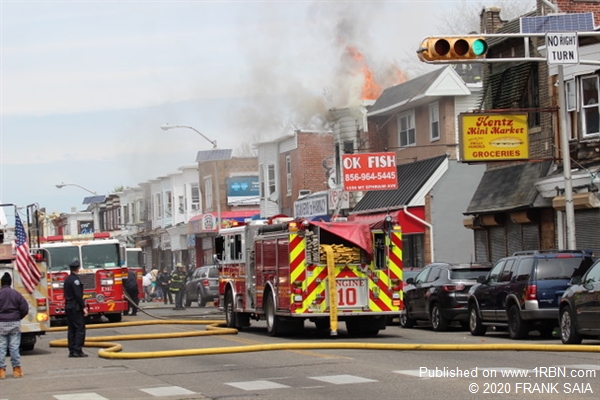 Photo by FRANK SAIAFire showing from 1154 Mt. Ephraim Avenue.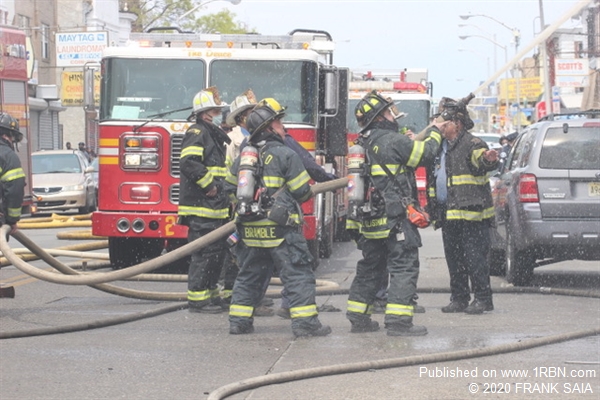 Photo by FRANK SAIAGloucester City firefighters Bramble and Glassman direct 2 1/2" hose.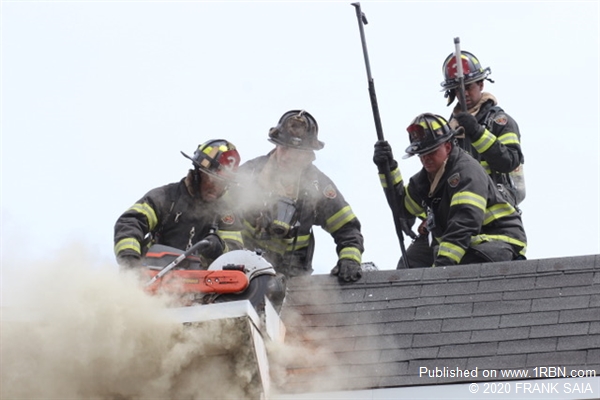 Photo by FRANK SAIALadder 3 doing roof work under the command of Captain Javier Matos.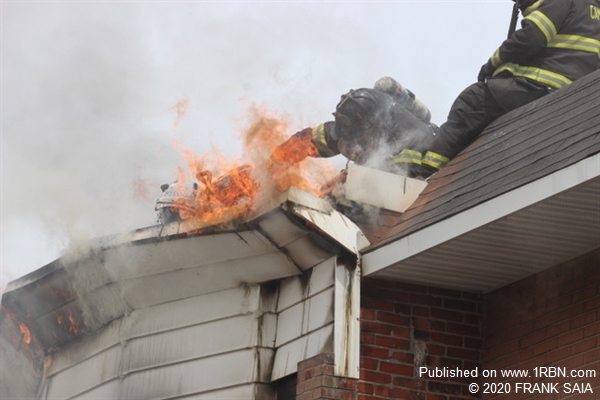 Photo by FRANK SAIACaptain Javier Matos making the cut.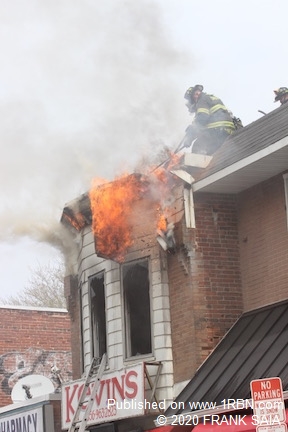 Photo by FRANK SAIALadder 3 roof work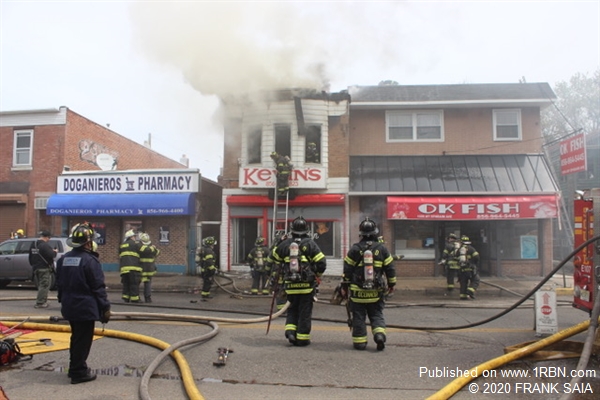 Photo by FRANK SAIASecond alarm fire at 1154 Mt. Ephraim Avenue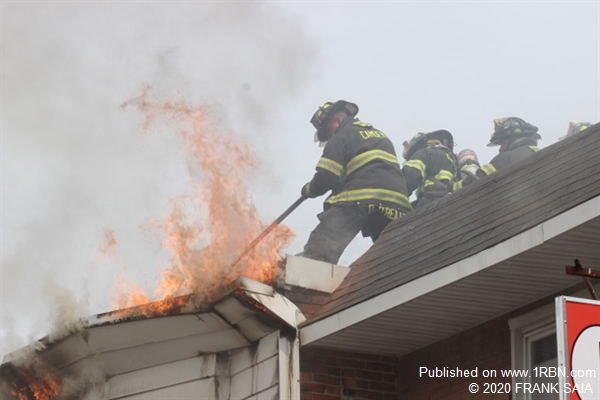 Photo by FRANK SAIAFirefighter Denis O'Reilly opening up the roof.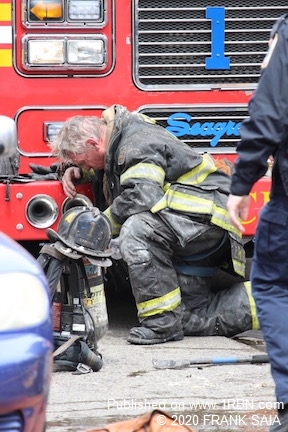 Photo by FRANK SAIACaptain Bryan Emenecker, R-1, taking a blow.
Camden, NJ - On April 23rd at 11:58 A.M., Camden Fire Department units (Squad 7, Engine 10, 1, Ladder 1, 3, Rescue 1 and Battalion 1) were dispatched to 1159 Morton Street in the Whitman Park neighborhood for the report of a dwelling fire with people reportedly trapped.

Car 3, Deputy Chief Ed Glassman, was on the street and first to arrive in the area. After DC Glassman turned into the block, he found that the fire was actually located on Mt. Ephraim Avenue. While redirecting, Battalion 1, BC Sam Balakas, arrived at 1154 Mt. Ephraim Avenue and reported fire and smoke showing from the rear of a two-story ordinary constructed building. The "All Hands" was transmitted at 12:04 P.M., which brought in Engine 9. Squad 7 was the first suppression unit to arrive and stretched a one-and-three-quarter inch hand line to the interior. The fire communicated to the 'D' exposure in the rear.

As the units arrived, they were put to work. The engine companies stretched several hand lines to the interior to assist Squad 7 with suppression and to protect the exposure. Ladder 1 performed ladder work, including searches which proved negative. Ladder 3 was sent to the roof to open up. The second alarm was transmitted at 12:14 P.M., which brought in Engine 11, mutual aid Ladder 5-1 from Gloucester City and Car 1, Chief of Department Michael Harper. Magnolia and Verga (West Deptford, Gloucester County) were dispatched and provided air unit services. The fire was declared under control at 12:59 P.M. by COD Harper, and is now under investigation by the Camden FM office.

The reported victim jumped from the second floor prior to arrival of FD and sustained lacerations and other injuries. He was transported to the hospital for treatment.

(The Camden Fire Department is facing the looming threat of layoffs and demotions this summer due to budget reasons.)
This article is a direct street report from our correspondent and has not been edited by the 1st Responder newsroom.