Avocado-BBQ-Cheese Stuffed Meatloaf Muffins…say that 10 times fast!
By AJ FUSCO, Correspondent | May 01, 2020 | NATIONAL
Story No. 033020117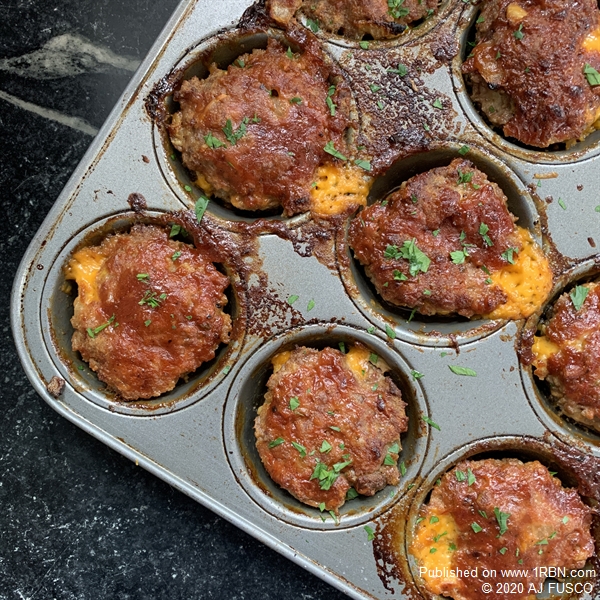 Photo by AJ FUSCOAvocado-BBQ-Cheese Stuffed Meatloaf Muffins
By the time you are done reading the name of this recipe, all the meatloaf muffins will be gone. They are so good, it's hard to let them cool off before sneaking a bite. And if you think the word avocado should not be in the same sentence as meatloaf, this recipe will certainly change your mind. But the reason behind this recipe is far more important to me than the actual ingredients.

I write this article in uncertain times, when the Coronavirus has affected almost every aspect of our lives. And in all of this, there is still some good that has come of it. Families are now eating dinner together, parents are playing outside with their children and creatives from all walks of life are finding new ways to engage with their audience. There are musicians putting on concerts from their living rooms, trainers offering virtual workouts and artists teaching online art classes. Even Chefs have started doing virtual cooking "classes"! When I saw this I knew I wanted to get in on the action, but instead of it just being myself, I thought it would be cool to get a buddy on to cook as well. After seeing my good friend Robert "Pip" Piparo post a picture of himself cooking with his two sons, I knew they would be the perfect "guest chefs" to have on.

Pip is a Lieutenant with the New Brunswick Fire Dept., but many know him through the Not For Profit, 555 Fitness, whose goal it is to reduce cardiac-related incidents in the Emergency Services. When Pip is not busy serving as the Director of 555 Fitness, he is hosting his new podcast "The Size Up" on National Fire Radio where the goal is to motivate and inspire others to be better than yesterday. I was lucky enough to be a guest on Episode 2, when we talked food, food and more food, so be sure to give it a listen!

Due to the "climate" we are in, the ingredients we had on hand were pretty limited so we had to coordinate with what we both had available. Turns out we both had all the ingredients we need for meatloaf, but I had to throw a little twist on it….actually 3 twists. Meatloaf is great but kids love to use their hands to eat, so instead of a conventional meatloaf we made them into "muffins", which also cook faster and are portable. The second twist, is that they are cheese stuffed, because we both had cheese and anything stuffed with cheese is good. And the third and final twist is also the secret ingredient, avocado! It may seem weird and unconventional, but avocado is becoming more popular in cooking, and rightfully so. It contains healthy Omega-3's and also adds moisture to the meatloaf, keeping it from drying out. This is especially great when using lean meats like ground turkey and chicken. Meatloaf is a great recipe for cleaning out the pantry and fridge too. In this case we used BBQ sauce but you could substitute with the classic ketchup, maybe mustard or even Buffalo sauce. Have some carrots that look like they are on their last leg? Throw em' in! In this case, Pip didn't have onions so he reached out to his neighbor who lent him one. #neighborshelpingneighbors

This recipe is great for those who like to meal prep, get the kids involved or just enjoy eating delicious food.

Filming this cooking "show" was a blast. It was great to catch up with Pip and his "mini pips" while getting them involved in the kitchen. It's proof that even in these tough times, food can bring us together, even if it is virtually.

Avocado-BBQ-Cheese Stuffed Meatloaf Muffins

Makes 12

Ingredients:
1.5 lb. Ground Beef
½ Yellow Onion, diced
1 Cup Plain Breadcrumbs
1 Egg
¼ Cup Milk
1 Tbs. Worcestershire Sauce
½ Avocado, mashed
¼ Cup BBQ Sauce, plus more for glaze
½ C Shredded Cheese
½ Tbs. Kosher Salt
EVOO

Procedure:

-Preheat oven to 350°

-In a small sauté pan over medium heat, sauté onion in a little EVOO and a pinch of salt. Remove onion and place in a large bowl to cool.

-In the large bowl with onion, add the milk, egg, avocado, BBQ sauce, salt and worcestershire sauce. Mix well to combine. Add the breadcrumbs to the bowl and mix well.

-Add the meat to the bowl, mix with your hands just until everything comes together. Do not overmix or it will become dense when cooked. Set aside.

-In a small sauté pan, heat up a little EVOO. Sauté a small amount of the meatloaf mixture to test for seasoning. Adjust as necessary.

-Grease a muffin tin. Add enough meat to each muffin mold to come up about ½ way. Making a small indentation in the middle, add some cheese to each. Top the molds off with more meat. Brush the top with BBQ sauce and place in the oven for 30-40 minutes or until the internal temperature reads about 165°F.

*To freeze, cool the muffins down to room temp. Place whole tin in freezer for about 2 hours. Remove from tins and place in freezer bag.

This article is a direct street report from our correspondent and has not been edited by the 1st Responder newsroom.