About 30 tenants are evacuated in the early morning hours in the Village of Bath, NY.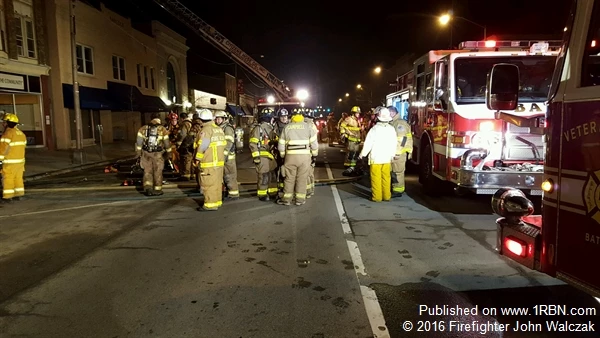 Photo by Firefighter John WalczakThe downtown business district streets in the Village of Bath are closed down for a working fire in and apartment building which has approximately 30 tenants.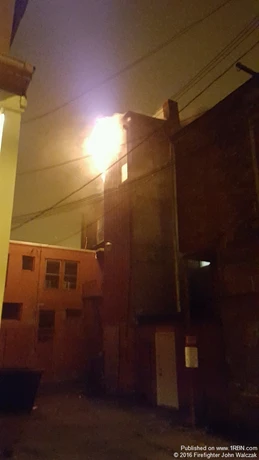 Photo by Firefighter John WalczakFirst arriving units found flames coming from the third floor of an old elevator shaft which was not in use.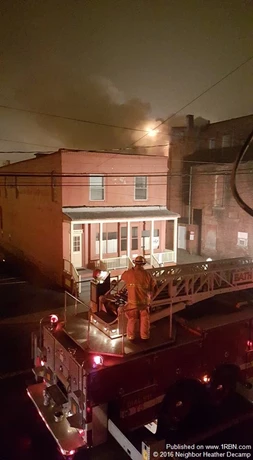 Photo by Neighbor Heather DecampThis is the view a neighbor had out her window in the early morning hours as units first arrived.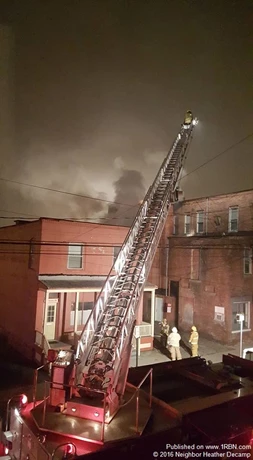 Photo by Neighbor Heather DecampA neighbors photo of Bath's Ladder truck going up to get an eye on the situation from above. The power lines prevented setting up any closer but it was re-positioned as soon as the utilities were cut.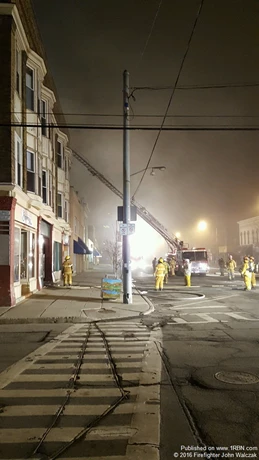 Photo by Firefighter John WalczakHammondsport Fire Department ladder truck is set up at the front of the building on Liberty Street
This article is a direct street report from our correspondent and has not been edited by the 1st Responder newsroom.
At 3:50am Thursday March 24 The Bath Volunteer Fire Department was dispatched to a reported structure fire at the Shannon building at 56 Liberty Street in downtown Bath. Upon arrival flames could be seen from the rear of the building on the 3rd floor. Bath fire chief Joe Washburn then called for a second alarm which summoned The Bath VA, Hammondsport, Kanona, Pultney, and Savona fire departments. The Bath Police Department was already on scene and had evacuated nearly ninety percent of the residents of the apartment building. There were approximately 30 people who reside in this building. Another call was made for man power from Campbell and Savona as well as Painted Post to man the Bath station for second call.

A quick and coordinated knock down from the interior crew and a crew from the rear of the building held the fire to the rear of the building with minimal damage. All residents escaped safely and without injury and there were also no firefighter injuries. Bath Volunteer Ambulance was on scene to check over anyone who might have been injured and standby for the fire crews. Bath Gas and Electric responded to the scene to remove the power from the building.

The cause of the fire is undetermined at this time and is under investigation by the Bath Village Police Department in coordination with the Steuben County Fire Investigation Team who is still on scene at this time.