A Life Saving Lesson to Local High School Students from the Seminole County Fire Department
March 16, 2023 | FLORIDA
DOREEN OVERSTREET, Correspondent
Photo by SEMINOLE COUNTY FIRE DEPT.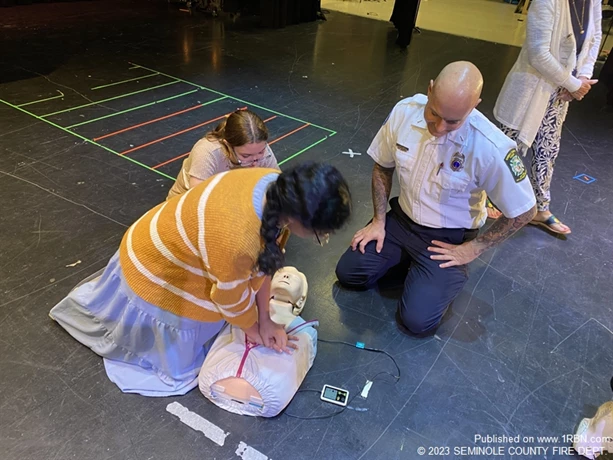 Photo by SEMINOLE COUNTY FIRE DEPT.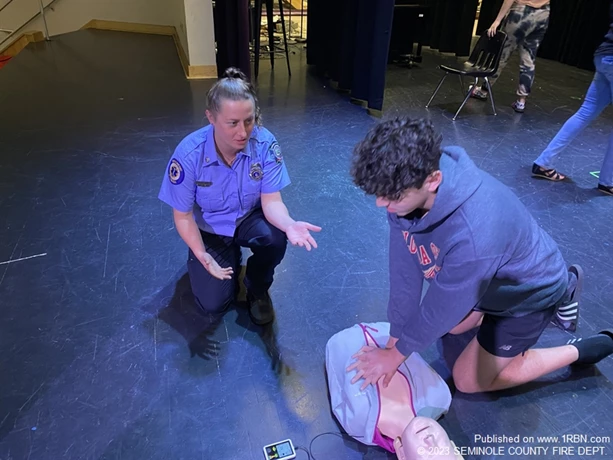 Photo by SEMINOLE COUNTY FIRE DEPT.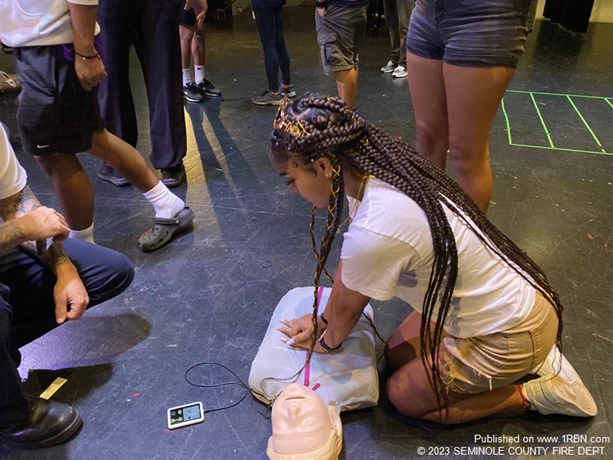 Photo by SEMINOLE COUNTY FIRE DEPT.
This article is a direct street report from our correspondent and has not been edited by the 1st Responder newsroom.
Personnel from the Seminole County Fire Department recently taught more hands-only CPR and AED use to more than 1,000 9th and 11th grade students at Winter Springs High School.
Florida House Bill 157 (2021 Legislative) requires school districts to provide basic training in first aid, including CPR for students in 9th and 11th grades. Seminole County Firefighters/Paramedics  and the Community Outreach Team trained the students. The students rotated through classes throughout the day and watched a CPR video and then conducted hands-only CPR Training.
"For our students who are learning hands-only CPR from the Seminole County Fire Department, it might just save a life," said Winter Springs High School Principal Peter Gaffney. "And if just one life is saved it makes it all worth it."
The Seminole County Fire Department plans to conduct additional outreach to other Seminole County Public High Schools in the near future.
DID YOU KNOW? CPR STATS:  
Statistics show that a high school athlete goes into sudden cardiac arrest nationwide every three or four days
Performing hands-only CPR doubles a person's odds of surviving at least 30 days after cardiac arrest
 
Knowing what an actual AED (automated external defibrillator) is and where it is located is extremely important. Some students do not know what an AED looks like or where to look for one. AED instructions are extremely easy to use and the machine guides you and will not adversely "shock" someone. Finding and using an AED is a key part in the chain of survival.
 
For sudden cardiac arrests, you don't need a team of medical professionals around you to do something. Chest compressions are just needed to move the oxygen in the blood to the brain, and that's what matters most before first responders arrive. Time is tissue and seconds and minutes matter. It's essential that when a cardiac arrest happens, first responders have the public's help before arrival in order to help ensure that chain of survival.