Residents Escape Inferno Over Gangplank in West Springfield
By NATE ARNOLD, Correspondent | March 07, 2021 | MASSACHUSETTS
Story No. 030921102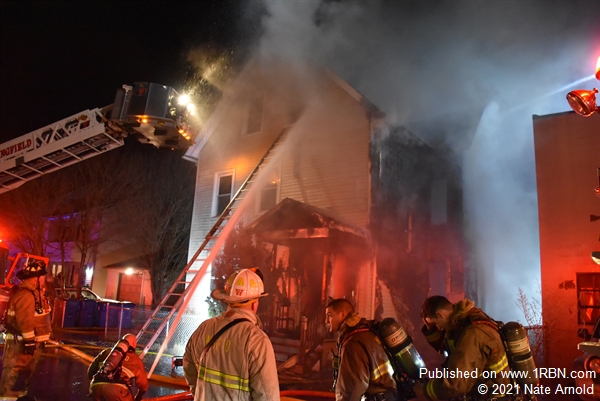 Photo by Nate Arnold Members of the WSFD swap out bottles on the 'A' side of Barnard St.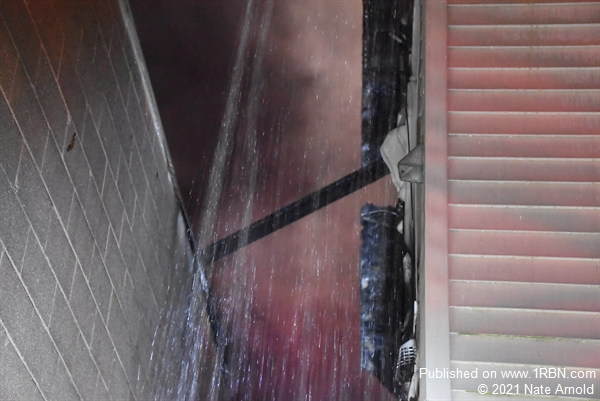 Photo by Nate Arnold The board used by residents of the third floor to make their escape onto the exposure building roof.
West Springfield, MA - A quite Sunday evening was violently disrupted in the Merrick neighborhood of West Springfield on March 7th when a fire tore through a three-story multi-family dwelling on Barnard Street, sending nearly a dozen residents fleeing for their lives.

West Springfield FD's 911 line lit up like a Christmas tree shortly before 9:30 P.M., fielding multiple 911 calls for the fire, which was visible in the sky over the town as firefighters responded. Deputy Chief Steve Manchino was the first to arrive on scene and waisted no time in striking three-alarms as the fire building was, quite literally, four-feet away from the exposure building on the 'Delta' side. The fire had already taken possession of over 50 percent of the building before the first hose line was even flaked out.

While mutual aid companies were making their way into West Springfield, WSFD firefighters were informed that two residents of the building could potentially be trapped on the third floor of the home. Members of Engine 1 threw their 35-foot portable ladder to the third floor on the 'Alpha' side to conduct a search, but before they could even set foot in the house, the two residents appeared on the roof of the exposure building and were rescued from there by Engine 2's crew.

It was later found out that these residents had escaped the building by using a 2"x 8" board as an emergency gangplank to span the four-foot distance from their window to the exposure building roof.

Once all residents had been accounted for, West Springfield, Agawam and Springfield firefighters worked together to contain the fire to the original building. The operation, hampered by low water pressure off one hydrant and freezing temperatures icing up equipment, dragged on for over five hours before the assignment was released and a fire watch detail monitored the building for flare ups.

The home is a total loss, and the fire remains under investigation.
This article is a direct street report from our correspondent and has not been edited by the 1st Responder newsroom.