Roof Collapses on Firefighters While Battling House Fire in Stuyvesant
By JEFFREY BELSCHWINDER, Senior Correspondent | February 20, 2021 | NEW YORK
Story No. 030821125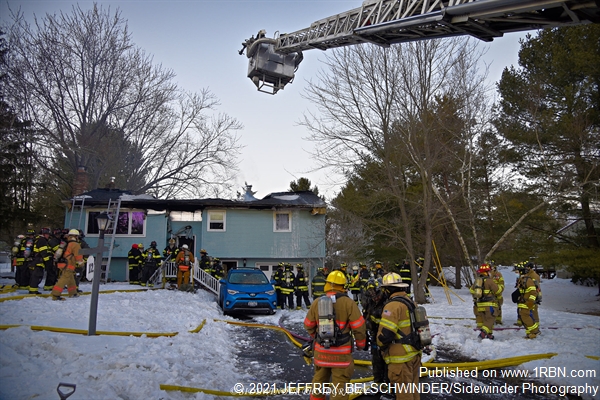 Photo by JEFFREY BELSCHWINDER/Sidewinder Photography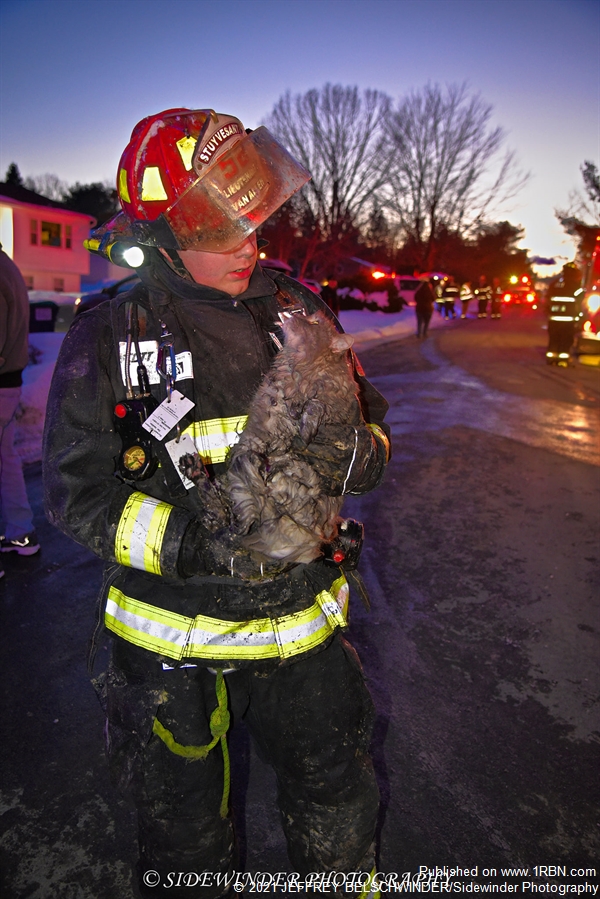 Photo by JEFFREY BELSCHWINDER/Sidewinder Photography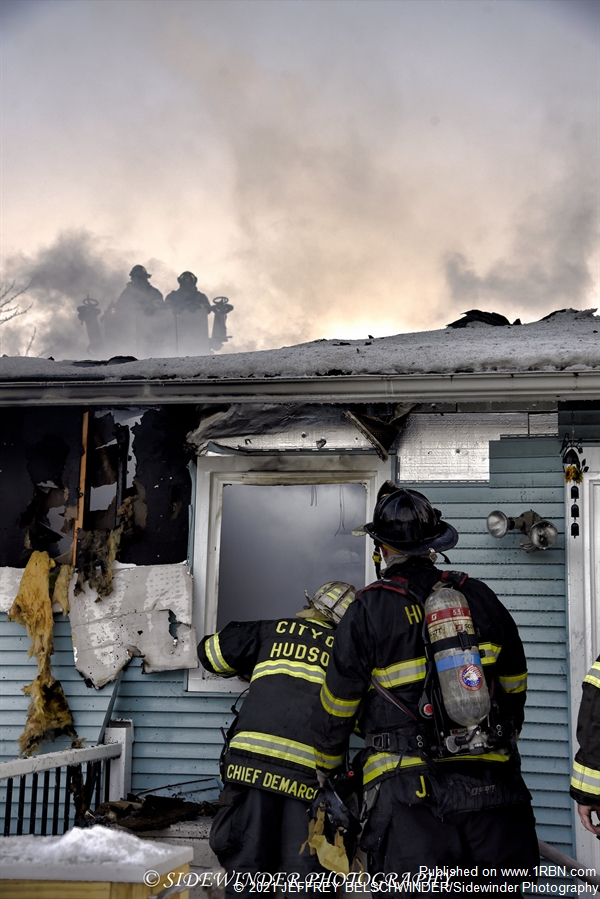 Photo by JEFFREY BELSCHWINDER/Sidewinder Photography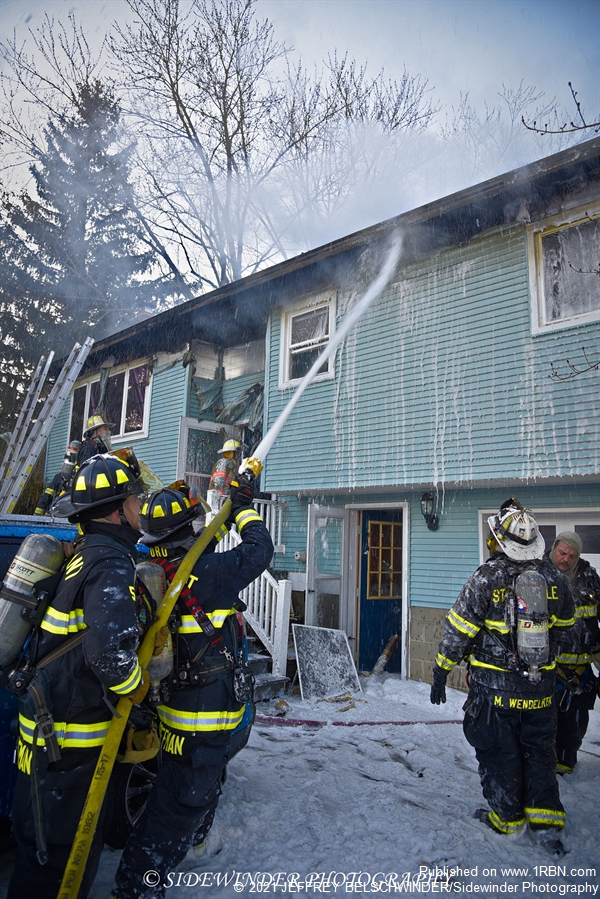 Photo by JEFFREY BELSCHWINDER/Sidewinder Photography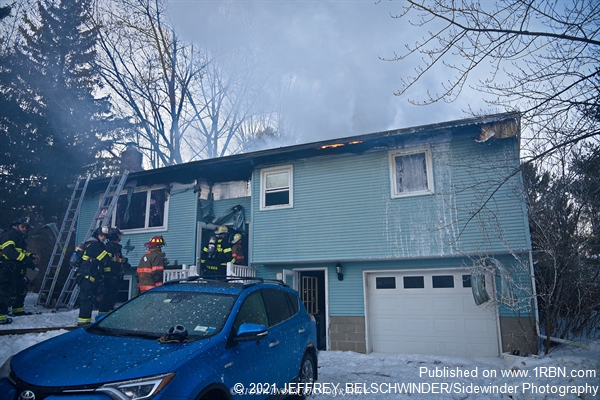 Photo by JEFFREY BELSCHWINDER/Sidewinder Photography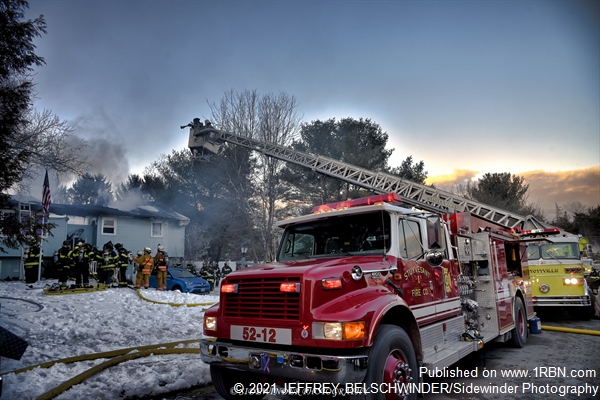 Photo by JEFFREY BELSCHWINDER/Sidewinder Photography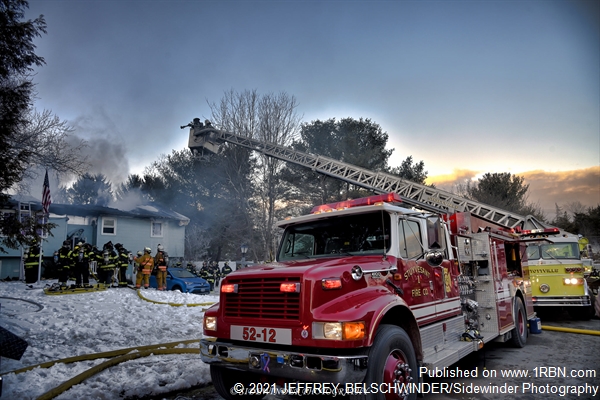 Photo by JEFFREY BELSCHWINDER/Sidewinder Photography
Stuyvesant, NY - On February 20th, the Stuyvesant Falls FD, along with the Stuyvesant FD, Stottsville FD and city of Hudson FD for their FAST team, were dispatched for a reported structure fire at 12 Oak Leaf Drive. The caller reported smoke pushing from the neighbor's roof.

Stuyvesant Car 1 arrived on scene and had heavy smoke pushing from the house on the second floor. Command requested a second-alarm to be transmitted immediately, bringing in Stockport, Valatie, West Ghent, Kinderhook, Chatham, Niverville and Tri-Village to the scene.

The first arriving engine deployed two hand lines and firefighters went to both the front and rear of the house. On arrival of the second engine, firefighters deployed a two-and-a-half inch hand line to back up the firefighters making entry to the house.

As they made their way into the front door of the house, firefighters encountered heavy fire conditions throughout the second floor and Command notified crews inside the structure that fire had just pushed through the roof on the 'Alpha' and 'Charlie' sides. As an aggressive interior attack was conducted, a large portion of the roof collapsed on firefighters inside the structure. The collapse sent large amounts of hot embers and burning debris onto the firefighters below.

Crews were quickly pulled out of the structure as heavy fire and smoke began blowing through the roof. The two interior crews then began to knock down the fire from the front and back doors of the house. As the fire was being brought under control interior operations command made the decision for crews to re-enter the structure and knock down the heavy fire in the attic area.

Firefighters established a water supply with a steady stream of tankers coming from a nearby pond. The truck company arrived on scene and set up for aerial operations. Crews inside the fire building began to rotate out spent firefighters with fresh firefighters, as there were over 75 firefighters on scene from mutual aid departments.

Crews learned that there were three cats still inside of the house and during their primary search, they were able to find one of the cats (alive), and brought it outside to safety. During overhaul, another one of the cats was found hiding behind a bed (also still alive). The third cat was found in a different part of the house, but unfortunately did not survive.

Firefighters were able to place the fire under control within 30 minutes of arriving on scene, but conducted extensive overhaul until the late hours of the evening. Columbia County Fire Investigators arrived and began to investigate the fire.

The chief stated that the fire does not appear to be suspicious in nature. No firefighters were injured during the roof collapse. The home suffered heavy damage.
This article is a direct street report from our correspondent and has not been edited by the 1st Responder newsroom.