E-Scooter Explosion Causes Five Alarm Blaze in the Bronx
March 05, 2023 | NEW YORK
BILL TOMPKINS, Correspondent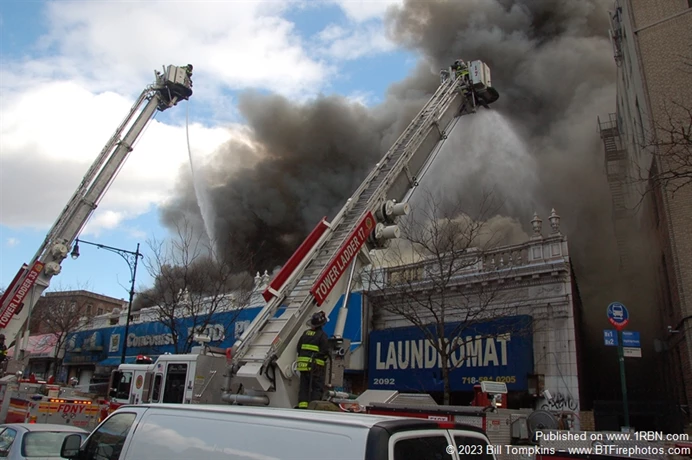 Photo by Bill Tompkins – www.BTFirephotos.com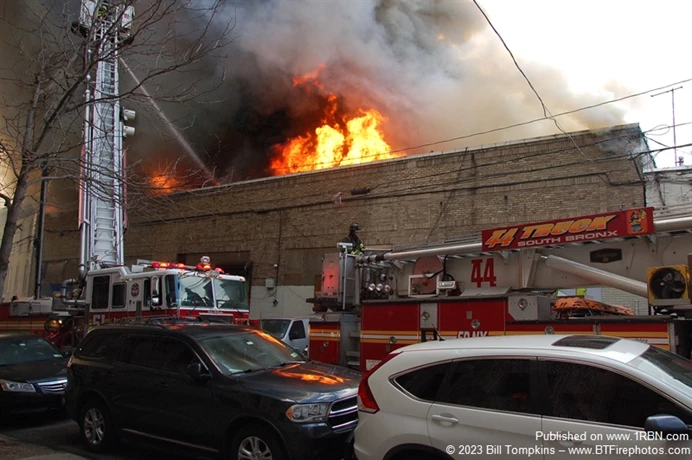 Photo by Bill Tompkins – www.BTFirephotos.com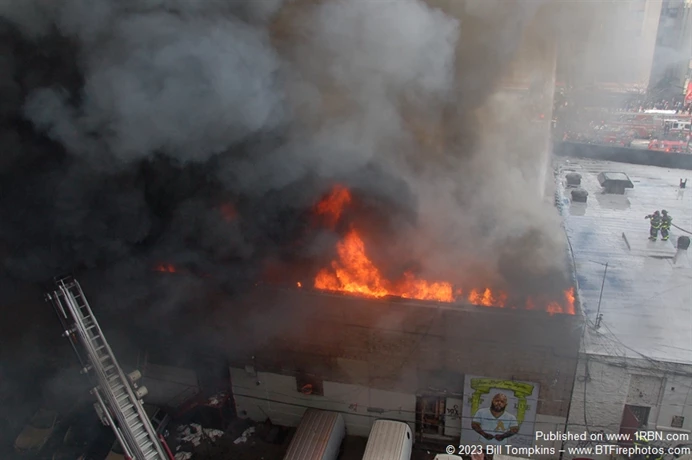 Photo by Bill Tompkins – www.BTFirephotos.com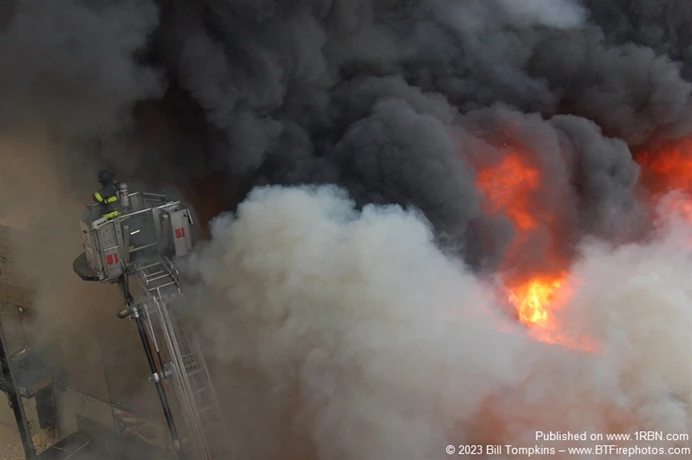 Photo by Bill Tompkins – www.BTFirephotos.com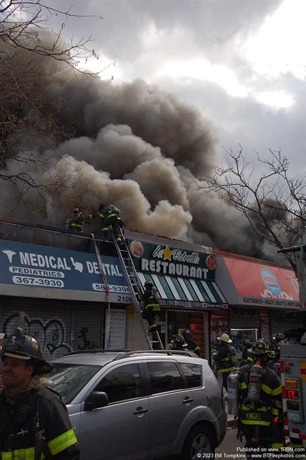 Photo by Bill Tompkins – www.BTFirephotos.com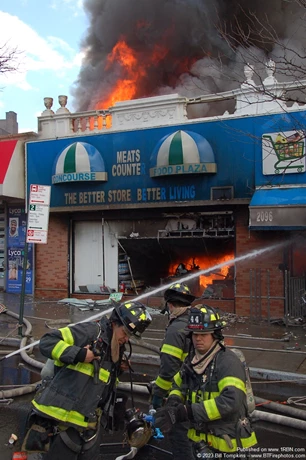 Photo by Bill Tompkins – www.BTFirephotos.com
This article is a direct street report from our correspondent and has not been edited by the 1st Responder newsroom.
BRONX, NY - The list of fire, injuries, death, and destruction caused by Lithium ion batteries continues in New York City. E-bikes, e-scooters, etc. being widely used for both personal and delivery uses have been getting more popular by the day, and especially with off-brand batteries and chargers, the possibility of an explosion and fire is always present. A Bronx supermarket was the scene of an example of the threat on March 5th.
At about 10:45 A.M., units were dispatched to 2096 Grand Concourse, a one-story 100'x125' taxpayer containing a supermarket and laundry, for a report of a fire. A 10-75 was transmitted on arrival. Haz-Mat was requested due to E-bikes being involved.
The main body of fire was reported to be knocked down and companies started overhaul when fire was discovered in a double ceiling. A second-alarm was transmitted at 11:35 A.M. The fire continued to spread and a third-alarm was sounded at 11:52 A.M. Conditions continued to deteriorate and all members were ordered off the roof and out of the building. A fourth-alarm was transmitted at 12:19 P.M., followed by a fifth-alarm at 12:49 P.M.
Several additional special call units were requested. Six tower ladders were operating, four on the 'A' side, two on the 'C' side. Multiple handlines and Stangs were also working from the 'A' and 'C' sides, as well as the roof of the 'D' exposure building. The fire building was completely gutted, but the fire did not extend. The fire was placed PWH at 2:52 P.M., and under control at 3:32 P.M.
There was very little doubt that the fire started due to an exploding E-scooter since it was captured on a security camera. Seven injuries were reported to five firefighters, one EMS member, and one civilian. None were life-threatening.