Chief McGill Retires After Accomplishing Many Goals
March 06, 2023 | NEW JERSEY
RON JEFFERS, New Jersey Editor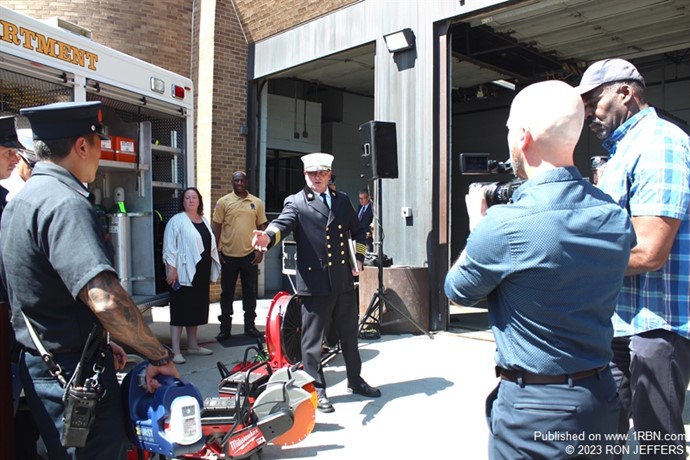 Photo by RON JEFFERSJersey City Chief of Department Steven McGill offers the media a view of equipment carried on the newly organized Squad Company 1, in June, 2022.
This article is a direct street report from our correspondent and has not been edited by the 1st Responder newsroom.
JERSEY CITY, NJ - After 35-years of service to his home town, Chief of Department Steven McGill has retired.  The chief has held many positions within the department over the years including fire-arson investigator.
As chief, one of his main goals was to have his department receive an ISO Class 1 national rating. After a three-year project, this was accomplished in 2022. The chief said the department follows the standards set forth by the National Fire Protection Association and the American Waterworks Association.
While many fire departments have cut resources or rely more and more on mutual aid, under Chief McGill, the department has close to 700 uniformed members-the largest municipal fire department in the state. In addition, Engine Company 1, in the constantly growing downtown area, was re-activated. Squad Company 1 was organized, also downtown. 
The city is growing and will soon reach a population of 300,000, if not so already. There are over 200 high rise buildings in the city, including some of the tallest in the state. To meet this need, Engine Company 6 was assigned a new 2000-gpm, three-stage high pressure pumper to provide a proper water supply in such structures.
Chief McGill worked with city leaders to accomplish many positive goals for the fire department and city that he loves.