Hi Rise fire and casualty rescue exercise
February 27, 2016 | Other
IAN MARLOW, Senior Correspondent
Photo by Ian marlowFirst crews arrive at the scene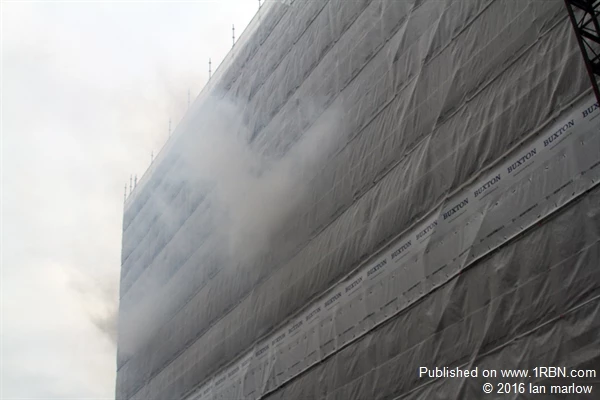 Photo by Ian marlowSmoke generators were used to add realism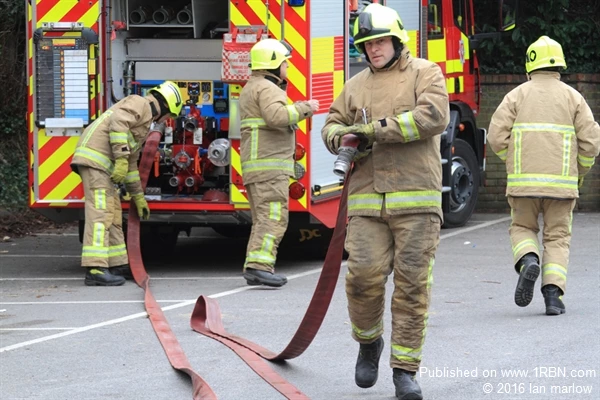 Photo by Ian marlowCrews laying hoses to the building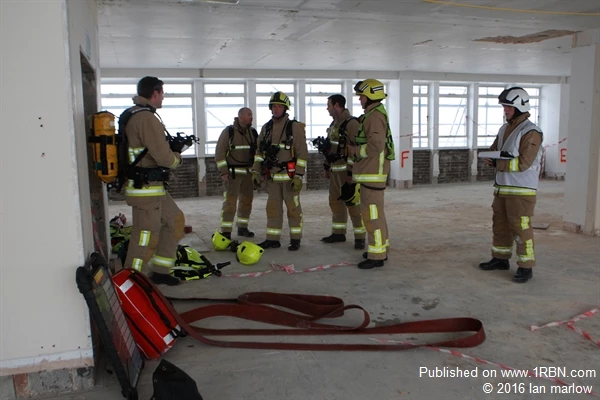 Photo by Ian marlowCrews establish a bridgehead below the fire floor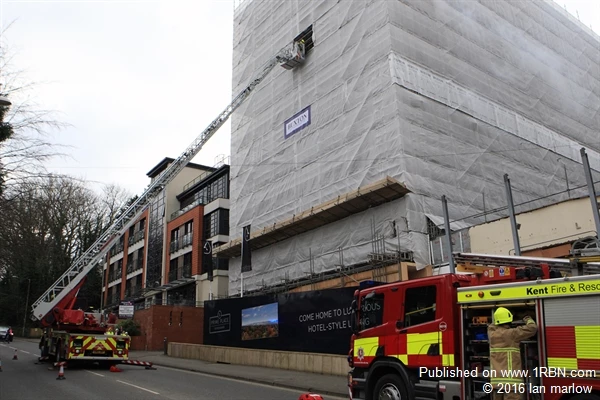 Photo by Ian marlowTurntable ladder carries out a snatch rescue of simulated casualty on scaffolding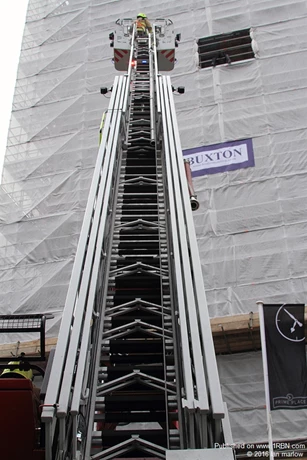 Photo by Ian marlowTurntable ladder carries out a snatch rescue of simulated casualty on scaffolding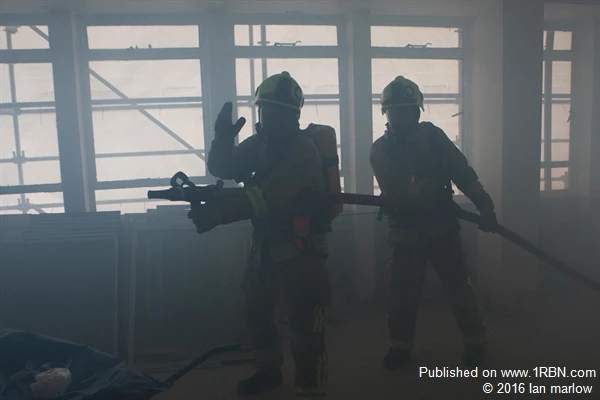 Photo by Ian marlowCrews working in simulated smoke conditions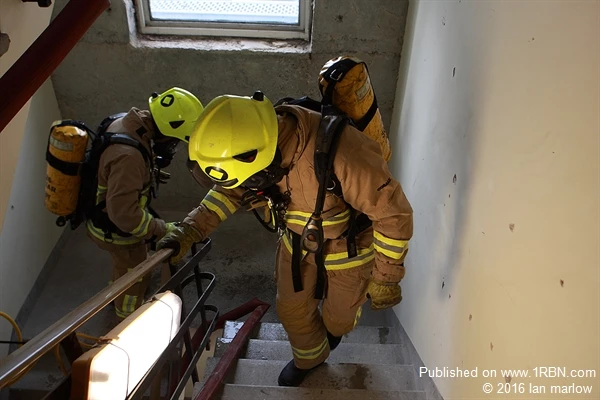 Photo by Ian marlowCrews ascending building stairwell
This article is a direct street report from our correspondent and has not been edited by the 1st Responder newsroom.
Five fire engines, around 25 firefighters and a height vehicle were involved in the simulated fire scenario at Tubs Hill House on the London Road. Crews responding to a 999 emergency call from contractors working in the building, which consists of two towers, each of eight floors. The drama unfolds after fire breaks out between the seventh and eighth floors with four people reported as missing.

Exercise Director, Sevenoaks Watch Manager, Danny Barrett, said: "Fires in high rise buildings present a range of logistical and physical challenges and can be an extremely hazardous environment for firefighters. It's essential that we practice our emergency response in an environment that is as realistic as possible.

"We are really grateful to Prime Place for the use of their building, which is currently in the process of being renovated from offices to residential units and would also like to thank Buxton Building Contractors Limited for their assistance and allowing us to undertake the exercise."

The lifts and dry rising main have all been stripped out, so the exercise will see fire crews strapped into breathing apparatus weighing 16.6kg and wearing another 9kg of protective clothing, climb several flights of stairs to reach the fire and search for casualties. The realism of the exercise will be enhanced with the use of simulated smoke and crews will have to get water to the fire by hauling hose reels up a number of flights of stairs.

A height vehicle will assist with equipment movement and provide an aerial view of the incident. Thermal imaging cameras will be used as part of the first line of attack. "They are like a set of eyes that can help us see through black smoke to take us straight to the heart of the fire and help locate casualties" added Danny.

Crews will also be testing the procedures for command and control, the effectiveness of communications and other firefighting tactics available to them; such as fog spike and positive pressure ventilation fans.

Chairman of the Kent and Medway Fire and Rescue Authority, Nick Chard will be watching fire crews at work and said: "It's important that as members of the fire authority we get to see what our front line staff are up against. They do a fantastic job of serving the local community; protecting lives and property and making a positive difference every day. Watching them train highlights the challenges they face and what an exceptional job they do in keeping us safe."