New DeLand Fire Station 81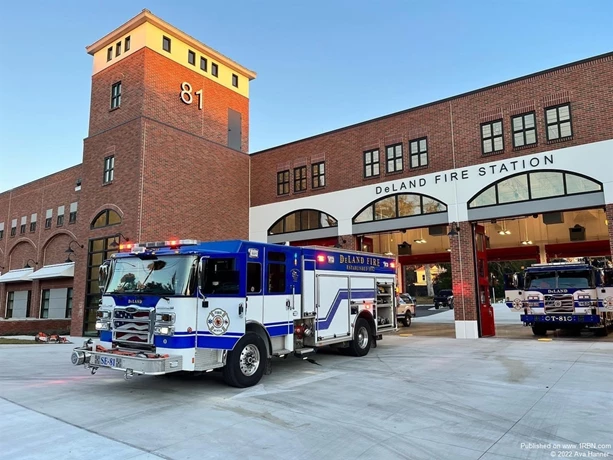 Photo by Ava HannerThe new Station 81 with Tower 81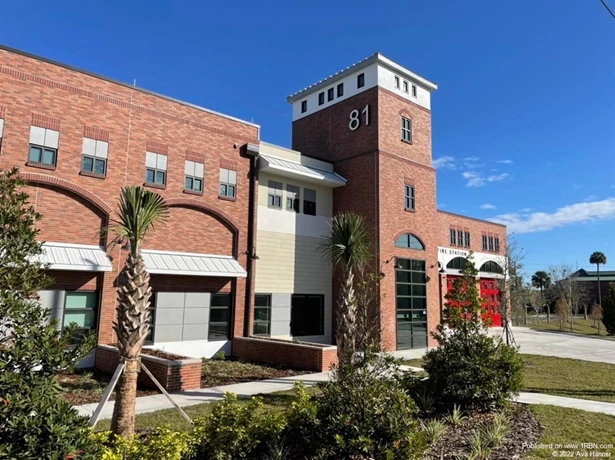 Photo by Ava HannerFront Façade of Station 81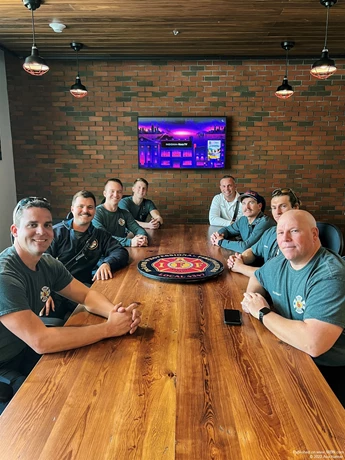 Photo by Ava Hanner Firefighters seated at new dining table in station
This article is a direct street report from our correspondent and has not been edited by the 1st Responder newsroom.
The City of DeLand opened a new 16,000 square foot fire station in Downtown DeLand, Florida in January 2022.

The new DeLand Fire Station 81 is located at 343 West Howry Avenue, just down the street from Station 81's previous location at 201 West Howry Avenue in DeLand. The 343 numerical pays homage to the 343 firefighters who were killed on 9/11.

The new 16,000 square foot fire station was designed to be able to serve the DeLand area for the next 50 to 100 years as the city continues to grow. The former Fire Station 81 was originally designed in the late 1960s as a volunteer station which posed several issues when operating a full-time paid staff in modern times. In 2021, Station 81 ran over 7,800 calls for service making it one of the busiest stations in Volusia County.

"Station 81 was never built to be a full-service, career fire station, but it has served this community very well for the last half-century, and our city's needs have grown in that time," said Fire Chief Todd Allen. The new station will have measures to protect our firefighters from harmful contaminants encountered on our responses, and will also meet the needs of a diverse workforce by ensuring separate facilities for our male and female employees.

The new station will house all of the fire department's administrative offices, two response fire companies, the shift commander, and fire prevention under one roof. Previously, the Fire Marshal's Office was located in City Hall. Having a central location for administrative operations will allow for improved communication and coordination.

The new station will feature a large multi-use community room that can be used for hosting training classes, hosting city meetings, etc. The fire department will also host classes such as CPR certification courses for the public as well as host their own training classes within this room. The community room will be available for other groups to utilize if available on the requested time and date. In addition, this station will incorporate training props within the building for our firefighters to continually meet our training requirements. The props will allow firefighters to train in the areas of confined space rescue, aerial operations, etc. completely within their own station. This station will meet the needs of our workforce and serve our vibrant community.

The safe storage of personal protective equipment was a major focus of the design. The new station is equipped with a negative pressure ventilation system and a diesel exhaust removal system to reduce the firefighter's exposure to potentially harmful carcinogens. Instead of storing their gear in the apparatus bay, there are designated negative-pressure rooms for storage and laundering of their gear.

When the original fire station 81 was built, it was not designed for firefighters to be living there and all of the firefighters were male. The department now has 4 female firefighters so providing separate sleeping quarters for each firefighter was a major priority when designing the new station. Each firefighter will now have an assigned room to utilize during their 24-hour shift that is separate from the other bunkrooms. The station currently is staffed 24/7 with a minimum of seven firefighters but could accommodate twice that amount when heavier staffing is required for tropical weather events.

During the building process, The DeLand Fire Department was awarded a sapling from the 9/11 Survivor Tree. The sapling was planted on the southwest side of the new station and will be looked after by firefighters and the City of DeLand foresters. Fire Chief Todd Allen says, "We are humbled to not only be considered for this award but to have this tree awarded to our fire department. This tree symbolizes growth that can come following a tragedy, which can make you stronger and more resilient. Having this symbolic link to the tragic events of 9/11 will help us memorialize our own tragic events and inspire individual growth for decades to come." The DeLand Fire Department was awarded the sapling following the loss of Fire Chief Dan Hanes in 2018 and the F-2 tornado that struck the city in 2020.

The DeLand Fire Department employs 54 uniformed firefighters and 6 civilian employees and operates three fire stations 24 hours per day.