Fatal Reading Fire Goes 2 Alarms on Summit Ave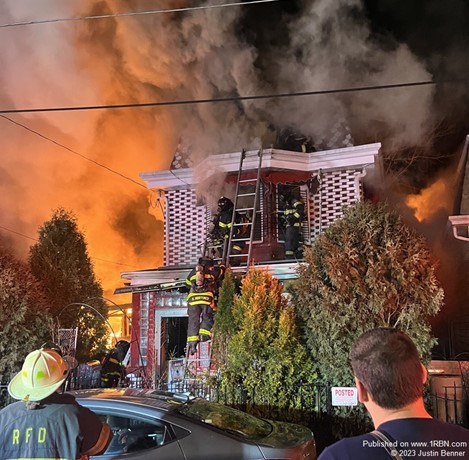 Photo by Justin BennerCompanies arrived to find well involved standalone dwelling with reports of a person trapped.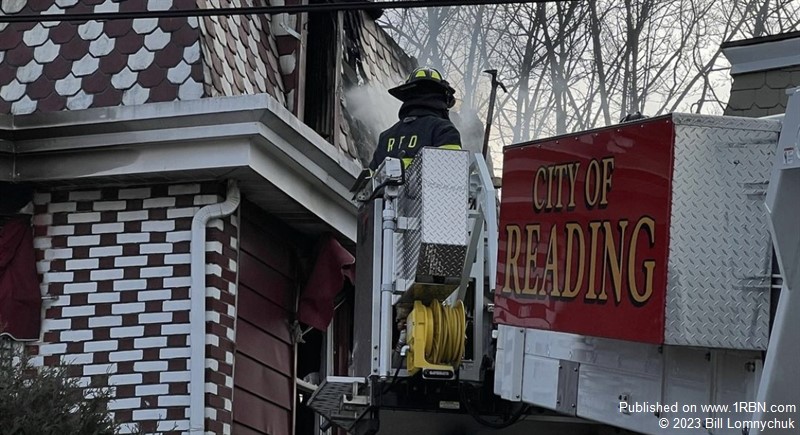 Photo by Bill LomnychukTower 1 operating later in the morning to complete overhaul.
This article is a direct street report from our correspondent and has not been edited by the 1st Responder newsroom.
At 0406 Hours Box 402 was transmitted for reports of a house on fire at 630 Summit Ave in the Millmont section of Reading. Shortly after companies were dispatched an additional call was received reporting someone was trapped in the house. As Car 4 and Engine 5 arrived they confirmed a working fire with one person on the porch roof. As firefighters worked to remove the victim from the porch roof Car 4 called for the 2nd alarm to be transmitted. With the victim removed from the roof crews pushed into the house with the 1st 1 3/4" handline. Firefighters encountered heavy fire conditions on all 3 floors. As a report came in stating someone was trapped on the 3rd floor crews went to work trying VEIS but had difficulty making access due to bars on the windows and advanced fire conditions. A 2 1/2" line was placed in service on the outside to knock down fire on the exterior of the building. Car 4 requested an additional medic truck after an injuried firefighter was removed from the porch roof. Crews battling the blaze on the 2nd floor reported they had heavy hoarding conditions and request an additional handline to that level. Several other 1 3/4" handlines were stretched into the house. As crews made the push on the 2nd floor they were able to knock down some fire but due to the extreme hoarding conditions the fire only worsened. Car 4 call for all companies to evacuate. Once everyone was accounted for firefighters began exterior operations with opening up the deck gun on Engine 5. As the operations moved to defensive Tower 1 was repositioned in front of the building. After the fire was darkened down from master streams and several handlines firefighters made entry into the building again in an attempt to locate the still unaccounted for victim.

During the incident one victim was removed from the basement. Even fighting through heavy hoarding conditions firefighters were able to extricate him within 3 minutes of being located. That victim was quickly placed into the care of EMS where RFD Paramedics and EMTs work diligently to care for the patient and transport him to Reading Hospital. Crews operating from the tower bucket ended up locating another victim on the 3rd floor who was unfortunately deceased.

As a majority of the companies cleared the scene as the oncoming shift(C Platoon) relieved Engine 5 and Tower 1 crews at the incident. Those companies remained on scene for an additional 4 hours completing overhaul. The Fire Marshals remained on scene to investigate the fire.