Brunswick No.1 Firefighters Battle A Fully Involved Truck Fire On Raccardi Lane
December 04, 2022 | NEW YORK
JEFFREY BELSCHWINDER, Senior Correspondent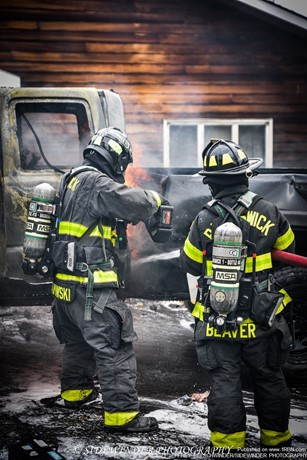 Photo by JEFFREY BELSCHWINDER/SIDEWINDER PHOTOGRAPHY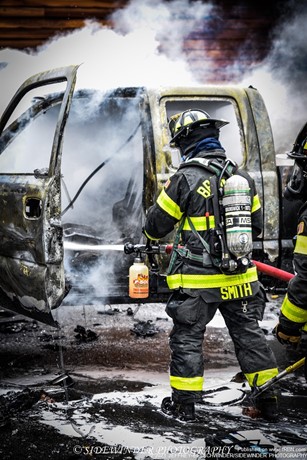 Photo by JEFFREY BELSCHWINDER/SIDEWINDER PHOTOGRAPHY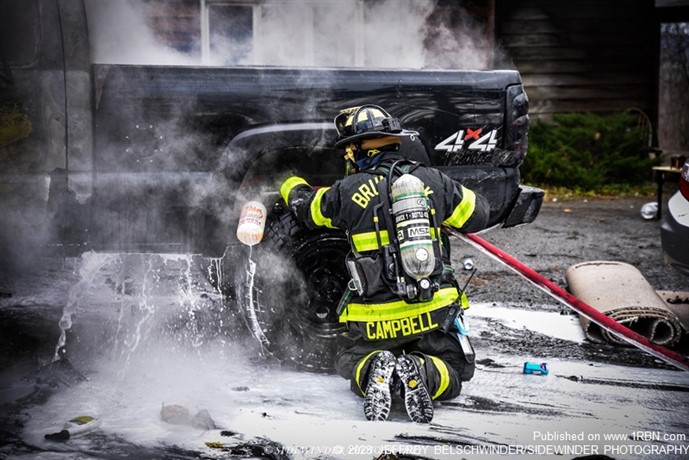 Photo by JEFFREY BELSCHWINDER/SIDEWINDER PHOTOGRAPHY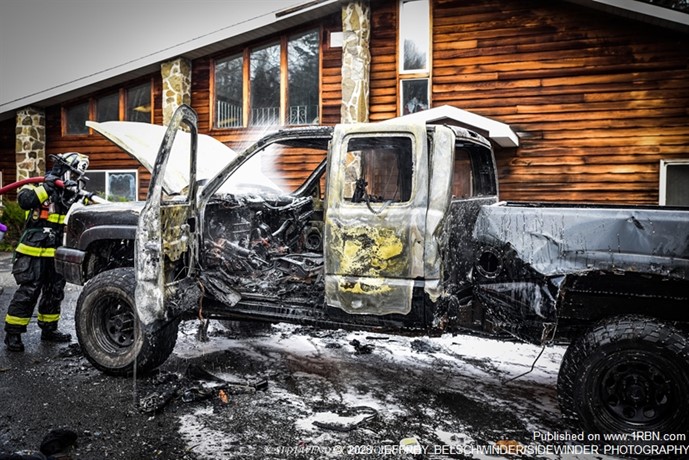 Photo by JEFFREY BELSCHWINDER/SIDEWINDER PHOTOGRAPHY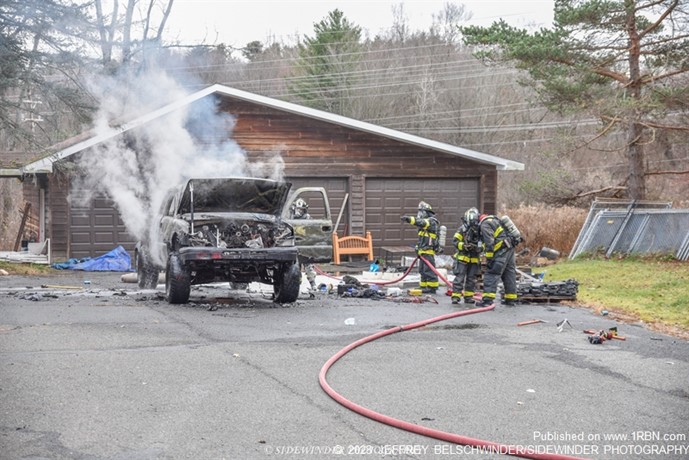 Photo by JEFFREY BELSCHWINDER/SIDEWINDER PHOTOGRAPHY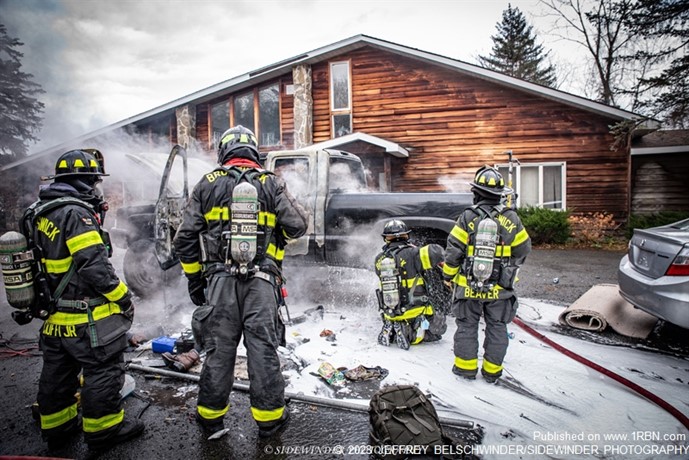 Photo by JEFFREY BELSCHWINDER/SIDEWINDER PHOTOGRAPHY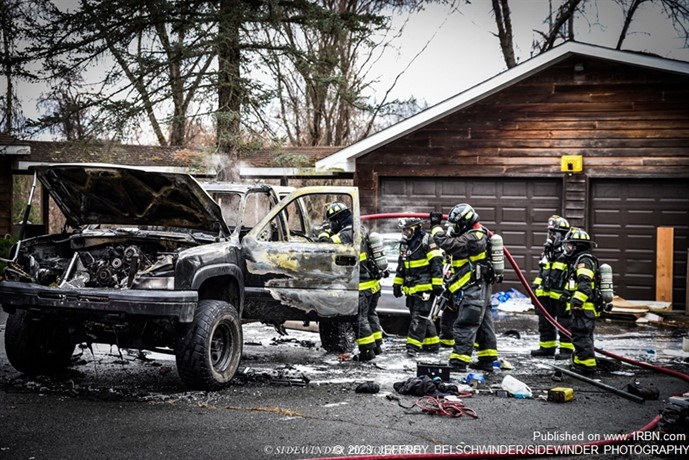 Photo by JEFFREY BELSCHWINDER/SIDEWINDER PHOTOGRAPHY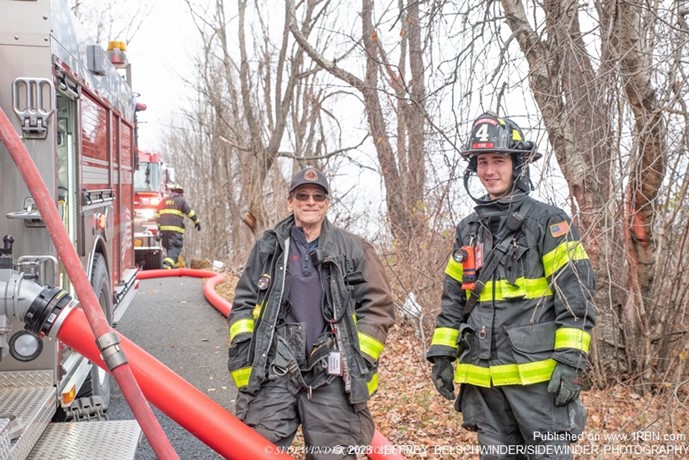 Photo by JEFFREY BELSCHWINDER/SIDEWINDER PHOTOGRAPHY
This article is a direct street report from our correspondent and has not been edited by the 1st Responder newsroom.
On December 4, 2022, at 12:39 PM the Brunswick No.1 Fire Company was dispatched to 12 Raccardi Lane for a reported vehicle fire. Caller reported a truck in the driveway on fire in close proximity to the house.

From Hoosick Road a heavy black column of smoke was visible for about one mile. The caller called back and stated the fire was starting to spread to the house and Brunswick No.1 car 3 requested a full box alarm for a possible structure fire to be transmitted. Center Brunswick Volunteer Fire Company, Speigletown Fire Department, Mountain View Fire Department for the fast team and Mohawk Ambulance Service was dispatched to the scene.

Brunswick No.1 car three arrived on scene and took command and began to conduct a quick walk around of the incident. Truck four and four-one quickly called in route to the scene. The chief on scene notified units that there was a long steep driveway to the top of the hill where the incident was located. Command notified the dispatcher that there was no threat to the structure and declared a signal twenty and canceled all mutual aid to the scene. Truck four arrived on scene and firefighters deployed a inch and three-quarter hand line to the vehicle. Firefighters quickly began to knock down the fully involved vehicle fire. Engine four-one arrived on scene behind truck four and connected into the truck company just in case they ran out of water.

Firefighters utilized F-500 encapsulating agent to bring the incident under control due to a lack of a close water supply on scene. As firefighters were able to bring the cab and engine compartment fire under control, firefighters used a cutter spreader tool to spread the cab away from the bed to access a free burning fuel tank fire underneath the bed of the truck. As firefighters spread the bed away from the cab of the truck, fuel began to spill out onto the ground that was on fire and firefighters quickly began to extinguish the fire and neutralize the threat of the fuel with the F-500 encapsulating agent. Firefighters had a large fuel tank on fire under the bed of the truck and firefighters utilized the cutter spreaders to create another purchase point to gain access to the free burning fuel under the bed of the truck.

After accessing the fuel tank firefighters were able to successfully bring the incident under control. Firefighters utilized the encapsulating agent on the fuel on the ground to render the fuel non-combustible. Rensselaer County fire investigators responded to the scene to investigate the cause of the fire. Firefighters remained on scene for a short period of time. No injuries were reported.