Eleven-Alarm Commercial Building Fire Rocks Passaic
January 14, 2022 | NEW JERSEY
RON JEFFERS, New Jersey Editor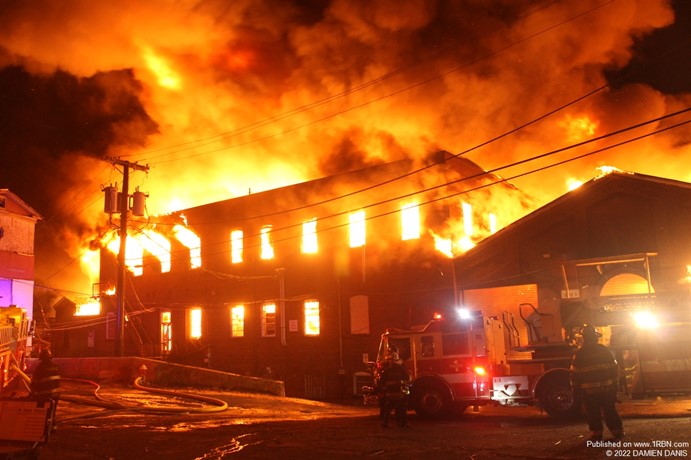 Photo by DAMIEN DANISEarly arriving fire companies set up for an all night battle involving commercial structures near the Passaic River in Passaic, January 14th.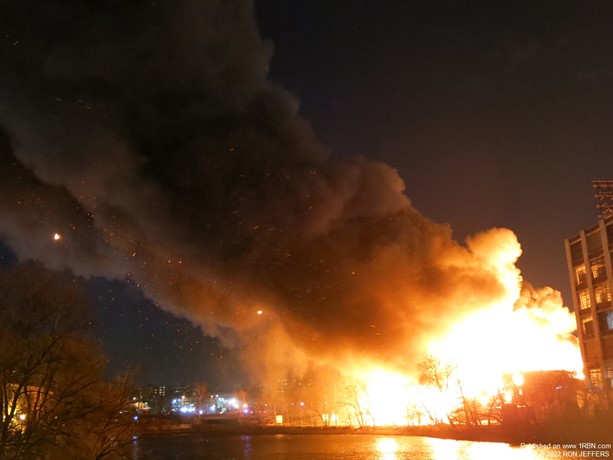 Photo by RON JEFFERSPart of the fully involved mill building collapsed with balls of fire, a huge column of smoke and embers blowing across the Passaic area on January 14th.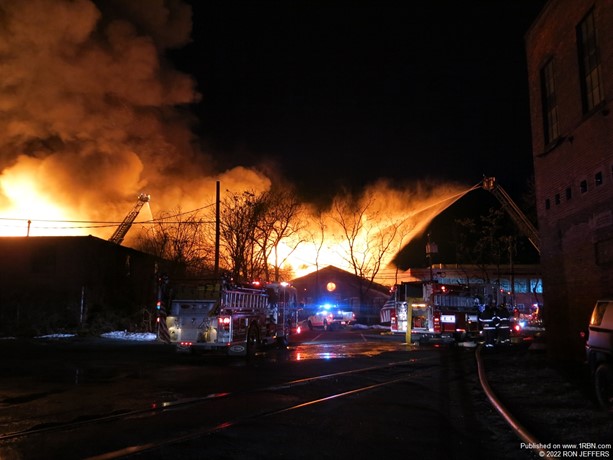 Photo by RON JEFFERS
Photo by RON JEFFERS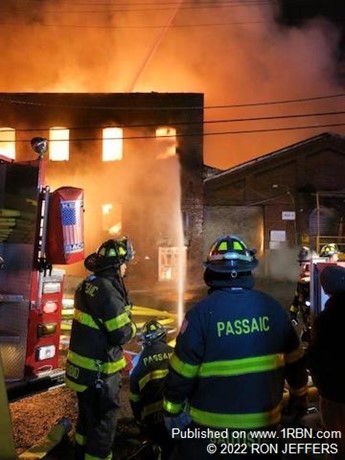 Photo by RON JEFFERS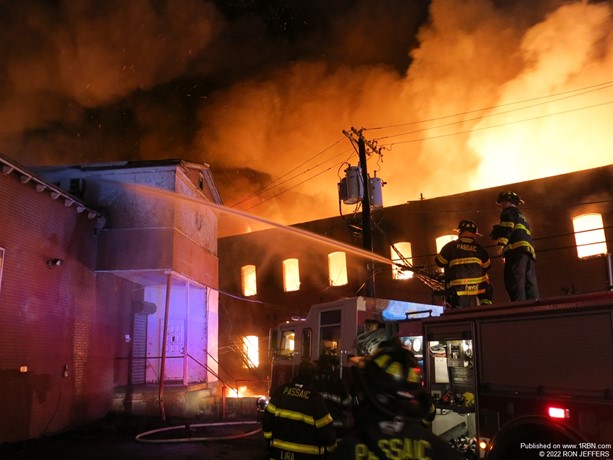 Photo by RON JEFFERSCity firefighters use Engine 3's deck gun to cool off exposing structures during the 11-alarm blaze.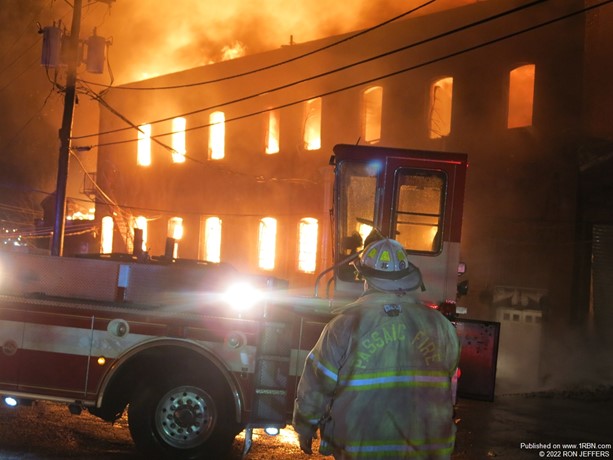 Photo by RON JEFFERS
This article is a direct street report from our correspondent and has not been edited by the 1st Responder newsroom.
PASSAIC, NJ - Local firefighters are far too familiar with major commercial building fires
that have struck this city over the years. On a Friday, January 14th evening, with freezing temperatures and high winds covering Northern New Jersey, area firefighters were once again put to the test.

Engine 2, Ladder 2 and Battalion Chief John Hayowyk (Battalion 3) were dispatched for a reported car fire on Route 21 at 8:16 P.M. Dispatch reported receiving "multiple calls." This was followed by dispatch receiving calls for a building fire, but there was no exact address.

While responding, Ladder 2 radioed a "large column" visible, followed by a report of an apparent building fire off of Route 21. The assignment was filled out, followed by another report from Ladder 2 stating there was a fully involved roof fire of a commercial building and the rig had to "loop around" to gain access. While in route, Battalion 3 ordered a second-alarm, which was followed up, upon arrival, with a third-alarm.

The chief reported "heavy fire on the roof" of a mill building and aerial operations would be needed. This was followed by a call for two mutual aid tower ladders to be sent to the scene. Passaic Street and Canal Street addresses were used for the commercial site.

The fire was in a complex that contained Majestic Industries and Qualco, Inc. Majestic makes gaming and hospitality furniture for casinos and bingo halls, Mayor Hector Carlos Lora said. Qualco produces and distributes chemicals used to treat pools and spas. A county haz-mat team was called to the scene.

Flames lit up the night sky and a huge column of black smoke rose above the city. It was later reported that the smoke was spotted on weather radar. On this windy evening, large embers flew over the Passaic River to the Wallington side. Besides dispatching a pumper to Passaic, the rest of the Wallington Fire Department turned-out on ember patrol to protect their borough.

Mutual aid companies were sent to Route 21 to set up master streams for the fire building and exposure protection, as the highway was shut down to traffic. When fire units gained better access to the structure involved, it was reported that there was fire on the first-floor of the fire building and soon on all floors of a three-story mill building.

With the temperature in the 20's, and a wind chill factor, the usual winter hindrances were present, such as ice on the ground and frozen hydrants. Water relay operations were established which involved numerous mutual aid pumpers. The main fire was in the Majestic Industries property.

As the fire grew larger, a collapse zone was established and a ladder company was ordered to move back and away from high tension wires, above. Part of the fire building collapsed on the river side, creating an even bigger ball of flames and a mammoth column of smoke.

An extensive amount of mutual aid was called to the scene, and to cover the city, from some five area counties. Last January, a multiple-alarm fire destroyed a recycling plant in the same city neighborhood, on another frigid night. Many of the fire companies that responded to the current blaze were familiar with how the firefighting, water relay, rotating of fire companies, rehab, and other operations would be executed, due to their previous duties in 2021.

The fire destroyed the Majestic Industries structure, with most of it collapsing within itself. A three-hour progress report included eight aerial devices in operation as well as deck guns, with fire starting to darken down. After five hours, master streams were still operating. As the sun rose on the site, a shell of the building remained with smoldering fire beneath the rubble. Fire companies from as far as Morris County reported to the scene for the rotating and relieving of firefighters wetting down pockets of fire.

Overnight, the wind blew smoke over Bergen and Hudson counties, as well as New York City. Fire departments answered smoke and strange odor calls. Jersey City firefighters seem to have the largest run on these calls overnight, and reported smoke from Passaic. In the morning, the fire department sent a haz-mat unit out to take air samples in the Heights section of that city. The New Jersey D.E.P., called in to test air quality in Passaic, found it to be safe, Mayor Lora said.

A lone security guard was on duty at the time of the fire, and he was safe. One firefighter was treated at a local hospital for a face laceration, according to Chief of Department Patrick Trentacost. There were also various "slip and fall" injuries, the chief said.

Mayor Lora praised firefighters and called their actions "heroic". "They are the reason why this fire did not reach the main chemical plant where the highest concentration of chlorine is located," the mayor added.

The fire was called under control around 7:30 A.M. the next morning, with fire companies operating for an extended period of time on the smoldering remains.