Firefighters Chase Stubborn Fire in East Berne Home
By THOMAS MARRA , Correspondent | January 10, 2021 | NEW YORK
Story No. 011621103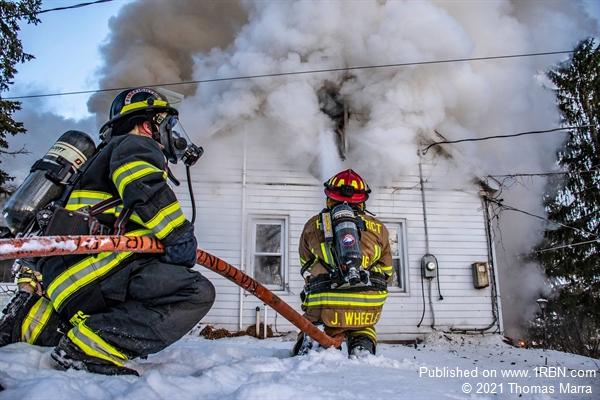 Photo by Thomas MarraFirefighters from numerous departments spent hours chasing a stubborn fire throughout an East Berne home on 1/10/21.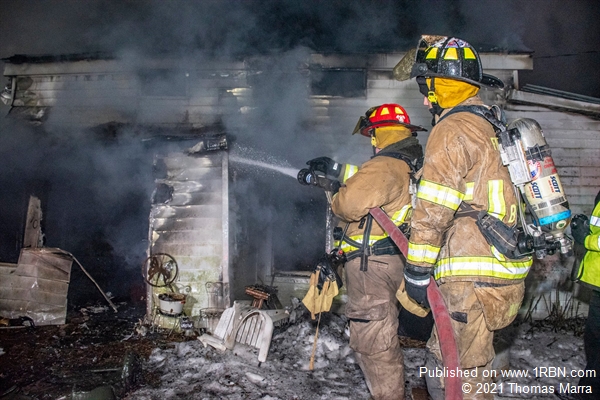 Photo by Thomas MarraCrews battled the difficult fire in freezing cold temperatures.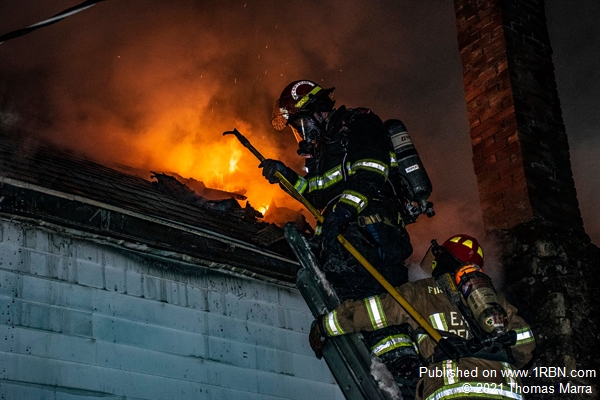 Photo by Thomas MarraNo crews were allowed inside the structure due to heavy fire conditions upon initial arrival.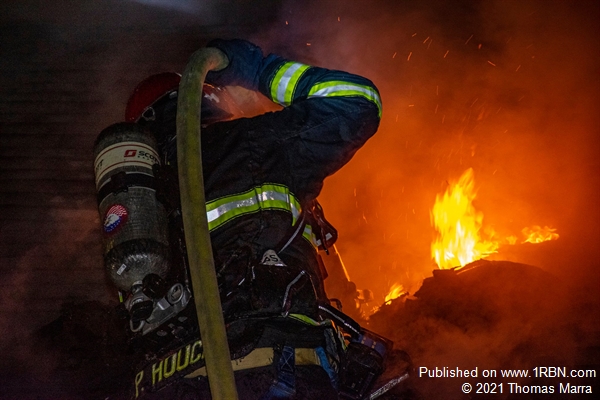 Photo by Thomas MarraFirefighters were chasing fire throughout a double roof.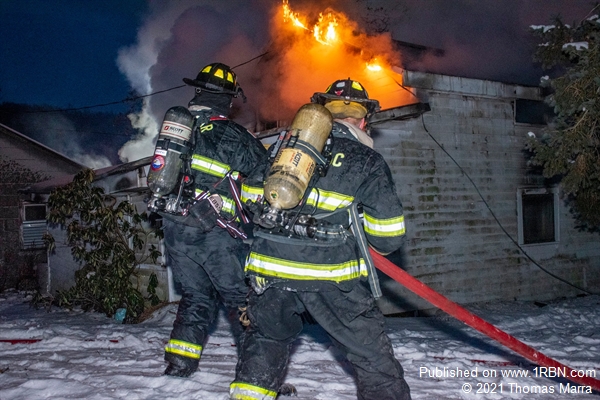 Photo by Thomas MarraNumerous fire departments in Albany County assisted in firefighting efforts.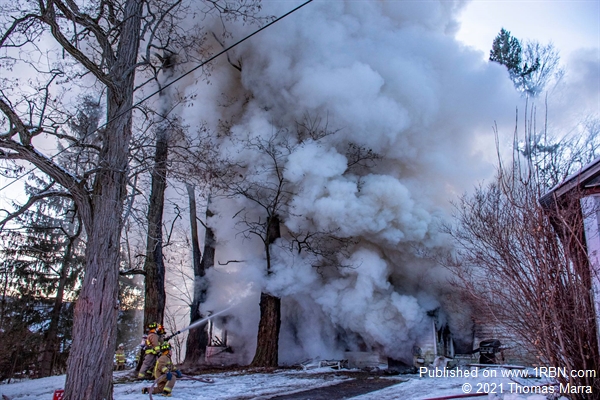 Photo by Thomas MarraSmoke could be seen for miles as crews fought this difficult blaze.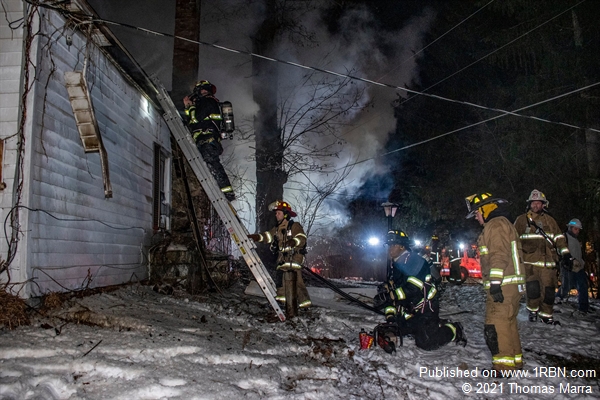 Photo by Thomas MarraCrews had difficulty with water and relied on tanker shuttles delivering water to the scene.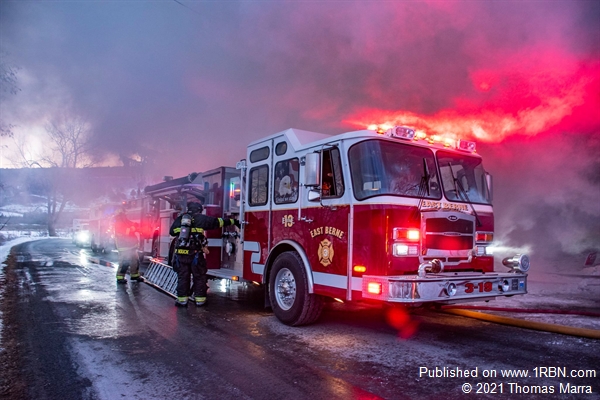 Photo by Thomas MarraFreezing temperatures posed problems by causing icy surfaces on the fireground.
East Berne, NY - Flames ripped through a home in East Berne on Sunday, January 10th, leading firefighters on a long and difficult fire fight.

The Berne/East Berne Fire Departments were dispatched to a reported structure fire with smoke and flames coming from a bedroom at 370 Long Road just after 4:00 P.M.

Units enroute to the scene notified dispatch that they could see heavy smoke in the area and requested mutual aid departments to start to the scene.

District Chief Jason Smith of the Berne Fire District was first to arrive on the scene and said it went from a fire in the bedroom to heavy fire conditions within the four minutes it took him to arrive at the scene.

"It came in as flames and smoke showing from a bedroom," said Smith. "I got here and the whole front half of the building had flames blowing out every window, through the porch and through the roof."

Crews were told it was going to be defensive operations only, meaning no crews were allowed to go inside the structure.

"I wasn't going to send anybody in," he said. "It was that bad of a fire when we got here."

Firefighters faced extreme difficulties in battling this blaze. Water supply was an issue at the scene, so once firefighters got a portion of the fire knocked down they would run low on water and the fire would begin to grow again. A water supply was established and tankers were brought in from surrounding agencies to shuttle water to the scene. Freezing temperatures also posed problems and created icy surfaces in the roadway and on the fireground. The layout and design of the structure kept firefighters busy as they battled the fire for several hours.

"This is a very old house," Smith said. "The ceiling is shiplap on one side of the trusses with shingles on the opposite side and we're just chasing the flames through the channels between the trusses." He added that there was no attic space to get water into.

Agencies on the scene and on standby included Berne/East Berne, Onesquethaw, New Salem, Westerlo, Knox, Altamont, Coeymans Hollow, Delmar, Gallupville and Rensselaerville Fire Departments. Also on scene was Helderberg Ambulance, Albany County Paramedics and Albany County Sheriff's Department.

Smith said he believes there were three people that lived in the home, as well as a dog that made it out of the structure during the fire and found safe. He is unsure if there were any other pets.

The Red Cross was contacted and has been assisting the displaced family following the fire.

After speaking with police, Chief Smith said he can confirm that the fire is not suspicious in nature. The exact cause of the fire is still under investigation, but Smith says investigators are leaning towards an electrical issue or a discarded cigarette to be the cause of the blaze. The house is reported to be a total loss.

Crews remained on scene until late in the night. There were no injuries reported at the scene.
This article is a direct street report from our correspondent and has not been edited by the 1st Responder newsroom.