Wrights Corners Installation honored by State Politicians
By STEPHEN WALLACE, Senior Correspondent | January 10, 2022 | NEW YORK
Story No. 011022111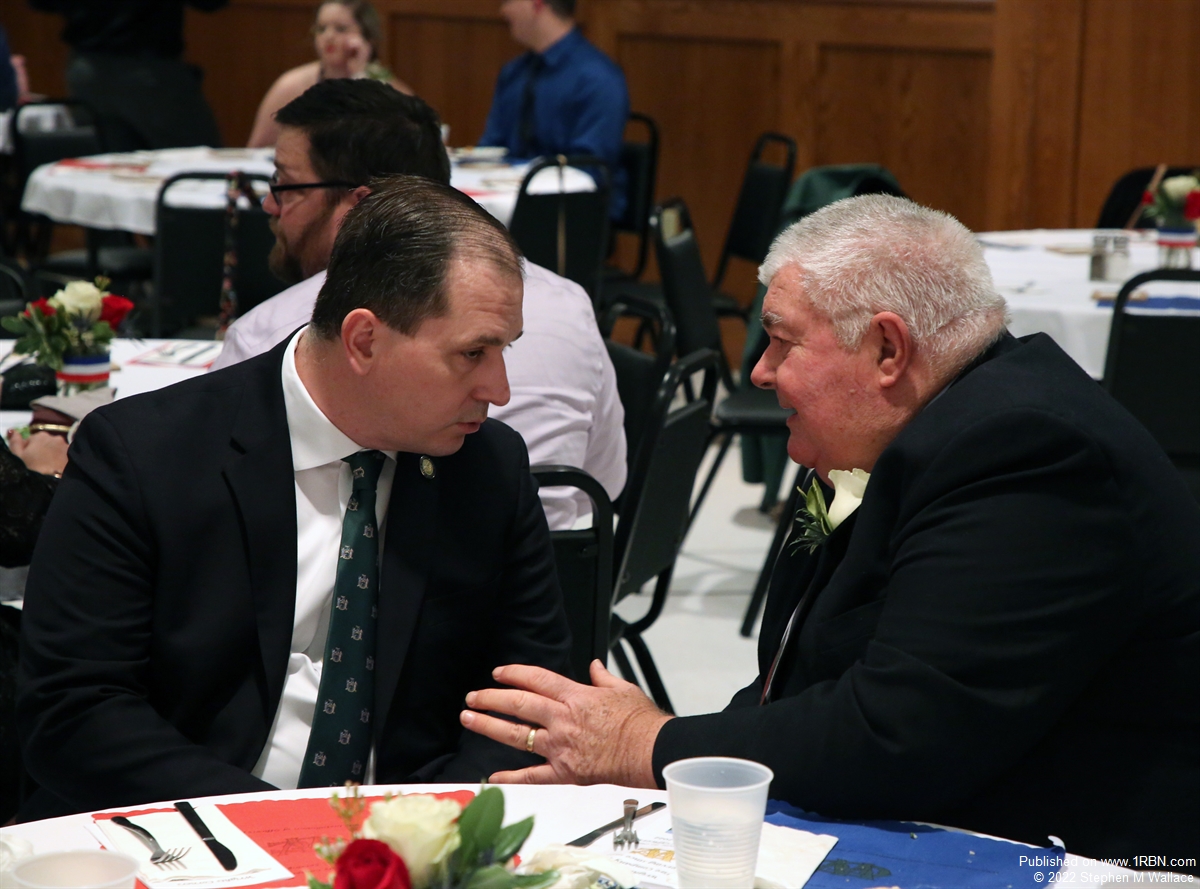 Photo by Stephen M WallaceAssemblyman Michael Norris talks with Sr. Chaplin Wayne Jagow a man with decades of knowledge in the Volunteer world. His knowledge assist Assemblyman Norris in his endless efforts to fight for 1st Responders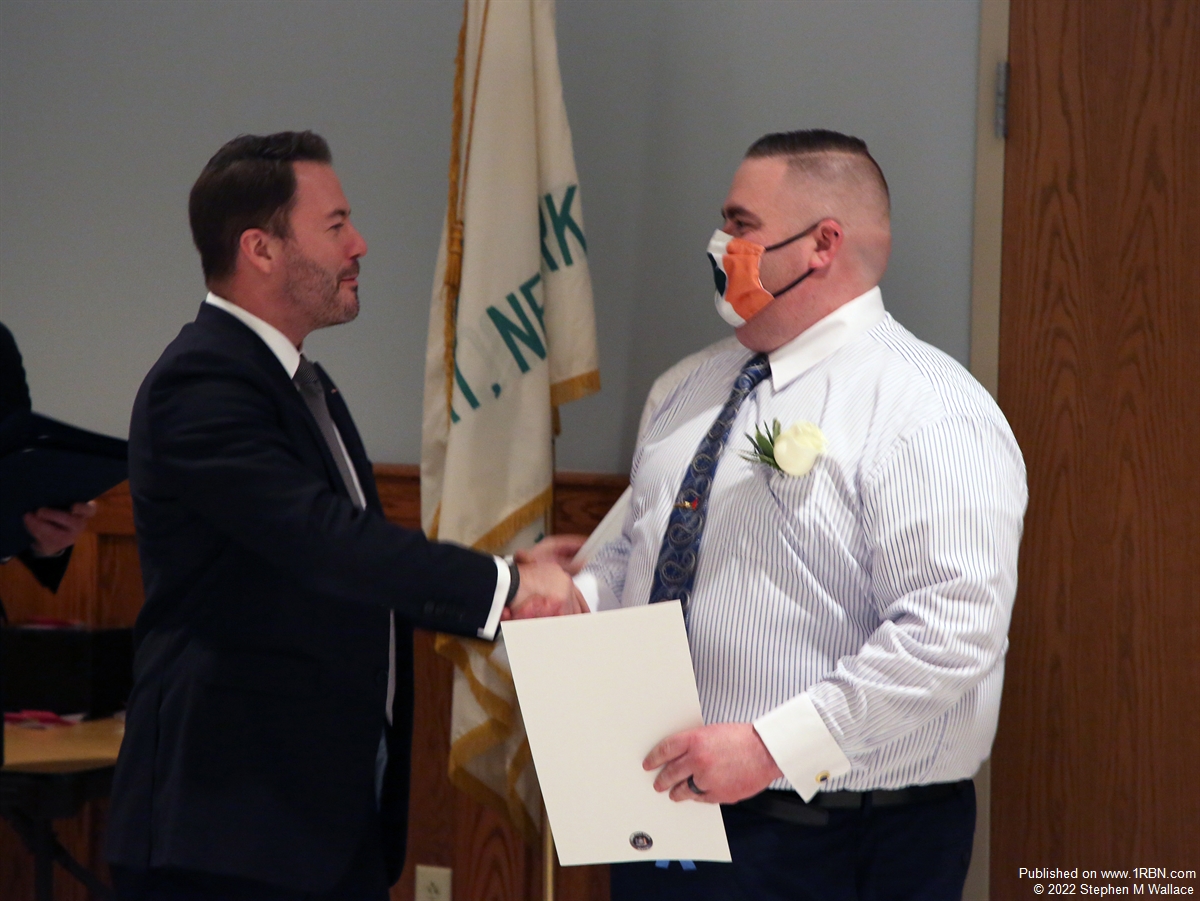 Photo by Stephen M WallaceSenator Robert Ortt presents Chief Jonathan McKnight with his proclamation award for being part of the team that saved a life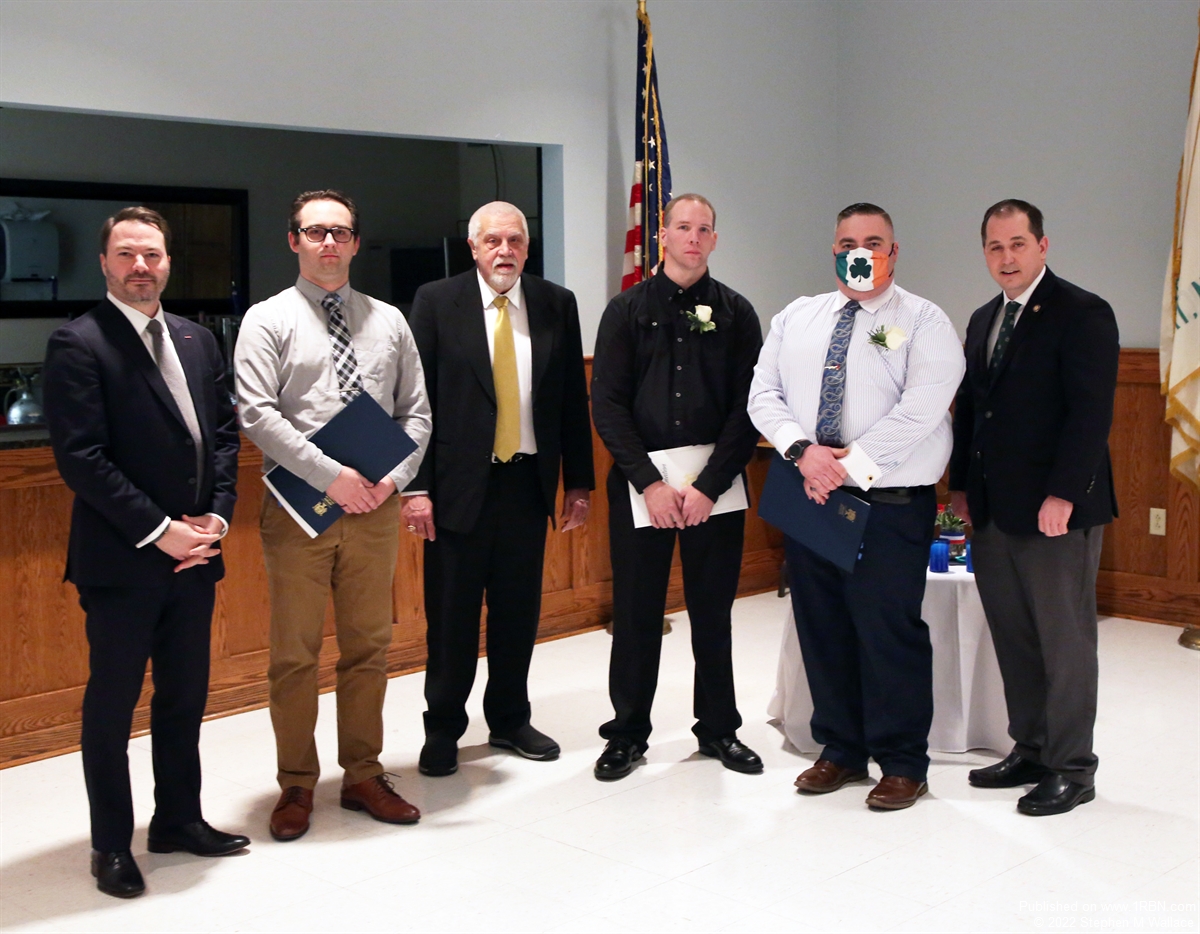 Photo by Stephen M WallaceNYS Senator Robert Ort, EMT Mark Hare, CPR saved Jim Tomasine, Firefighter Christopher Brueckner, Chief Jonathan McKnight and NYS Assemblyman Michael Norris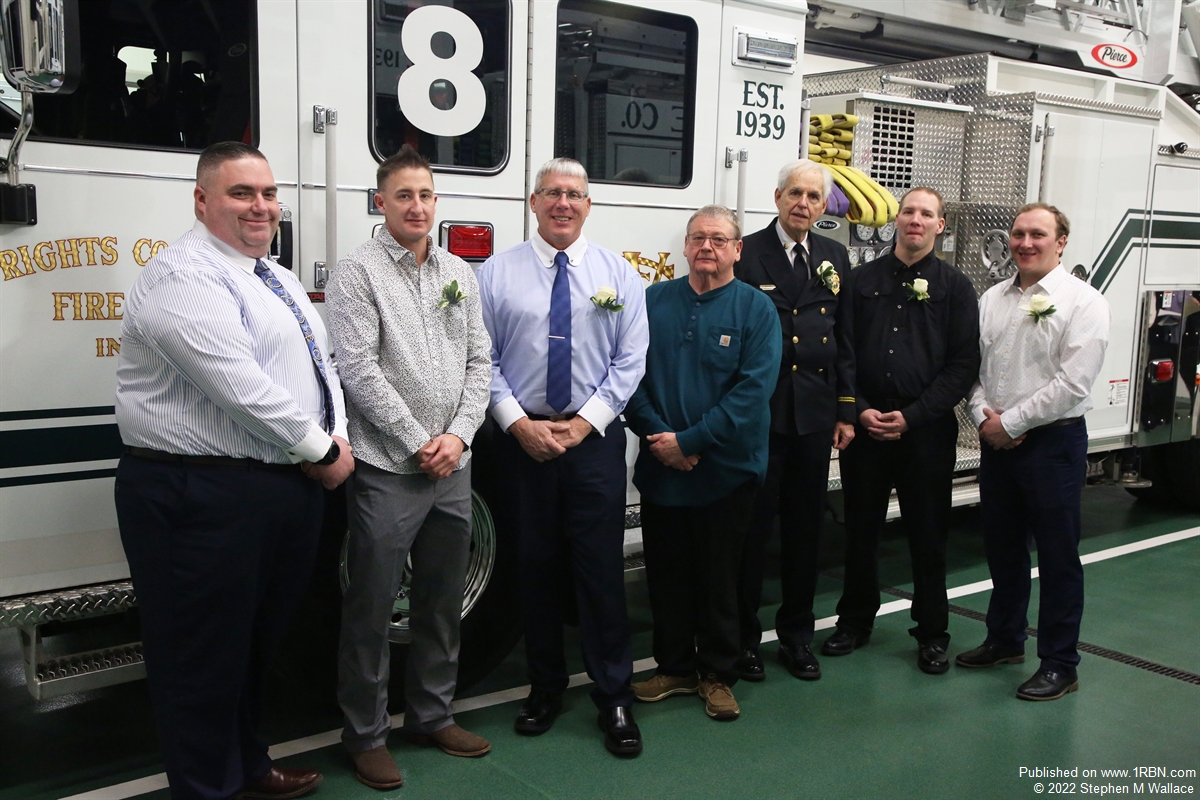 Photo by Stephen M Wallace2022 Officers Chief Jonathan McKnight, 1st Ryan Dickenson, 2nd Jeffrey Seefeldt, 3rd Kevin Hunter, Chaplin Jack Bridwell, Fire Police captain Christopher Brueckner, Parade marshal Michael J Norwood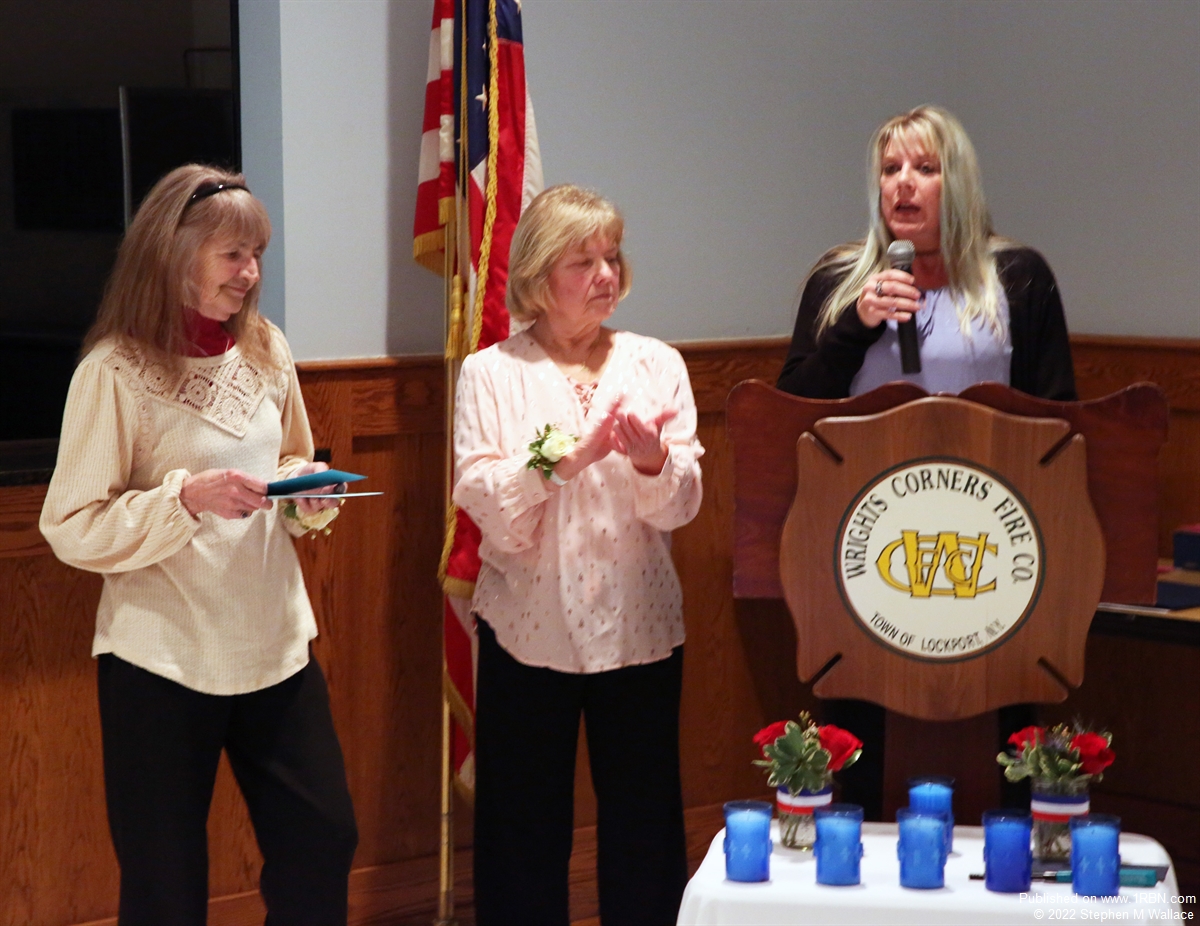 Photo by Stephen M WallaceLadies Auxiliary and the whole fire company honored Sharon Drew for her 35 years of service.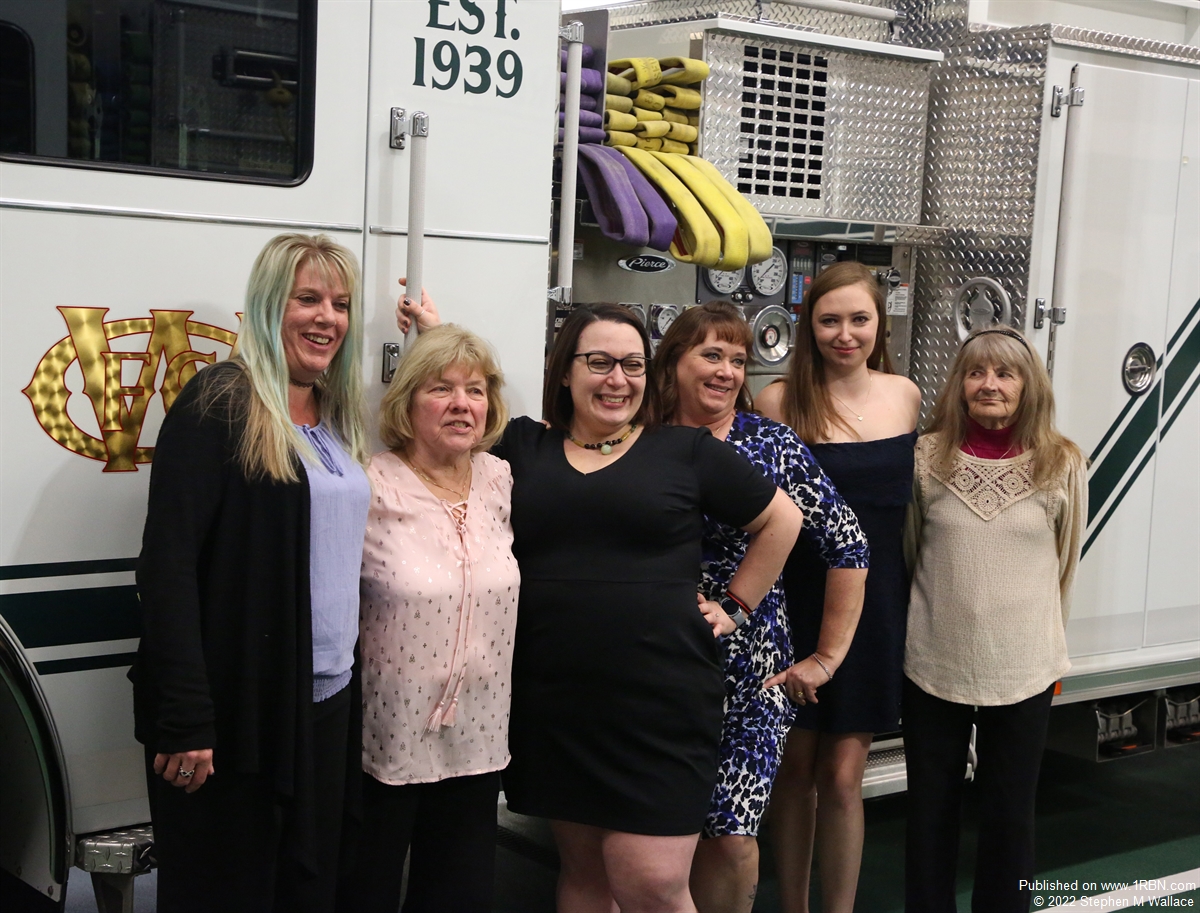 Photo by Stephen M WallaceThe Ladies Auxiliary Vice President Tanya Steinhardt, Treasurer Cindy Horner, Recording Secretary Sarah McKnight, Corresponding Secretary Kathy Nizialek, 1st Year Director Susan Nizialek,3rd year director and 35 years of service Sharon Drew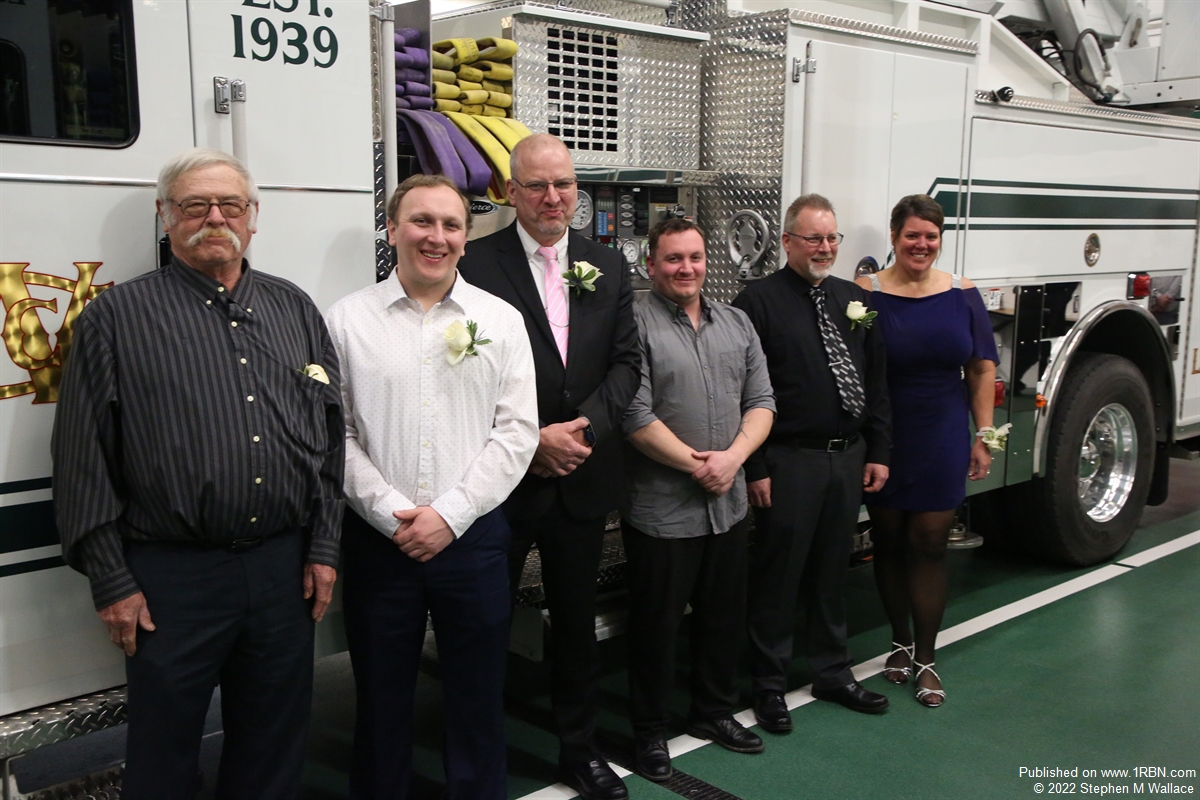 Photo by Stephen M Wallace2022 administration Officers of Wrights Corners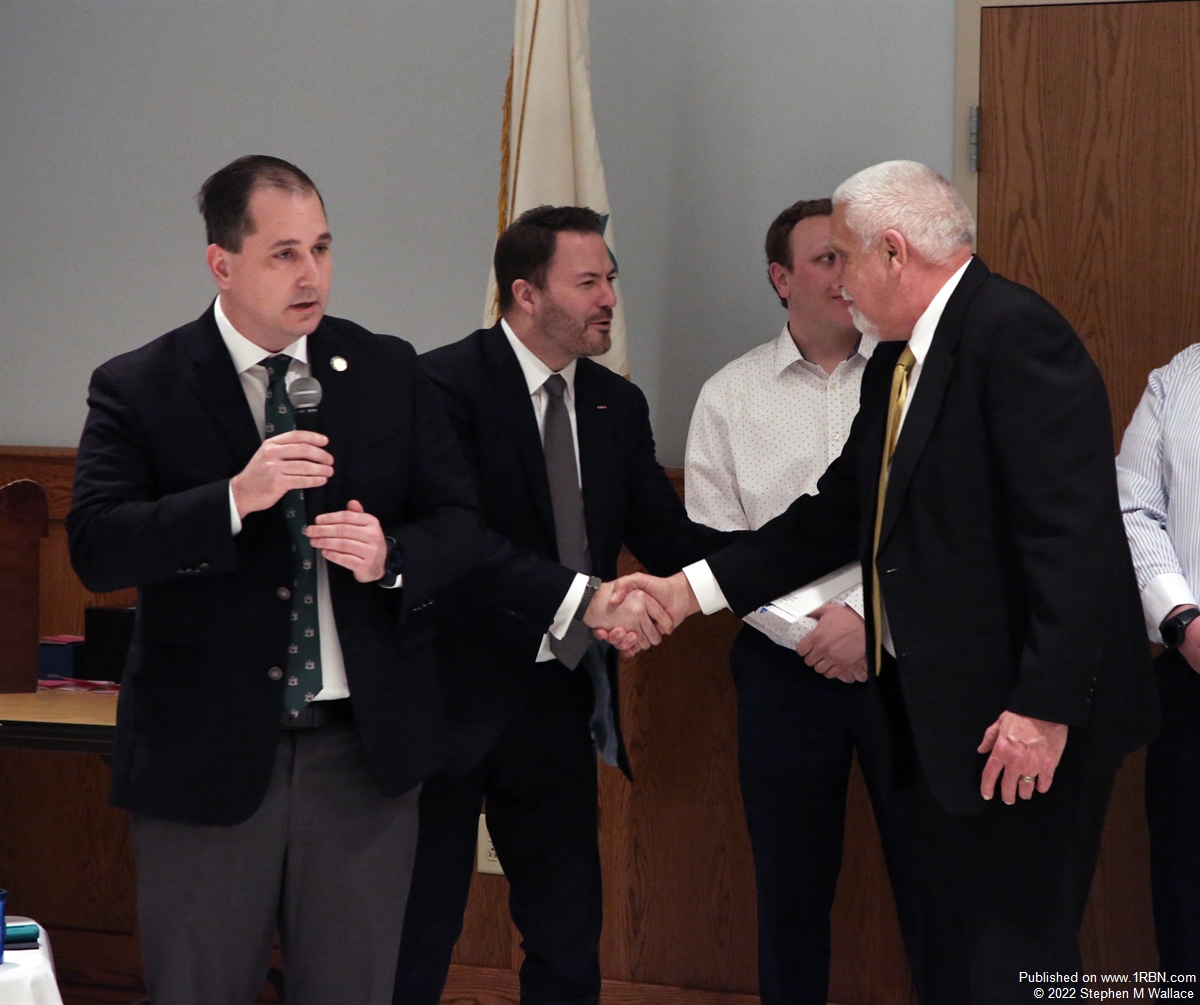 Photo by Stephen M WallaceNew York State Assemblyman Michael Norris talks to all of the importance of the 1st Responder as NYS Senator Robert Ortt shakes the hand of CPR survivor Jim Tomasine

Wrights Corners Fire Company held its Installation of Officers at their hall on January 8th 2022 after being shut done last year due to COVID. This year's program started out with a special presentation and proclamation from Honored guest New York State Senator Robert Ortt, and New York State Assemblyman Michael Norris. On March 10th 2021 Tina and Jim Tomasine were going shopping at a local market just a minute North of the fire hall. Tina heard a thump and found Jim on the ground. Thinking it was a diabetic problem, and knowing the fire hall was just a minute away, Tina got Jim in the car and called 911. They proceeded to Wrights Corners main hall as the call was dispatched as a diabetic problem. Inside EMT firefighter Mark Hare was stocking the ambulance, he ran outside to meet the Tomasines. Jim was in full cardiac arrest. Mark called dispatch to upgrade the call, and he started CPR and got the defibrillator. Chief Jonathan McKnight and Firefighter Christopher Brueckner arrived and assisted in providing CPR and getting the ambulance pulled over to the scene. There was no ALS available at this time. This highly trained basic crew provided CPR and Headed to Eastern Niagara Hospital. They had gotten Jim's pulse back before arrival. Senator Robert Ortt read this whole Scenario off the proclamation that he had sponsored from the NYS State Senate, he felt it was important to show the quality and training and life saving efforts of the Volunteers and 1st responders.
Assemblyman Michael Norris in his speech and Assembly presentation, talked about the life saving efforts and need for Volunteers through out the State. Assemblyman Norris is well known as an advocate of all 1st responders and is always the first one to step forward to support the Volunteers. He along with Senator Ortt who makes sure the Senate is aware of the importance, and efforts of Volunteers made sure they recognized these three individuals and the life they saved. Jim Tomasine stood with them at the front of the hall as these lifesavers were presented their awards of proclamation. As a side note this reminds me of what my Paramedic instructor told us before we graduated, way back when it was DOT before DOH that trained Paramedics. Always remember, without quality BLS there will be no need for ALS. Basics saves lives. These Basics proved this and received the much-deserved honor for their efforts.
The night then went on with cocktails and dinner before the swearing in of the officers for the 2022 service year.
President Kyle LaRuffa, VP Michael J. Norwood, Treasurer Gregory Birke, Recording Secretary Penny Lyman, Corresponding Secretary Bonita Reid, Head Trustee Kristopher Hunter, 2nd year Trustee Ralph Pollow, 3rd Year Trustee Robert Brueckner, Chaplin Jack Bridwell, Stewart Shyenna Hilderbrandt, Sergeant at Arms Richard Jufer
Chief Jonathan J. (Commander) McKnight, 1st Assistant Ryan Dickinson, 2nd Assistant Jeffrey Seefeldt, 3rd Assistant Kevin Hunter, Master Mechanic Jeffrey Lee, Fire Police Captain Christopher Brueckner, Parade Marshall Michael J. Norwood.
Ladies Auxiliary
President Sherrie Campbell, Vice President Tanya Steinhardt, Treasurer Cindy Horner, Recording Secretary Sara McKnight, Corresponding Secretary Kathy Nizialek, 3rd Year Director Sharon Drew, 2nd year Director Susan Stegner, 1st year Director Susan Nizialek



The ladies Auxiliary also handed out two special years of service awards to two ladies that have also been beyond kind to myself for decades and have always put the Wrights Corners Fire Company first in their priorities.
35 years of Service Sharon Drew
30 Years of Service Sherrie Campbell
On the Fire Matic side of the house, Chief Jonathan McKnight announced the 55 years of service award to his uncle Charles Smith. 35 years of service award to Kevin Guay, 30 years to Tracy Jufer, 25 years of service to Les Mitten, 20 years Sandie Ben, Ralph Pollow, Dan Handrich, 15 years Kevin Hunter, Richard Jufer and 10 years to Michael J. Norwood.
The department welcomed new members Sean Fisher, Adam Gillespie, Katie Langdon, Wallace Linderman.
The exempts swore in: President Randy Roeseler, VP John Schmitt, Treasurer Stephen Schmitt, Secretary Susan Stegner, Trustee 1 year Robert Smith III, Trustee 2-year Robert Smith Jr, Trustee 3-year Dan Szumla, Sergeant at Arms John Lobczowski Sr., Sr. Chaplin Wayne Jagow, Historian Daniel Szuml, and Stewart Kevin Hunter.
Those that past was honored. Senior Chaplin Wayne Jagow explained why it was so important to start the evening with honoring those that have answered the last call. They help bring Wrights Corners to where it is today.
A quality dinner was provided by Hill Top Restaurant and the evening ended with a night of dancing and talking.



This article is a direct street report from our correspondent and has not been edited by the 1st Responder newsroom.