RPI Announces Training Program Expansion
October 01, 2018 | NEW JERSEY
Rescue Products International Inc., Correspondent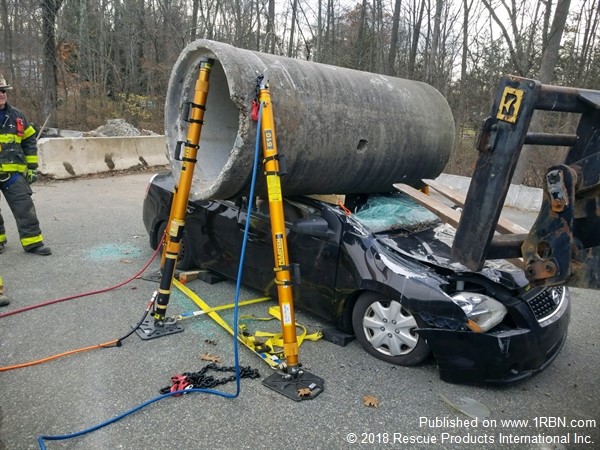 Photo by Rescue Products International Inc.
This article is a direct street report from our correspondent and has not been edited by the 1st Responder newsroom.
Denville, NJ - Rescue Products International (RPI), has announced the expansion of their training offerings to New Jersey, New York, and the surrounding regions. "New Jersey is the most densely populated state in the country," said Chris Botti, President of RPI, who is an active member of Squad 1 in the FDNY. His mission is to increase skills for firefighters and first responders. He stated, "There are thousands of first responders who want to improve their skills, and we are going to serve them to do just that."

Initially focused on firefighter bailout systems and training, RPI has acquired several new certified instructors in Northern New Jersey to add to their already impressive ranks. Heading the New Jersey team will be veteran firefighter and retired Captain, Scott Warner, who shared, "I am eager to get back out there with a company that takes training as seriously as the job itself." Chief Instructor, Gil Frank, retired Battalion Chief, FDNY Battalion 58, has handled the training team since day one and is looking forward to expanding the instructional opportunities and notes, "Our instructors have operated at multiple alarm fires, high rise fires, fires involving MAYDAYs, building collapses, high-angle rope rescues, crane collapse emergencies, confined space incidents, intricate HAZMAT and WMD incidents, live trench rescues, man-in-machine incidents, and SCUBA operations. The addition of Scott and his team will bring even more experience to RPI."

Founded in January of 2006, Chris and his father, Charlie, engineered and invented the original "RPI System" to outfit firefighters with a personal escape system that could help firefighters exit a building if conditions rapidly declined. Chris puts his heart and soul into his products and his company which is evident. Chris highlighted, "Our production staff members are off-duty firefighters, former military, and retired members of the fire service. Their being involved in the fire service and emergency services is key to our operation because the staff understands how important the product operating correctly the first time, every time, is! In the firefighting profession, you may not get a second chance. It is understood that if the staff doesn't feel comfortable with the design and function of a particular device, system, or harness, then it will not leave our facility."

Though the RPI assembly facility is in Orange County, NY, the company is no stranger to Northern New Jersey. "The first department to outfit their members with the RPI system was actually the Whippany Fire Department," said Chris. "Our roots are in Morris County, and I am excited to be back!"

Class offerings are wide-ranging from lecture programs for HAZMAT, Confined Space, and Building Construction to hands-on Structural Collapse programs, Ice & Water Rescue, and the RPI exclusive StandPipe Prop. In addition, Right-to-Know, Bloodborne Pathogens, and SCBA refreshers are also available. Currently, RPI offers annual bailout training for multiple personal escape systems, including the RPI Original and new Phoenix System, RIT AL, Sterling, CMC Escape Artist, and Petzl.

Scheduling for the remainder of 2018 and for 2019 has already started, so contact RPI today because when seconds count, how long can you wait?

For more information, email Training@RPIInc.net, visit www.RescueProInc.com, on Facebook at www.Facebook.com/RescueProductsInternational, or call 973-249-6277.