Solar Ambulance!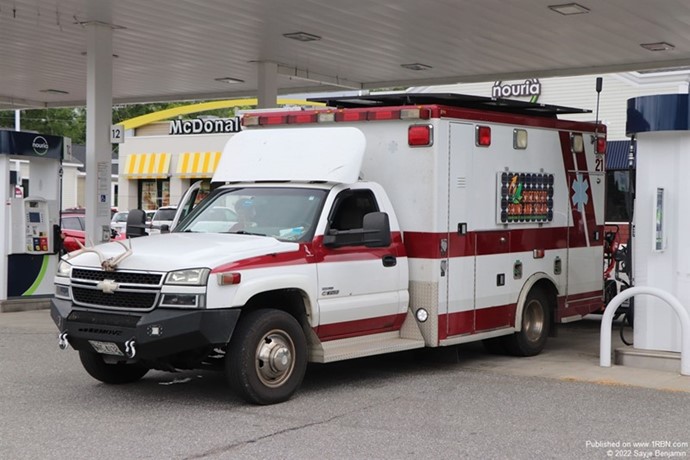 Photo by Sayje BenjaminSheepscot Solar and Power, Whitefield, ME. 2006 Chevy Silverado 3500/Road Rescue Type 1 Ambulance (Ex-Medic Medical Ambulance Service, Asheville, NC)
This article is a direct street report from our correspondent and has not been edited by the 1st Responder newsroom.
On August 24, 2022, on my travels with family in Maine, I happened upon a former ambulance-turned-work truck at a Shell gas station. I soon enough met the owner, a wonderful man named Edward Howe. Ed's ambulance is a Type 1 ambulance on a 2006 Chevrolet Silverado 3500 chassis with a Road Rescue box body. The ambulance formerly served "Medic - Medical Emergency Ambulance Inc." in North Carolina as Medic 21. Ed purchased the ambulance just over a year ago and uses it for his personal business, Sheepscot Sound and Solar, where he installs sound systems and solar for people on all things from fields, to houses, to even other vehicles! Ed has taken advantage of the storage space for all his tools (and even his motorcycle on occasion sitting where the stretcher normally would). The already powerful inverter has been swapped out for an even more powerful one to accommodate for the solar panels mounted to the roof of the box. These panels generate power for the ambulance's battery as well as equipment inside and the ambulance can generate power when Ed is working in off-the-grid environments or providing lighting and sound for a festival. When Ed is not working with solar, he is also an avid fiddler and member of the bluegrass band "Breakin' Strings" where he also acts as their sound man.