Noroton Heights Vol Fire Department
By CHUCK LOWE, Correspondent | August 12, 2020 | CONNECTICUT
Story No. 081220109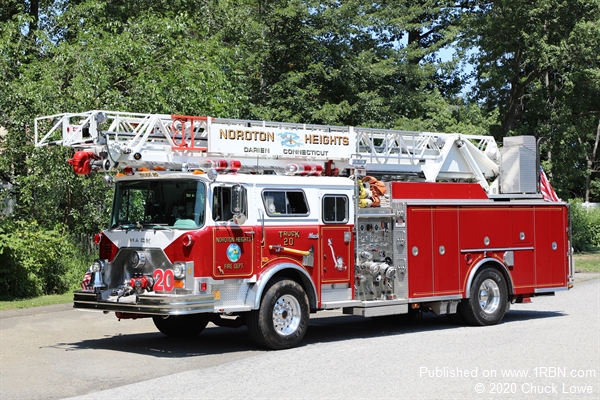 Photo by Chuck LoweNoroton Heights Truck 20 - 1988 Mack-CF68CFC-1262/Ward '79/2002 M&W Refurb with RK aerial added. 1500/500/75' aerial. Started as Engine 20 with no aerial.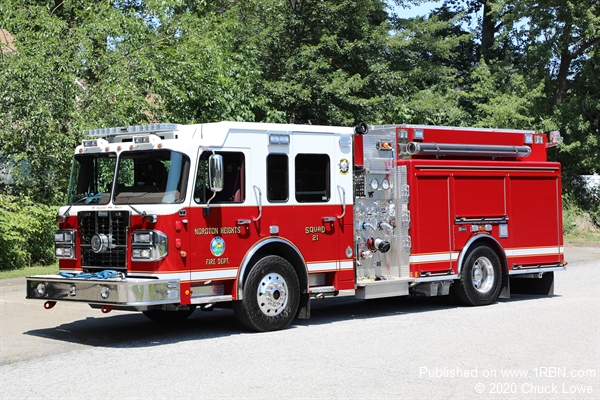 Photo by Chuck LoweNoroton Heights Squad 21 - 2018 Spartan MetroStar/Marion 1500/775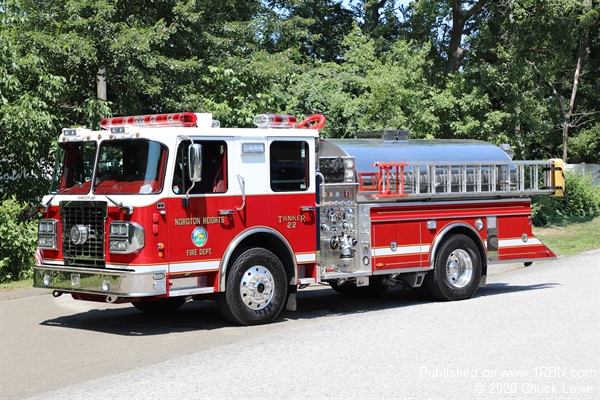 Photo by Chuck LoweNoroton Heights Tanker 22 - 2015 Spartan Metrostar/US Tanker 1250/2000. (Remount of body from 1975 Mack-CF).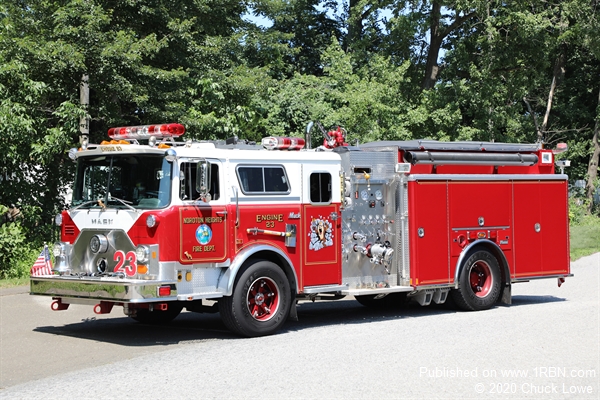 Photo by Chuck LoweNoroton Heights Engine 23 - 1989 Mack-CF/Ward 79 1500/750. 2006 Marion Refurb. Former FDNY, worked at 9-11 while assigned to the Rock.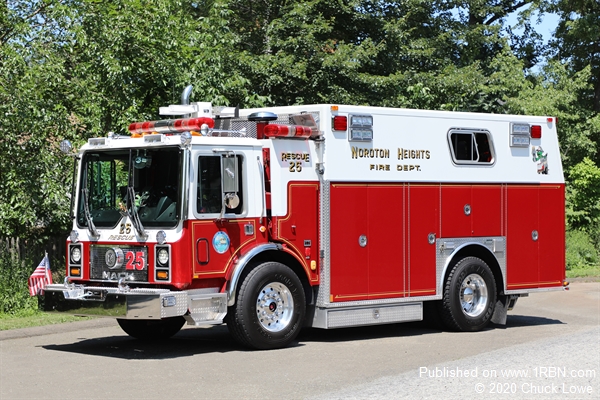 Photo by Chuck LoweNoroton Heights Rescue 25 - 1989 Mack-MC/Marion
Noroton Heights Fire Department was established in 1903 following a fire that destroyed the Waterbury Farm. The owner of that farm was concerned by how long the town department took to respond to fires in "The Heights". That unease led him and other residents to form a separate 13-man department. This group purchased their own hand-drawn engine that ran out of the back of a blacksmiths shop. A few months after being formed, Noroton Heights Fire Engine Company Number 1 quickly extinguished what would have been a devastating fire in the rail yard.

Over a century later, NHFD proudly remains 100% volunteer and they have grown significantly. They now have 100 dedicated men and women who staff seven pieces of apparatus. This fleet and various support vehicles run out of a congested 4-bay station that was built in 1955.

For decades this department took pride in buying apparatus on Mack chassis. This became more difficult when Mack stopped accepting orders for complete apparatus in 1983, and nearly impossible when the CF chassis was discontinued (1990). Three Macks remain on the roster, including Engine 23, a former FDNY rig that worked at "Ground Zero". The more recent purchases are on Spartan chassis and include the department's first Squad. Truck 20 is the next Mack-CF to be retired, but the department has not decided on its replacement yet.

This article is a direct street report from our correspondent and has not been edited by the 1st Responder newsroom.