Chief William Halstead of Sandy Hook - LODD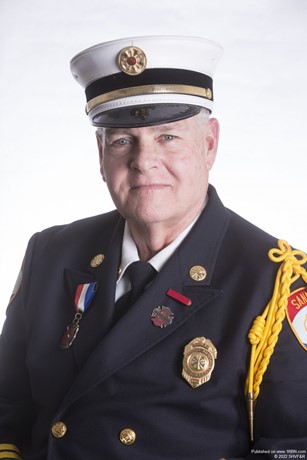 Photo by SHVF&RChief William Halstead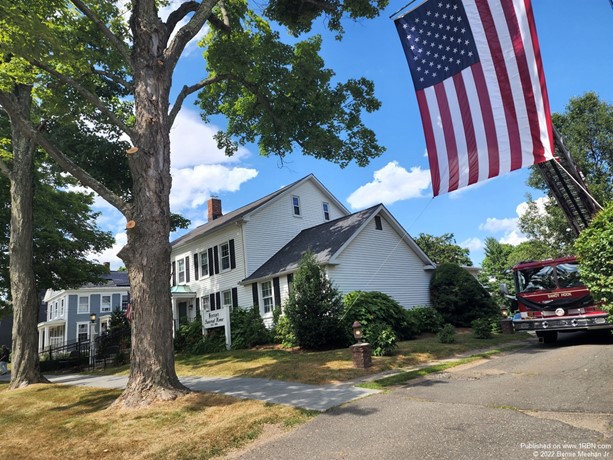 Photo by Bernie Meehan JrQuint 440 stands tall at the wake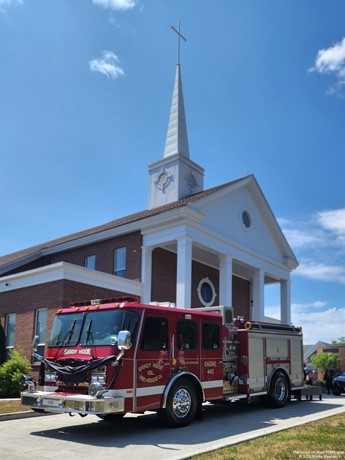 Photo by Bernie Meehan Jr. Engine 442 Stands Vigil
This article is a direct street report from our correspondent and has not been edited by the 1st Responder newsroom.
Chief William Halstead of Sandy Hook Vol. Fire & Rescue has answered his last alarm.

On the evening of July 8th, 2022 Chief Bill Halstead answered two emergency calls for Sandy Hook Vol. Fire & Rescue, after which he left the station and returned home. Within a few hours, the Chief was stricken by a medical condition and his fellow SHVF&R, along with Newtown Police, and EMS responded. Despite a valiant resuscitative effort, the Chief passed away.

William Halstead joined Sandy Hook Vol. Fire Co. in 1965 when he turned 16-years-old, working his way up through the ranks, becoming Chief in 1978. He had served as the Chief since that time, one of the longest reigning Fire Chiefs in Connecticut history, just shy of 45 years.

Bill began his full time public safety career working for the (now defunct) Fairfield Hills Hospital FD, serving 25 years and retiring as Chief of that department as well. He also served as Deputy Fire Marshal for the Town of Newtown from 1983 until 2001, at which time he became the full time Fire Marshal for the town, retiring from that position in 2016. Along with those positions, he was also the Emergency Management Director for the Town of Newtown for 23 years, and still active upon his passing.

Active in many fire service organizations, Bill is a past President of the Connecticut State Firefighters Association, past President of the Fairfield County Fire Chiefs, the International Association of Fire Chiefs, the Connecticut Fire Marshals Association, the International Association of Arson Investigators, as well as the Connecticut Parade Marshals. Bill was also inducted into the Connecticut Firefighters Hall of Fame.

In addition to his wife Debbie, Bill is survived by daughter Karin Halstead and her husband John Jeltema, daughter Krista Earle and her husband David Earle, son William Halstead, Jr. and his wife Allison. He is also survived by two stepsons, Ian and Vincent Guilfoil. He adored his grandchildren, Ryan and Nathan Halstead, Elizabeth and Evelyn Earle, and Emma Guilfoil.

Full firematic line of duty services were conducted on July 14th and 15th. The visitation was held at the Honan Funeral Home on Main St. in Newtown on Thursday evening. Under the shadow of a large Amercan flag hung from Chief Halstead's Quint 440, close to 1,000 family members and friends joined the sea of blue firefighters who came to pay their respect. On Friday morning, the funeral service was held at St. Rose of Lima Catholic Church on Church Hill Rd. in Newtown, officiated by the Monsignor Robert Weiss.

In the church lot mourners passed under another large flag hung from Newtown Hook & Ladder Truck 114. Following the church service, instead of a hearse, the Chief was placed aboard his favorite Engine 442 for his final ride to the St. Rose Cemetery in Sandy Hook. Engine 442 was led by an escort of 20 police and fire motorcycles, along with the entire fleet from SHVF&R. The route down Church Hill Rd. to Sandy Hook was lined with numerous fire apparatus, including crossed aerials from Cheshire and Southbury with a hanging flag tribute.

Once at the Sandy Hook Fire Station, there was another aerial and flag tribute by the Monroe and Hawleyville Fire Companies. The procession stopped at the fire station, where a final alarm radio tribute was sounded by the Newtown Emergency Communications Center, and the house siren was sounded. Hearing no response from "Car 401", the procession was led by almost 100 members of the SHVF&R who marched the final half mile to lead their Chief to his final resting place. At the cemetery they passed under yet another flag, this time hung from the Brookfield VFC aerial, and through a sea of blue uniforms for the interment service.

Chief William Halstead was 73-years-old.