Port Jervis fireman Frank Fuller, Jr. honored as a Grand Marshal in July 8, 2023 parade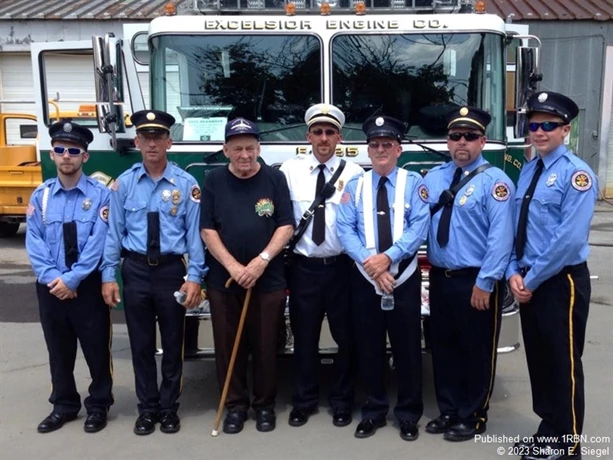 Photo by Sharon E. SiegelPictured at a past PJFD parade are just a few of the firefighter family members of Port Jervis FD's 2023 Inspection Day Parade Grand Marshal Frank Fuller, Jr. L-R: James Fuller, Jr., James Fuller, Sr., Frank Fuller, Sr., Frank "Petey" Fuller, III, Frank Fuller, Jr., Anthony "Tony" Fuller, and Shane Fuller.
This article is a direct street report from our correspondent and has not been edited by the 1st Responder newsroom.
PORT JERVIS, NY - Frank William Fuller, Jr. has made many decisions and choices in his life, as everyone does, but whether to serve his community as a fireman was never something he questioned, not even for a second. Fuller was born into a firefighting family on February 7, 1953. As soon as he turned 18, he joined Port Jervis FD and remains one of its most active members through present.
"They didn't have junior firefighters then, or I would have joined when I was 16. But I always knew I would join. Just about everyone in my company is a Fuller or related to a Fuller," Frank said with a smile. "When the whistle blew, they were all there at the firehouse, all the time. I grew up around the firehouse."
As a kid, Fuller remembers being at the firehouse with his dad, uncles and cousins.
His father, Frank Fuller, Sr., brother James "Jim" Fuller, Uncle Stan, Uncle George, other uncles and cousins on both his mother's and father's side, and his own sons Frank "Petey" Fuller, III and Anthony "Tony" Fuller, and grandson Shane Fuller, are among past and present relatives who have served with him in Excelsior Engine Co. No. 5 and in PJFD. Fuller remembers his own sons feeling as he did while they were growing up, that it was just a matter of time until they would be serving as firefighters.
"Petey had a time capsule that he made while he was in kindergarten at Sullivan Avenue School. The students wrote what they wanted to be. Petey's was a Fire Chief," Fuller recalled.
Both of his sons did go on to become chiefs in the department, with Tony currently serving as 1st Assistant Chief.  
At 18, Fuller immediately joined the fire department – and then the U.S. Navy. With the Vietnam War continuing to claim lives daily, he and several other Port Jervis men left to begin their military service that Summer of 1971.  While in the Navy for four years, he served as a Machinest's Mate on the aircraft carrier, U.S.S. America.
"School was never my thing. So, I quit and enlisted in the Navy," Fuller recalled. "There were a few of us from Port Jervis. I remember Tobey (Popstein) and Carmine (DeFino) were on the ship with me."
When he returned home, he worked first at C&D Batteries in Huguenot, and then - through present - at Neversink Lumber.
Now going on 53 years as a firefighter, Fuller has served in all of the leadership positions in his company, including 1st and 2nd Lieutenant and Captain. He also responded with Rescue 3 for six years. It has always been in the capacity of a firefighter that he has enjoyed the most. He remembers so many calls, too many to mention, in which he was glad to be part of the response crews.
"Wine and Roses (Karsten's Inn), the coat factory on Delaware Street, Kaplan and Littman, the silk mill, Neversink Lumber, Hungry Elephant, the Chinese place on Pike Street, the unemployment office on Sussex Street, numerous house fires, floods, accidents, rescues, Colonial Inn, Kenny Licht's house on Glass Street – that Glass Street call may have been the coldest," Fuller recalled.
Fuller often responds as Fire Police now, but was an interior firefighter and driver until a few years ago.
"My boys told me I was getting too old," he chuckled. "But if I'm near and an alarm goes off and someone needs help, I go. All bets are off when it comes to saving a life."
Now going on 53-years of active firefighting service, Fuller said he will always respond as long as he is able, helping to save life first and then property, as he and his fellow firefighters do.
Has he ever found himself in a particularly scary or life-threatening situation? He said any time any firefighter responds, there is always a risk. However, they are well trained and have proper gear and techniques to respond as safely as possible.
"When you run into a burning building, you do what you have to do and get out, but you're not thinking of your own consequences. You just use your training and get back to the exit," Fuller said.
Training is vital, but one of the biggest challenges to recruiting firefighters today. Time and training are the hardest part of being a firefighter, according to Fuller and others. Everyone has to complete Firefighter 1 classes just to become a firefighter, and then any other specialty training such as water operations, high angle, trench collapse, rescue, rope, and more.
Fuller feels that Port's all-volunteer department is as good or better than any other department because of its training and commitment and generations of family service.
"It's an honor to be this year's Grand Marshal, on our company's 150th Anniversary. My father was a Grand Marshal once, and I'm proud to be alongside my fellow firefighters and family," Fuller said.