A Well Respected and Loved Fire Chief Passes
June 24, 2022 | NEW JERSEY
RON JEFFERS, New Jersey Editor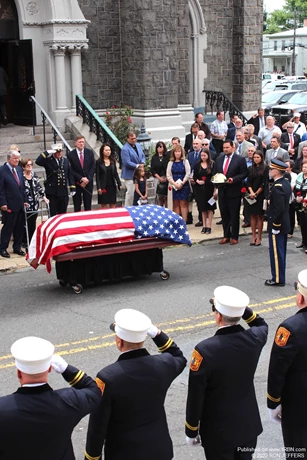 Photo by RON JEFFERSMembers of the Jersey City Fire Department offer retired Deputy Chief William "Bunky" Oser a final salute during his funeral at St. Joseph's Church on June 23rd.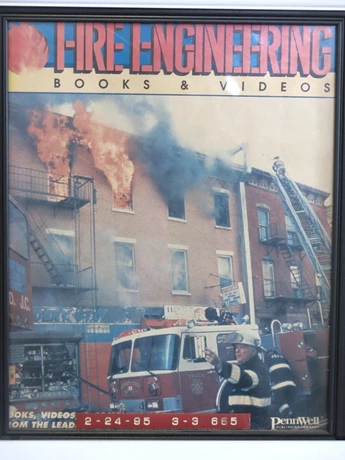 Photo by RON JEFFERSDeputy Chief Oser in command of a multiple-alarm fire, on a "Fire Engineering" magazine cover in 1995. The photo is part of a collection of photos on display at the Gong Club.
This article is a direct street report from our correspondent and has not been edited by the 1st Responder newsroom.
William "Bunky" Oser, 90, followed in his father's footsteps and joined the Jersey City Fire Department in 1959. Managing, in between tours, he also was a school teacher at Dickerson High School for 20 years, retiring in 1982. Oser rose through the ranks of the FDJC and retired in 1997 as deputy chief and tour commander of Group 'A'.

In addition, Oser served in the U.S. Army during the Korean War, and he attended Seton Hall University on the GI Bill, earning both bachelor's and master's degrees in Education. He was also quite a dancer, and he taught Arthur Murray dance lessons.

Chief Oser enjoyed the camaraderie and respect of the members of the FDJC. At his funeral, firefighters that knew and worked with the chief said they never heard a discouraging word about him. He was a gentleman, that respected others, and they respected him.

During his retirement years, he remained active with fire department activities. He also volunteered his time. Chief Oser served on the Board of Directors and as the Hudson County Representative for the New Jersey Firemen's Home in Boonton.

The Mass of Christian Burial was celebrated at St. Joseph's Church on June 23rd. Active and retired fighters lined up to offer Deputy Chief Oser a final salute. Some members of the FDJC that worked with Oser are now part of the upper ranks, themselves.

During his life, he served the public as a firefighter, saving lives and property. Also as an educator, he was concerned with their future growth.

Deputy Chief Jack Johnson worked on Group 'A' with Oser when he was a firefighter. On his Facebook page, DC Johnson said, "You were one of the most liked members ever in the 150-year history of the Jersey City Fire Department."

"More later."