Tupper Lake Rescue Squad AEMT/Firefighter Jonathan 'Thunder' Damon
By Mark Picerno, Correspondent | May 18, 2020 | NEW YORK
Story No. 051820123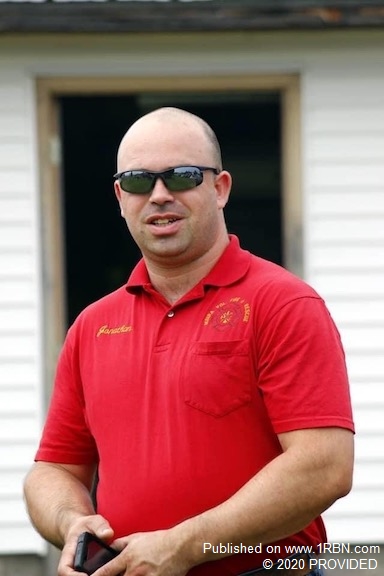 Photo by PROVIDEDTupper Lake Rescue Squad AEMT/FF Jonathan 'Thunder' Damon.
The Tupper Lake NY Rescue Squad mourns the passing of AEMT Critical Care Technician (AEMT-CC) and Firefighter Jonathan 'Thunder' Damon on Thursday evening April 23, 2020.
EMT Damon took his final call on Wednesday evening, April 22, at 11:25pm.

Jon woke up Thursday morning (4/23/2020) with pain in his back and notified Malone dispatch that he needed help. Thunder was the duty tech on to cover the Village and Town of Tupper Lake at the time. Tupper Lake squad members transported Mr. Damon to AMC where he was then flown by North Country Life Flight to UVMC in Vermont Trauma Center where he underwent surgery for an Aorta Dissection. Jon unfortunately did not survive and died that evening.

Jon was hired in November of 2014 and became a huge part of the Tupper Lake Rescue Squad's family. He was always there to lend a hand in teaching the members and encouraging some members into taking the course to become an EMT. He always had a smile and his joking ways kept things upbeat. He quickly became friends with all the members and his coworkers.

In the six years of his service, he touched the lives of so many people. Thunder was a true hero. Not only because of the countless lives he saved, but for the knowledge he passed on to aspiring EMTs. Josh Clement, one Tupper Lake EMT, posted on his Facebook page, "I've now walked beside a handful of people that are heroes and have shaped the Firefighter/EMT I am today. Jon Damon was on of them. Jon was one of the most kind hearted, most real person you would ever meet. Over the last three years I've ran probably up to 60 calls with Jon. He is the reason I become an EMT".

Damon was a member of multiple agencies besides Tupper Lake. He was a firefighter/AEMT for Brushton Volunteer Fire Department, AEMT-CC at Malone EMS, and AEMT-CC at Saranac Lake Volunteer Rescue Squad, Moria Volunteer Fire and Rescue and Chateaugay Fire Department.

Burke Fire Department posted on their Facebook page: "Franklin County has lost an outstanding EMT way too soon. Heaven gained another angel last night. Thunder, as most people know him by, was a great asset to have on the back of any ambulance. Thunder really enjoyed working in the EMS field doing what he does best. Thunder would do anything for anyone, even if he didn't know them. Rest in peace brother, you will be greatly missed and we'll do our best to take over from here".

Chateaugay Fire Company posted: "This is such a huge loss to the fire and EMS communities of Franklin County. Jonathan 'Thunder' Damon it was such a pleasure to serve with you in the short time you were a member of the Chateaugay Fire Company. You were such a positive person. I'm glad I had the pleasure of knowing you. Rest In Peace brother. We'll take it from here".

A procession of EMS, fire apparatus, police and countless personal vehicles was held on Saturday, April 25th to escort EMT/Firefighter Damon home.

Jon was born August 20, 1981. He was 38. He leaves behind his fiancé, Lindsey Legacy, his parents, a sister, Stephanie Fish, and a brother, Dave Damon.

Tupper Lake Rescue Squad asks that you keep Damon, his family, friends and all his EMS/Firefighter brothers and sisters in your thoughts and prayers during this difficult time.
This article is a direct street report from our correspondent and has not been edited by the 1st Responder newsroom.