RPFD's Caitlin Thrash Cheerleader By Day FF by Night!!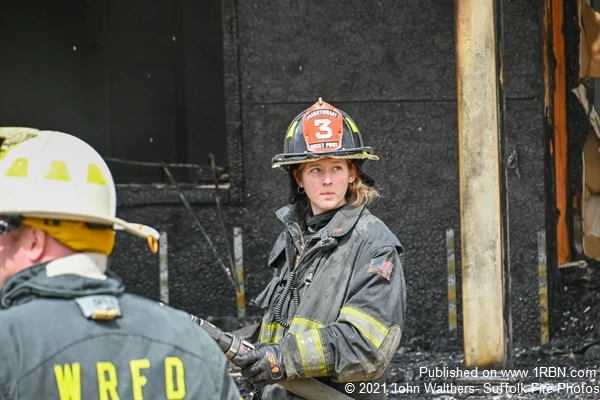 Photo by John Walthers- Suffolk Fire PhotosRocky Point FD Co. 3 Probationary FF Caitlin Thrash is a senior at Shoreham-Wading River High School where she's also a cheerleader, but on nights and weekends she can be seen battling fire! Caitlin's pictured here at a working fire on April 10th.
This article is a direct street report from our correspondent and has not been edited by the 1st Responder newsroom.
ROCKY POINT, NY - Meet Caitlin Thrash, cheerleader by day, firefighter by night!

Caitlin is not just your average young lady; she's an inspiration to many. Caitlin is a senior at Shoreham-Wading River High School, and in addition to her studies and being on the cheer squad at school, she also has other very important responsibilities.

Caitlin is currently a probationary member in the Rocky Point Fire Department Company #3. She originally joined the fire service around the age of 14 when one of her neighbors, who is a chief in the department, struck up a conversation with her about the department's Junior Firefighter program. Little did she know that this would lead to bigger things.

Now a few years later, Caitlin is one of just a handful of female members in the department, most of whom are EMTs. She joined the department as a probationary member in October of 2020. I was able to sit down with Caitlin recently to discuss her involvement in the fire service, as well as how she balances it all.

Caitlin said she was originally a little nervous when she first joined the Junior Program a few years ago, but that changed after she built great relationships with the guys in the program, some of whom had moved up to the regular department around the same time she did.

When asked about whether the guys treat her differently because she's a female, she said they don't. She did however admit that some of the training can be a little tough so she has to work harder, but her friends and fellow department members are super supportive.

Caitlin had her first working fire in April of this year and when asked if she was nervous about it, she said that though the heat was something to get used to, the training she had done prior in the Juniors Program and regular department definitely helped ease her nerves. The very next evening the department had another house fire and she saw some more action.

Though right now she is balancing her school, work and volunteer schedules, Caitlin plans on sticking with the fire service as a volunteer and eventually aspires to work her way up the ranks into being an officer.

Caitlin's advice for any fellow women who may want to join the fire service but are nervous is to just try it, and if need be join with a friend. "The more women the better!", says Caitlin. For her, she said it was one of the best decisions she ever made, and she has made many great relationships because of it.