Port Monmouth's Hahn Back Home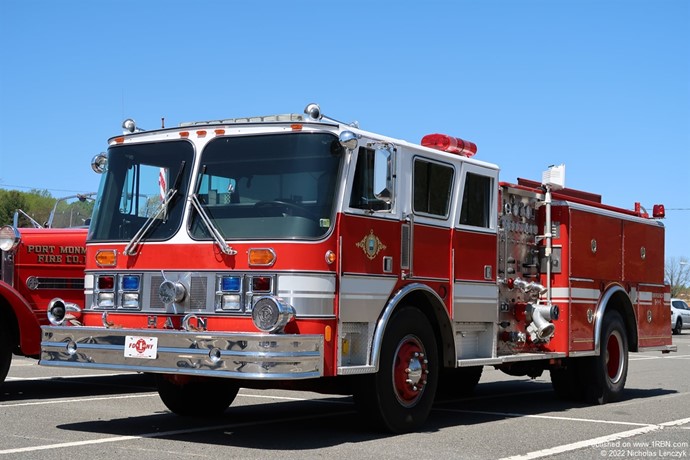 Photo by Nicholas Lenczyk1988 Hahn 1500 GPM/500 GWT Pumper retired after 33 years of service. It formerly served Port Monmouth Fire Company Station 6 of Middletown Township Fire Department, NJ, and later served Goodwill Hose Company of Belmar, NJ. Now Privately Owned by a Member of Port Monmouth Fire Company. ***One of the last Hahn's Built with a spec plate of 10/88***
Photo by Nicholas LenczykDriver-side view of the 1988 Hahn at Holmdel's New Firehouse dedication and Engine Wet Down April 30th.
This article is a direct street report from our correspondent and has not been edited by the 1st Responder newsroom.
An old battle horse Hahn has finally come back home after serving life in its second Monmouth County FD. While not owned by the Port Monmouth Fire Co. Station 6 of Middletown Twp., a member of the department proudly owns and displayed his former department's piece at the Holmdel FD's building dedication and wet down held on Saturday, April 30th. The 1988 Hahn pumper was completed in October of 1988 and served Port Monmouth Fire Co. until retirement by a 2008 KME pumper. The Hahn would then go on to serve Belmar's Goodwill Hose Co. until replaced by a 2018 Seagrave Demo in 2021. It would then go to auction along with Belmar's former Ford C rescue and was brought back home to Port Monmouth where the new owner plans to restore the apparatus to his company's condition. As many Hahn enthusiasts are aware, Hahn ceased operations in 1989 with only several pieces being completed before closing. That makes Port Monmouth's old Hahn extra special as being one of the last completed.