You say potato, and I say potahto…
January 01, 2020 | NATIONAL
AJ FUSCO, Correspondent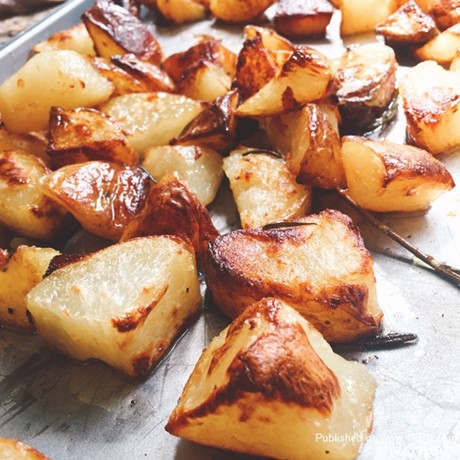 Photo by AJ FUSCORoasted Potatoes
This article is a direct street report from our correspondent and has not been edited by the 1st Responder newsroom.
In the firehouse, there is what I like to call the "Firehouse Standard". This meal consists of a steak, potatoes and a vegetable, and rarely does anyone ever oppose it being on the menu. You have your protein, carbs and fat to help keep the crew satiated. There are many variations on this. Some may prefer rib eyes, some stick to the budget friendly London broil and others celebrate special occasions like promotions with a nice rib roast. When it comes to the potatoes, it usually ends up being mashed, roasted or baked. While everyone has their preference, nothing compares to simple and delicious roasted potatoes. When done right, they are crispy on the outside while still creamy on the inside. And like most things culinary, the simple isn't always the easiest.

A dish is only as good as it's ingredients. When it comes to something as simple as roasted potatoes, making sure you use the right ones is key. Not all potatoes are created equal, there are actually different uses for the many different kinds. Potatoes fall into two categories, waxy and starchy. Waxy potatoes are exactly as they sound, waxy and usually "shiny" on the exterior. They contain more moisture than starch varieties and are ideal for wet cooking techniques, which include boiling and steaming. New potatoes, fingerlings and Red Bliss are all waxy potatoes. Starchy potatoes contain, well…more starch of course. They are ideal for dry cooking techniques such as baking, frying and roasting which because they don't involve water can be considered dry cooking. But here is the catch, this recipe involves both wet AND dry techniques! So therefor we need to use a potatoes idea for both, enter the Yukon Gold (or white potato). The Yukon Gold is considered all-purpose because it can be cooked so many ways. In this recipe, we par cook them in salted, boiling water first. This creates a cooked through, creamy center while also seasoning it from the inside out. After, they are drained and then roasted in olive oil, allowing the exterior to get crispy and delicious. The best of both worlds!

Roasted Potatoes
Servings: 4

Ingredients:
2 lbs. Yellow Potatoes, scrubbed
1 Tablespoon Kosher Salt
2 Tablespoons Extra Virgin Olive Oil
Optional:
2 Sprigs of Rosemary or Thyme
3 Garlic Cloves, whole and skin-on

Procedure:
Preheat oven to 450*F

-Cut the potatoes into even size shapes. Place in a pot, cover with cold water by 1". Add the salt and turn the burner on high. Bring to a boil and lower to a simmer.

-Cook the potatoes until the outside starts to look "fluffy", or is just barely knife tender, approximately 7-8 minutes. Drain the potatoes gently into a colander and give a gentle shake or two to roughen up the exterior. Let steam dry in the colander for 10 minutes.

-Add the olive oil to a baking pan along with herbs and garlic if using. Gently add the potatoes, stir to coat. Place the pan in the oven and cook for about 45 minutes, stirring and flipping every 15 minutes. The potatoes are done when they are golden brown and crispy.

*Par-boiling the potatoes creates a creamy center while allowing the exterior to get crispy. When you stir and flip the potatoes, rotate the pan when you place back in oven to cook evenly.