Uniforms, Badges and Scale Models
By Ron Jeffers, New Jersey Editor | January 01, 2021 | NEW JERSEY
Story No. 112420127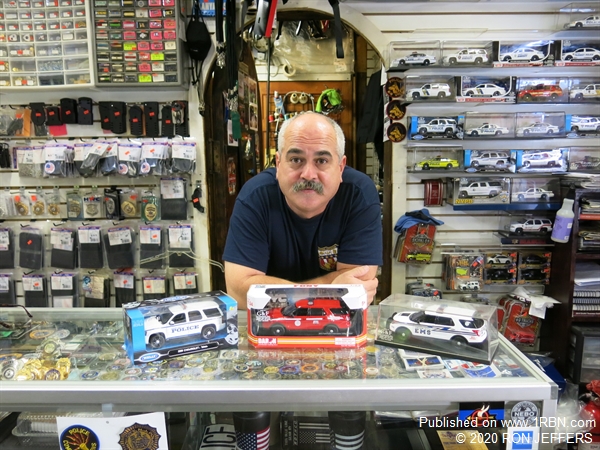 Photo by RON JEFFERSUnion City EMS Chief and president of G & F Enterprise, Inc., George Fierro, with some of his custom made first responder vehicles made for local departments.
On a side street east of Palisade Avenue in Union City sits a store filled with first responder uniforms and accessories. In a way, you could call it out-of-sight, out-of-mind, if you didn't know it was there.

George Fierro, and G & F Enterprise, Inc., has been in business for 22-years, with the store at 200-18th Street. The store is filled with uniforms, patches, badges, hats, and other items needed for on duty police, firefighters, EMS personnel, security personnel and DPW workers. What else is there? Many 1/24th scale models of first responder vehicles representing local police, fire and EMS agencies.

Fierro has a personal hobby of collecting such models and customizing some into local department vehicles. Some model companies make police car and SUV units that are either all white or black and white, with no decals. This is done for the serious modelers to place their own logos on them to make them more personal.

Fierro uses models from companies like Motor Max, Die Hard and First Classic. Most are 1/24th scale. Sometimes he can use the color of the original model, or he has to re-paint them to match the department vehicles.

In order to get things right, he takes many close up photos of the various emergency vehicles. The graphics are very important and he is meticulous about his work. He then lines up the graphics to a "paper mold," to fit the model and scale, and then the color. His graphics are then converted to Scotch Guard-the same as used on the real vehicles.

Fierro began putting his work on display at his store. They became eye catchers. He started selling some and getting request to assemble models from various local departments. An unexpected addition to the uniform business.

As a matter of fact, after this author was retired for about 20-years from the UCPD, I finally got a scale model of a Union City radio car (still call them that), custom made by Fierro.

Also on display in the store are pieces of his personal collection including the Hess toy trucks and NJ PBA official toys.

G & F Enterprise has been in business for 22-years, but that's not all that George Fierro does. He also serves his city as a dedicated EMT. He joined Union City EMS in 1994 and worked his way up the ranks to Chief of EMS in 2014.

Chief Fierro is in charge of some 18 full time members and 20 part time employees, which includes tour chiefs. The unit answers and average of 10,000 calls a year in a city of some 80,000 jammed into 1.3 square-miles.
This article is a direct street report from our correspondent and has not been edited by the 1st Responder newsroom.