2020...A little sweet and a little sour, just like these brussels sprouts
December 01, 2020 | NATIONAL
AJ Fusco, Correspondent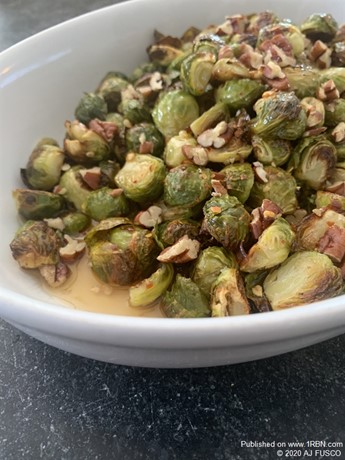 Photo by AJ FUSCOSweet and Sour Roasted Brussels Sprouts
This article is a direct street report from our correspondent and has not been edited by the 1st Responder newsroom.
To say 2020 has been a trip, would certainly be an understatement. Between a global pandemic, one of the most important Presidential elections of all time and everything in between, this year has had its fair share of ups and downs. I have found myself over the course of this past year watching my daughter grow up into a happy and healthy two-year-old, while also watching friends grieve over the loss of loved ones due to Covid-19. It has been a roller coaster of emotions, not just for myself but everyone around me and beyond. With that being said, I do try to keep optimistic for what 2021 has to offer. But for now, let's pay homage to 2020 with a dish that can describe it no better...Sweet and Sour Brussels Sprouts!

Growing up I absolutely hated them. They were always served well beyond over cooked, mushy and pale green. Brussels Sprouts belong to the Brassica family, along with broccoli, cauliflower and cabbage. They all contain high amounts of compounds, that when exposed to heat, produce hydrogen sulfide, hence the smelly characteristics of these vegetables. But for some reason I feel like brussels sprouts get a worse rap than the rest of them. Maybe it's because so many home cooks just toss them in boiling water, cook them for way too long and then expect all the kiddies to run to the Thanksgiving table asking for seconds. When your first encounter with them includes said stinky boiling situation, you are no doubt setting yourself up to not like them as you get older. But like so many others before me, I gave brussels sprouts the chance to redeem themselves. Enter the roasted brussels sprout….

Roasting them with high heat caramelizes the natural sugars, creating texture and a slight bitterness that balances out the sweetness. It also helps preserve their bright green color, which is much more appealing than the over-boiled stuff you might be used to. And while brussels sprouts, roasted with some EVOO and salt are perfectly delicious, they pair really well with the sweet and sour flavor profile. There are many different ways to accomplish this, but my favorite is definitely using apple cider vinegar for our sour aspect and either honey or maple syrup for the sweet component. The cider vinegar packs just enough sweetness and bite, without being overbearing. The addition of chili flake, while certainly optional, adds yet another dimension of flavor via heat. And the chopped pecans add texture, something that can be lacking in brussels sprouts, enticing our palate to want more. This recipe is perfect alongside a holiday roast, grilled steak or some pan seared pork chops. They will certainly turn a non-believer into a believer that brussels sprouts can actually taste good!

Sweet and Sour Roasted Brussels Sprouts
Serves 4 as a side

Ingredients:
16 oz. Brussels Sprouts
¼ Cup Honey
1/3 Cup Apple Cider Vinegar
1 tsp. Chili Flakes
1 Tbsp. Butter
¼ Cup Toasted Pecans, chopped for garnish
Salt, to taste
EVOO

Procedure:
-Preheat oven to 450° F. Place ½ sheet pan in the oven to preheat as well.

-Trim the brussels and cut in half. Toss in a bowl with a pinch of salt, pepper and a drizzle of EVOO. Carefully remove the preheated sheet pan with an oven mitt. Add the brussels sprouts in a single layer and place back in the oven.

-Roast the brussels sprouts for 20-25 minutes, flipping halfway through, until charred and tender.

-While the brussels sprouts cook, place the honey in a small saucepan over medium-low heat. Stir until the honey starts to bubble, carefully add the vinegar. Simmer until slightly reduced. Add the chili flakes and a pinch of salt, stir to combine.

-Add the butter and remove the pan from the heat. Stir to combine, set aside.

-Place roasted brussels sprouts in a serving dish, drizzle with honey-vinegar glaze. Garnish with chopped pecans.