NJ Deputy & Battalion Chief's Association Seminar Huge Success
By Ron Jeffers, New Jersey Editor | December 01, 2021 | NEW JERSEY
Story No. 102721106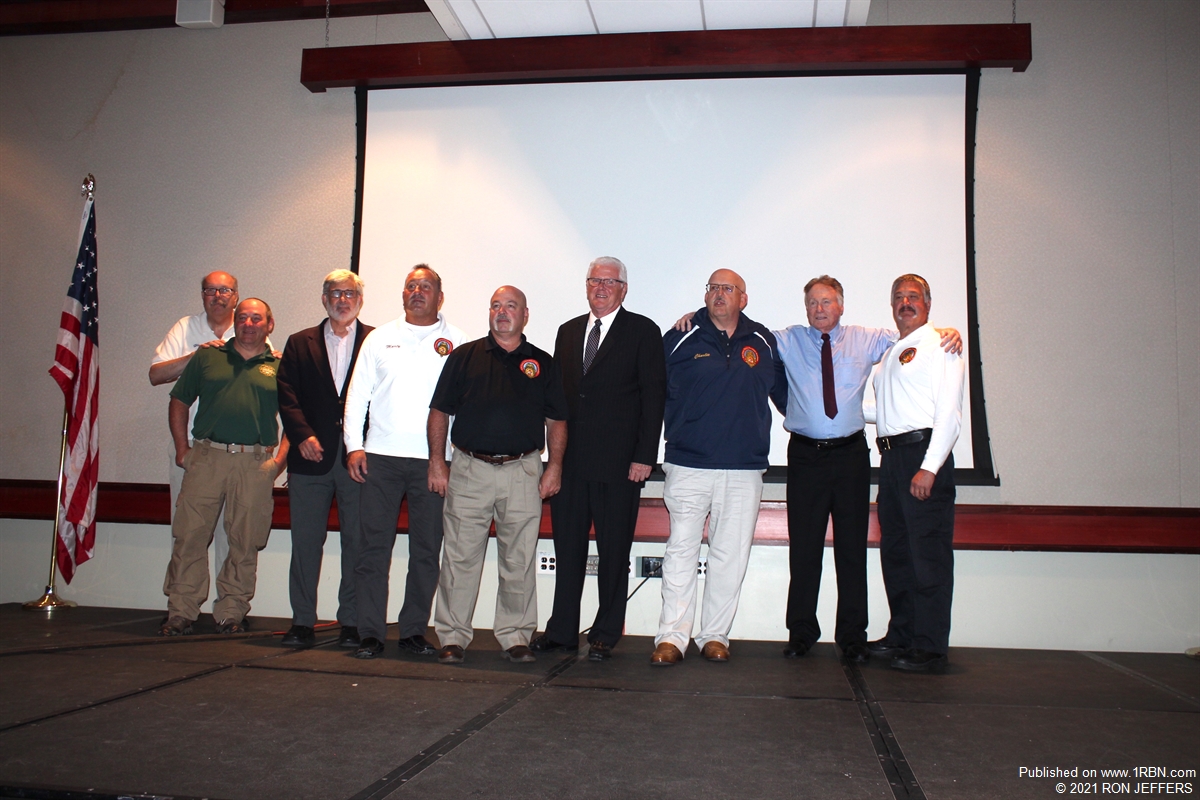 Photo by RON JEFFERSMembers of the NJD&BC Association, and guest speakers, lined up after a successful and well reviewed safety seminar at New Jersey City University, October 2nd.
Fire officers and firefighters, both career and volunteer, assembled at New Jersey City University on October 2nd for the annual New Jersey Deputy & Battalion Chief's Association fire safety seminar. The speakers were described as the, "Influence in the American Fire Service," by retired FDNY Deputy Chief, nationally and highly respected author and instructor, Vincent Dunn, who provided a background of the speakers to the audience. He added, they are, "Some of the most knowledgeable and respected authors and instructors."

As a young firefighter, Chief Dunn survived a fire and collapse that took the lives of 12 members-from deputy chief to probationary fireman-in 1966. To city firefighters, it is known as "the Twenty-Third Street fire." The chief has dedicated his life to fire safety and has authored many books, and spoke at many seminars, to accomplish his goal of fire science education and safety for all.

The assembly was welcomed by NJDBC President Charles Lind, Jr., a retired Jersey City battalion chief. Lind and his organization put a lot of hours into providing the best seminar possible for fellow members of the fire service, always recruiting highly respected and knowledgeable speakers.

Lind introduced, and thanked, University President Sue Henderson, Fire Science Chairperson Walter Nugent; Fire Science Administrative Assistant Anna Scanniello; Victor Del Valle, Assistant Director-Center for Leadership & Engagement; Thomas Derienzo, Security Fire Safety Manager; and Ron Hurley, Security Associate Vice President, for their assistance in putting the program together at the Jersey City university.

Chief Dunn "warmed up" the crowd by providing a background of the speakers and their accomplishments. He displayed genuine respect and admiration for them all. He added that Anthony Avillo's book on fire ground strategies was a "favorite" on his book shelf.

In addition to Chief Avillo, the speakers were Dr. Denis Onieal, a retired Jersey City fire chief and retired Deputy United States Fire Administration (FEMA), author and instructor; John Jay College Professor MEng.PE Glenn Corbett, author, instructor, former volunteer fire chief in Waldwick, technical editor for "Fire Engineering"; and FDNY Rescue Co. 1 captain, and instructor, John Ceriello. Anthony Avillo is a retired North Hudson Regional Fire & Rescue deputy chief, director of the Monmouth County Fire Academy, author and instructor. Be advised that these instructors have many more credentials.

Chief Dunn also described the "new-old professor" Corbett as the "Voice of the American Fire Service." When there is a major fire or disaster, TV and radio stations call upon the professor to describe what is happening and how first responders will handle the situation. Dunn said, in New York City, Glenn is called "Mr. 9-1-1." In addition, after the 9/11 attacks, Corbett helped form the Fire Safety High Rise Commission. Corbett is co-author of Brannigan's "Building Construction for the Fire Service-6th Edition," editor of Fire Engineering's "Handbook for Firefighter I and II," and he authored "The Great Paterson Fire of 1902-The Story of New Jersey's Biggest Blaze."

At the beginning of the program a particular fire incident in Jersey City was brought up, with participants giving each other credit for life saving. Deputy Chief Onieal, while operating as the I.C. at a fire involving a three-story wood-frame abandoned building, observed little progress with a stubborn fire where there was a report of a squatter inside. Onieal remembered a book that he read authored by Chief Dunn ("Collapse of Burning Buildings"), and what to look for in reference to signs for an early collapse in such a structure. Onieal ordered the members out. As we have all heard in the past, an inside crew wanted to make one more push, believing they could knock the fire down. However, Captain Jack Farrington, and his crew, backed out of the building. The captain was the last one out, making sure his crew was safe. As they arrived on the street, the building experienced a pancake collapse.

Present at the seminar were Farrington, a retired battalion chief, and retired Firefighter Larry Cureton, who was part of the fire fight and evacuated the structure. Farrington leads the Jersey City F.D.'s Honor Guard and he was in his dress uniform, that he continues to wear proudly. FF Cureton was recording the seminar and taking photos.

Onieal thanked Dunn for saving their lives; however, Dunn told Onieal that he was the IC and saved firefighter's lives.

Dr. Oneal was part of the first graduating class of the Fire Science program, when the University was known as Jersey City State College. Forty-five years later, he returned to present his program: "Lessons Learned and the Impossibles."

Chief Onieal's lecture involved, "IC Decisions at a LODD-The Test-The Lessons." "When there's a crisis...the IC is still responsible for the incident." This talk was personal, and it involved a fire where two members were down at a residential fire, with exposure problems, that was still burning.

"Experience is the hardest kind of teacher. It gives you the test first and the lesson afterward." Oscar Wilde.

Chief Avillo is an adjunct professor at NJCU. He attended three colleges. He finished at NJCU in 2007 with a B.S. degree. He received his Master's Degree in 2015. For the seminar, he covered full contact leadership. The firehouse to the fire ground. "Leadership is never about you. It is about them." Many personal experiences on the job were also part of Chief's Avillo's talk.

Professor, and author, Glenn Corbett discussed "35 Years as an Editor of Fire Engineering, a look back." He explained how the publication does not jump into articles and may conduct a thorough investigation for as along as a year before reporting on incidents that have occurred across the country from LODD, natural disasters, major fires, training, and much more. In addition, why the publication does some of the things it does. For example, there can be a criticism received about a cover photo in reference to operations, gear, etc. The August, 1995, cover is known as "The White Cover." That's all it was, a white cover. In the street, nothing is perfect, no incident is identical or by the book, and that's part of life.

Captain John Ceriello discussed fire ventilation science and updated methods. During his talk, and off the cuff, he and Chief Dunn discussed operational procedures adding to the interest and knowledge of the lecture.

"The door should be kept shut while the water is being brought and the air excluded as much as possible, as the fire burns exactly in proportion to the quantity of air it receives." James Braidwood, "Father of the British Fire Service."

During the breaks, fire service related vendors filled another room that support the organization, displaying their wears. In another break room, refreshments were offered by the Newark Bell & Siren Club and Jersey City Gong Club. Two volunteer organizations that have been in business for decades providing firefighter rehab services at fires and other emergencies in Essex and Hudson counties, respectively.

When the program was complete, raffle ticket winners were announced and firematic gifts were provided by many of the supporting vendors. In addition, books by speakers were donated. The book winners lined up to meet and get their books autographed by the authors. It was obvious that the book winners were honored to meet the authors.

Present at the lecture was Laura Single, President of Fire Service Women of New Jersey. "I met Chief Dunn 30-years ago at the BCFA. Still in awe of the man. Incredible knowledge he shares," she said on Facebook.
This article is a direct street report from our correspondent and has not been edited by the 1st Responder newsroom.