Hot to trot…
November 01, 2020 | NATIONAL
AJ Fusco, Correspondent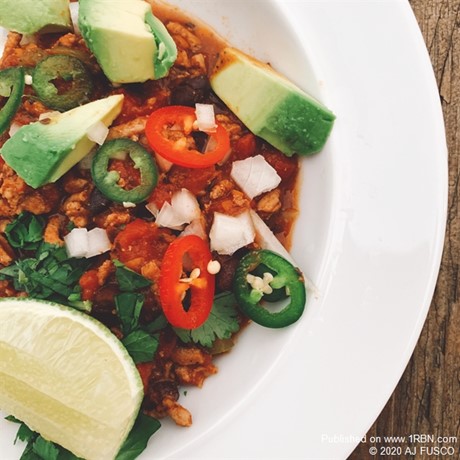 Photo by AJ FUSCOChipotle-Turkey Chili
This article is a direct street report from our correspondent and has not been edited by the 1st Responder newsroom.
Cooler autumn weather is the perfect time for chili; and while slow cookers are certainly popular when it comes to chili, nothing beats cooking it in a pot on the stove top so the aromas fill the firehouse. I mean, if chili ever had a "season" it most certainly is now. This dish is the quintessential firehouse meal; it's cheap, flavorful and can feed a crowd. Every year, firehouses all over the country have chili cookoffs, often resulting in heated competitions amongst local companies. See what I did there? And ask any firehouse chef, there are a million and one ways to make it and everyone has the best recipe. Most chili recipes are your standard beef, tomato and chile based, which is absolutely delicious and easily the most popular way to make it. But sometimes we crave variety or just something different to keep things interesting, and this Chipotle-Turkey Chili is the perfect answer to that. Ground turkey is a great ingredient to use if you are looking to lighten up a dish. It has much less calories than beef, but still adds a ton of protein to help fill up the crew. But with this leaner meat also comes less flavor. With that being said, turkey is a blank canvas for other flavors like cumin, coriander and chipotle. Garnishing with avocado adds some extra healthy fat and cilantro is the perfect ingredient to brighten it up. So if you are looking for something different to make at the firehouse, but still keep everyone happy...look no further!

Chipotle-Turkey Chili
Serves 4

Ingredients:
1 lb. Ground Turkey
1 Small Carrot, rough chopped
1 Celery, rough chopped
1 Medium Onion, rough chopped (½ reserved for garnish)
1 Garlic Clove
1 Bell Pepper, seeded and chopped
2 - 14 oz. Cans Chopped Tomatoes (preferably fire-roasted)
2 - 14 oz. Cans Black Beans, drained
Adobo Sauce from can of Chipotle Peppers, to taste
1 tsp. Cumin
1 tsp. Paprika
1 tsp. Coriander
1 tsp. Dried Oregano
1 tsp. Chili Powder
Salt, to taste
Black Pepper, to taste
EVOO

Garnish (Optional):
1 Avocado, chopped
1 Lime, cut into wedges
1 Jalapeno, sliced
Chopped Raw Onion
Handful of Fresh Cilantro, chopped

*Note: I am a firm believer that no pot of chili is the same when it comes to seasonings. Please taste yours and adjust it according to your liking.

Procedure:

-In a food processor, combine the carrot, celery, ½ of the onion and garlic. Pulse into a paste. If you do not have a food processor, just finely mince them all together. This is your sofrito mixture.

-In a large stock pot over medium heat, add enough EVOO to cover the bottom of pot. When the oil is shimmering, add your ground turkey. Do NOT touch the turkey now until it starts to brown. At this point, season with a generous pinch of salt. Flip the turkey over and brown the other side. Add your sofrito mixture and start to break up the turkey. Cook, stirring frequently until mixture just starts to get some color.

-Add the dried spices, stir until fragrant. Now add the chopped tomatoes and stir to combine.

-Add the bell pepper and 1 can of black beans. Bring to a simmer. Puree the other can of black beans in a food processor and add to the pot. This step is optional but adds body to the chili. If you don't have a food processor you can just mash them up with a fork. After about 10 minutes or so, taste and adjust and seasonings/spices. At this point, add the chipotle a little at a time. Taste and adjust.

-Continue cooking for 20-30 minutes. Taste and adjust seasoning. Serve with avocado, cilantro, chopped onion and lime wedge.