Nov., 2023, UPS, page 2
November 01, 2023 | NEW JERSEY
Ron Jeffers, New Jersey Editor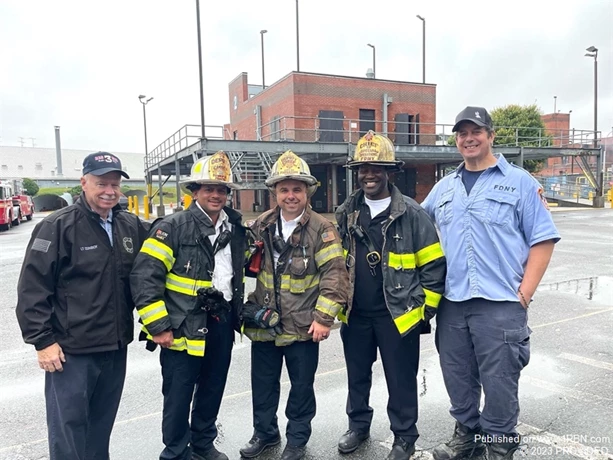 Photo by PROVIDEDNorth Hudson and Paterson special operations deputy chiefs visited the FDNY Rescue School to observe their advanced firefighters rescue training program. (L to R): FDNY Rescue 3 Lt. Mickey Conboy, North Hudson SOC Deputy Chief Al Pratts, Paterson SOC Deputy Chief AJ Woods, FDNY SOC Chief Malcom Moore and FDNY Rescue 2 Captain Liam Flaherty.  
This article is a direct street report from our correspondent and has not been edited by the 1st Responder newsroom.
DOWNS: A fire at the Deal Department of Public Works building, September 10th, involved two overhead bays and extended partially to the second-floor. One firefighter was taken to a local hospital for chest pains and difficulty breathing, according to Shore News Network. The firefighter was later released from the hospital. 
UPS: Off duty Long Branch Fire Lt. Tim Phillips heard a radio call for two female swimmers in distress at West End Beach, in September. The lieutenant was first on the scene, said Long Branch Public Safety Director William Broughton. Lt. Phillips immediately entered the water and assisted the two swimmers to shore. On duty Firefighter Tyler Schick and two Long Branch lifeguards also entered the water to assist. All persons returned safely to the shore and no medical attention was needed. 
DOWNS: Lightning struck a Margate home on Andover Avenue, September 13th, causing a fire at the roof level of the home, according to WPG Radio. 
UPS: In September, state officials announced an additional $3 million in funding will be provided to the state Department of Environmental Protection's Forest Fire Service to aid in fighting wildfires. According to reports, this has been the busiest wildfire season in the state in more than ten years. The funds will be used to hire more firefighters and upgrades to fire apparatus. 
DOWNS: A total of 71 Dover residents were displaced due to a 5-alarm fire that involved three connected buildings on West Blackwell St., Sept. 16th, according to News 12. 
UPS: "Fire Rescue 1" asked their board members and contributors to highlight their best of the best-those leaders whose influence was-and in most cases, still is- felt far and wide. Their 2022 GOAT list included Jersey City's Dr. Denis Onieal, former Deputy U.S. Fire Administrator, National Fire Academy Superintendent and Jersey City Fire Chief. "With street cred as a Jersey City fire chief, Dr. Onieal retired from there and took that along with his educational background and led the National Fire Academy into the 21st Century," said Deputy Chief Bill Goldfeder, of the Loveland-Symmes, Ohio, Fire Department.  
DOWNS: An explosion at a West Milford dwelling sent five people to hospitals, Sept. 22nd, and caused significant damage to the home. The injured were airlifted to various medical centers, officials said. One person declined medical attention. The incident was under investigation.
UPS: The East Dover Fire Company and Toms River Fire District 1 placed into service a Metal Shark 25 Courageous fire boat, assigned as Fire Boat 28. It has a 650-gpm pump, plus a diver door and dive ladder for water rescues.
DOWNS: Firefighters battled a multiple-alarm fire involving businesses along Main Street in South River, Sept. 24th. People in the area said the fire spread to neighboring businesses and two apartments on the second-floor, according to News 12.
UPS:  The Paramus Building & Grounds unit have completed work painting a new epoxy floor at Fire Company 2's quarters to provide a safer surface when wet, according to the company's Facebook post.  
DOWNS: Four people were pulled out of a burning Madison Avenue dwelling in Paterson, Sept. 20th, that included an 8-year-old and an infant. They were all taken to St. Joseph's U.M.C., unconscious, according to WABC-TV. Two dogs were killed and a city firefighter sustained a slight burn, according to reports.
UPS: Newark Fire Chief Rufus Jackson has been named assistant director of the city's Department of Public Safety, which includes the police and fire divisions and the Office of Emergency Management. Battalion Chief Del Ortiz has been named the fire department's new chief of department, according to NJ.com.
DOWNS: A Camden firefighter was injured while investigating an incident involving an underground electrical issue at a Dunkin' store on South Broadway, Sept. 24th. Officials said the firefighter sustained non-life-threatening injuries when he came in contact with an electrical box in the store. Officials added, fire was emanating from a manhole cover of an underground electrical unit below the business. The underground conduit became energized and caused a power surge. That caused an electrical panel in the Dunkin' shop to explode.  The face plate blew off of the panel, striking the firefighter.   
UPS: Elizabeth Medical Director Dr. Matthew Letizia recently received the national award for EMS Medical Director of the Year from the National Association of Emergency Medical Technicians. He is an emergency physician who helps train first responders. According to a PIX 11 report, Dr. Letizia's reach goes beyond Elizabeth. He is also the medical director of more than 30 other agencies across northern and central New Jersey, allowing him to reach more than 1,000 first responders. 
DOWNS: Fifteen people were displaced due to a fire at the Royal Oaks apartment complex, off Route 1 in South Brunswick, Sept. 15th. More than a dozen fire departments responded to the scene, according to the South Brunswick Patch. 
UPS: Recently, North Hudson Deputy Chief Al Pratts and Paterson Deputy Chief AJ Woods, special operations chiefs, were invited to the FDNY Rescue School by FDNY Special Operations Chief Malcom Moore to observe their advanced firefighter rescue training program, and to tour their shipboard fire simulator. A future class with chiefs from the New Jersey USAR cities is in the planning stage.